Samsung Galaxy S5 expected to receive Android L in December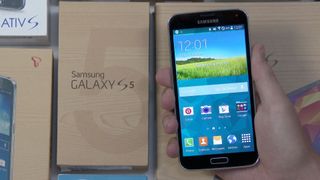 Samsung Galaxy S5 owners will be able to take advantage of all the new features in Android L this December, according to a report over on SamMobile. The same publication took a look at Android L running on the Galaxy S 5 earlier this month, which provided an insight into how the next version of the OS will look on Samsung's flagship.
While sources have confirmed with SamMobile that the Galaxy S5 will be receiving Android L in December, an accurate time frame wasn't provided. It's also worth noting that this is when the rollout is expected to commence, so it could take some time for all regions to receive the update. Here's the same video as before of the Galaxy S5 running Android L:
Are you looking forward to getting Android L on your Galaxy S5?
Source: SamMobile
Get the Android Central Newsletter
Instant access to breaking news, the hottest reviews, great deals and helpful tips.
Galaxy tab 4 7.0 SM-T231? Posted via the Android Central App

I read the tab 4 will be getting it. As far as when it didn't say. I would hope that the Tab 4 will make the switch. Posted via Android Central App on GS5

Source please Posted via the Android Central App

That's such a long wait! Posted via Android Central App with LG Google Nexus 4

No longer than HTC promised 90 day period

Are you serious? Posted via the Android Central App

Before the note 4?bad move samsung Posted via the Galaxy Note 4

The S5 is still considered there flagship device.

Leaks say the Note 4 is right in the same timeframe

The Note 4 came out like a week ago... relax... Posted via the Android Central App

Yeah about a week ago. (Cue the song.) Posted with my Nexus 7 2012 or Moto X via the Android Central App

Didn't early reports say that the Note 4 will get Android L in November?

Rest assured the Note 4 and S5 will both get it before December 31st it's the Note 3 and S4 you have to wonder when. If Android L is the only hook for people to buy the boring Nexus 6 then rest assure sales will be extremely low a Nexus trademark. Lg G3 won't see update till March 2015 and the Lg Gflex 2 will launch with Kit Kat instead of Lollipop 5.0. Lg sucks with updates pretty common. From my Galaxy Note 3 on T-Mobile via Android Central App

It doesn't even matter if Samsung gets L.
You can't tell what the hell version is on their phones anyway. Posted via the Android Central App

While true that versions of Android always look different on OEM builds, the features Android pushes are always there, so it always matters. Posted via my tricked out Moto X.

yup filled it with 3 gb bloatware

There is still a basic ICS feature that is still not available in TouchWiz, so I'm not sure if the user can tell what they're running without looking at the system info. Posted via Android Central App

The s5 has most of the Lollipop features out of the box on 4.4.2 Posted via the Android Central App

No. No it doesn't. Lock screen notifications? Multiuser support? Final version of ART runtime with all of the performance benefits that brings? Material design? New camera APIs that support RAW? Notifications priority controls? New backup and tap to set up features? Print preview? New task switcher with ability to integrate Chrome tabs? What exactly does it have from Android L?

Ouch! Pwned! Posted via the Android Central App

Where have you been?? There is a world of difference between kk and lollipop! Posted via the Android Central App

WIll avoid the TW debate, but there is plenty underneath that make a big difference between KitKat and L.

Please leave the internet. Your the worst fanboy ever. Posted via the Android Central App

Sad to hear you say that. The Nexus 6 is a beautiful phone with bleeding edge specs. If you can deal with having a 6" screen, I don't think that there is a better phone you could buy right now

Yeah there is, the note 4. Besides,lets wait for some real world with the Nexus before we crown it king Posted by my soon to be retired Note 3

Wow your crystal ball is working extra good today. Must be nice. Posted via the Android Central App

Who said that? Posted via the Android Central App

Agreed. Posted via the Android Central App

you don't know if it's before the note4, I doubt it'll be. Usually those two devices get updates around the same time. your carrier will most likely dictate who will get it first.

Not rally, S5 has been in the much longer, there's got to be some actual user time to get these things right.

Never thought my house would become Samsung oriented. Can't wait to update my wife's S5. Posted via the Android Central App

I know what you mean. I have the Note 4, Son has my old Note 3, Baby's momma has the S5. We are Samsunged out. Posted via the Android Central App using my Galaxy Note 4 from Sprint

I don't like that "drop down" animation that the apps seem to do when you close them. Hopefully you can change that

If you use an alternate launcher, you can likely select the animation. Using Nova Launcher currently on KitKat GS3, and I actually chose to switch TO that pop-up/drop-down animation. :)

Same here. I like the animation at .5 speed Posted via the Android Central App

I like any animation Samsung decides to put in. Better than none, hopefully has a better stock messaging app. Posted via the Android Central App

I really hope that there is a ton of sarcasm in this thread so far. Typical Samsung? Within 2 Months is pretty darn good. Right in line with HTCs 90 Day window.
Thats such a long wait? See above While I wish that they went the way that HTC has gone and put parts out in the playstore, I can take this and be happy. Not to pull a Yarnell, but Samsung has a ton of features built into TW and a less than 90 day turn around is not a bad deal. The real test is when the S4 or Note 3 gets it and will they be updated to the latest TW software. Not to mention LG historically has been worse and of course Moto is the best (it is practically stock)so falling in the middle is fine.

Yeah it took my moto x a couple months to get the 4.4 push and I was ecstatic because that was the shortest wait for an Android firmware I'd ever had. I would say 3 months is completely reasonable. Posted via my tricked out Moto X.

+1
Like you, I'm really interested to see if the Note 3 gets the updated TW Posted via Android Central App and My Note 3

They better update the note 3 to the latest version, and the s4 for that matter too. I have neither of those phones, but it's gonna be interesting to see how Samsung approaches this seeing as how they don't ever update their devices UI to the latest version of touchwiz when android updates roll out but with lollipop I'm not sure they can continue to do this with the changes in design language. I hope they update all of their high end devices from the s4 on to the latest version posted on this beastly note 4

In no way does this article say any specific carrier will get the update in December. It will start going out to regions in december. US carriers will most likely not see the update until next year.

Under two months is fantastic. I *wish* that were typical Samsung. I wish that were typical everybody.

You already know it's cool to hate Samsung and touchwiz. I've had a Nexus 5 and a Nexus 7 before and found vanilla Android, while very snappy, bland and boring. I don't go on every Nexus article commenting about how much it sucks just because I prefer touchwiz over it though. Grown men arguing over smartphones and OS's.......... Posted via the Android Central App

Agreed. By chrimbo is good going for lollipop. Can't wait! Posted via the Android Central App

With all of this Lollipop news and such, when are you guys going to update your app to material design so it looks beautiful on all of these Lollipop phones? Posted via the Android Central App

+9000 Posted via my tricked out Moto X.

And maybe work on the transition when opening the app? That whole switching from light theme to dark theme thing drives me insane EVERY TIMR

+1 Posted via My (unlimited everything) T-Mobile Galaxy S5...

Mostly all the changes in that video are presently on the Note 4 Posted via the Android Central App

When will for z2? Posted via the Android Central App

I find it interesting that this build of Lollipop is missing the Tw polishes that are present on the Note 4 KK. Posted via my tricked out Moto X.

They may not want to change too much of the interface so they don't confuse/anger the non-techie crowd. As an example: look at the iOS 7 upgrade.

The non tech crowd wouldn't even notice. The changes are too subtle. As a tech oriented person I'd like to see consistency in Touchwiz's design moving forward. Posted via my tricked out Moto X.

That's still sooner than Rogers will release Lollipop for Moto X 4.7" :'(

Good guy Samsung...carriers won't release it until 2015 though.

And of course, this is for the unlocked international version. Do not expect the US carrier branded devices to see this until Q2 2015.

Yeah that is exactly what happened with kk. /s Get that crap outta here. Historically Samsung has updated more devices quicker than anyone Posted by my soon to be retired Note 3

Samsung is wonderful! Lol

I would not go that far. They have done more right and wrong, then everyone else though Posted by my soon to be retired Note 3

I don't think this is the appropriate place but could somebody please tell me when the official update will be released for the nexus 5 and 7
Thanks alot! Posted via the Android Central App

I hope this lights a fire under LG's ass to push for a faster update cycle so that they can stay competitive

Does this 2014 timeline include the time it will take carriers to add their bloat? Should we be adding more time on that timeline until we actually get the updates on our phones?

Ya no kidding.....and stay away from atnt if you want timely uodates....they're ridiculious, to the point where I'm about to switch carriers

With Sprint S5 still on 4.4.2, I don't know how soon we can see this.
That is with I am getting Nexus 6

You know that the stuff with 4.4.4 was mostly to fix nexus issues right Posted by my soon to be retired Note 3

I wonder if there will ever be any Android L love for the Galaxy S4? I'm really hoping an official update comes from Samsung and the US carriers for the device!

I don't see why it wouldn't. The S3 was updated from ICS>JB>KK so I'd expect the S4 to receive at least two more major updates.

Samsung will release the L in December, that doesn't mean we'll get it then. Remember the carriers? They need to screw things up before releasing the software to ensure we will upgrade soon thereafter The panda has spoken

i got Galaxy S5 3G. AND YEAH

That means Samsung will be releasing it in Dec. The carriers will take as long as they wish in oder to blow it up with bloat. Boom! From My S5

And btw, why are we still calling this "L"? Boom! From My S5

Why not? There's KK, JB, and ICS.

Plus there is Verizon. But this is good news! Posted via Android Central App

In my opinion, None of the OEM should be late for updating there devices to LOLLIPOP. Google released a preview 4 months ago and apps material design guideline. They should have started developing their system apps like the SMS, Gallery, Dial and get it ready. ASAP Google release the final Lollipop they should start developing their Skin ROM and release it us within two months max. I own an unlocked HTC One m8, and very happy with the speed of updating it.

It will be December 2015 for the US carriers lol..

Um.. what about those of us with the S3 or S4? Am sure our phones can run Lollipop even if the processor isn't 64 bit just like the new Nexus phone, LOL

The new Nexus phone does not have 64 bit hardware. The Nexus 9 does, however. Posted via the Android Central App using my Galaxy Note 4 from Sprint

S3 no
S4 yes S3 had its day and two major updates Posted by my soon to be retired Note 3

I'm wondering if the Note 3 might take a little longer because Samsung may want to adapt the Note 4 ROM to the Note 3. I see no reason why the Note 3 can't be updated to look more like the Note 4? The hardware isn't drastically different. Aside from a changes in the cameras and S Health. Posted via the Android Central App using my Galaxy Note 4 from Sprint

Dumb video. Should have been a walk through with explanation. I can't stand musical phone videos. Posted via Android Central App

It'll be another few months until carriers roll it out... :'(

How about a little note 3 love. We not that old