Samsung Galaxy S21 hands-on: A down-to-Earth upgrade with stellar new cameras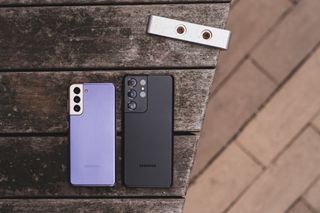 (Image credit: Hayato Huseman / Android Central)
It's a new year, and that means a new refresh to Samsung's bread and butter, the Galaxy S series. The Galaxy S21 is finally official, as are its Plus and Ultra variants, and with them, a distinguishing new Contour Cut Camera design and a focus on lowering prices without lessening the flagship experience we've come to expect from the best Samsung phones.
Of course, with prices ranging from $799.99 for the entry-level Galaxy S21 all the way up to $1,199.99 for the S21 Ultra (and extending even further with upgraded storage), these phones still aren't cheap by any means — they certainly don't encroach on Galaxy S20 FE territory — but each model is launching at $200 less than its 2020 predecessor. That's a big deal when you consider that the S21 packs the latest Snapdragon 888 processor in the U.S., along with support for sub-6 5G across all three models, and UWB on the larger two models.
The new Galaxy S21 series
Samsung Galaxy S21 / S21+ / S21 Ultra

There are lots of reasons to like the Galaxy S21 series, but one of the major ones is a $200 price drop across the entire lineup compared to the S20. For that you get the latest Qualcomm Snapdragon 888, some of the industry's best cameras, and plenty more.
Samsung Galaxy S21 A refreshing new design
Each S21 variant is distinguished by its new camera housing, which looks roughly the same on the S21 and S21+, but extends significantly wider on the S21 Ultra to accommodate the additional sensors. It's a notable departure from the fairly pedestrian styling of the Galaxy S20 series, and will undoubtedly help these phones stand out, as will the striking new colors.
I really dig the new signature Phantom Violet color, but the S21 and S21+ will also be available in Phantom Gray, Phantom White, and in the case of the smaller S21, Phantom Pink. Every color option comes in a matte finish this year, which I'm definitely happy to see as an avid dissenter of glossy coatings. Aside from the new color options and camera housings, though, the S21 series looks about as classic Samsung as it gets.
Samsung dropped the displays on the Galaxy S21 and S21+ down to 1080p at 120Hz after last year's S20 models were locked to just 60Hz when running in WQHD+, and after seeing such positive feedback with the S20 FE, the company has reintroduced flat displays to the core Galaxy S lineup for the first time in years, with the exception of the Galaxy S21 Ultra, whose display remains curved. The S21 Ultra is also Samsung's first phone to support both WQHD+ and 120Hz simultaneously, and can reach a peak brightness of 1500 nits.
Image 1 of 5
I'm a big fan of flat displays, so this is a positive change for me, but the more divisive change will be the departure of the microSD slot — yep, even on the S21 Ultra. The internal storage tiers range from 128GB to 512GB on the top-end S21 Ultra variant, which should be plenty for the majority of users, but your mileage may vary.
Samsung will also no longer be shipping headphones or chargers in the boxes of the S21 series, figuring most customers likely already have these accessories sitting around (of course, there's also an eco-friendly angle here). This move certainly won't please everyone, but I don't think Samsung's too far off-base; particularly in the premium space where most consumers are upgrading from another high-end phone, you're bound to have a USB-C cable or three sitting around, and likely some type of Bluetooth headphones.
Samsung Galaxy S21: Under the hood improvements
All three Galaxy S21 models feature the same 5nm Snapdragon 888 chipset in the States, which Qualcomm claims should yield 25% better CPU performance and an incredible 35% uptick in GPU performance over the Snapdragon 865. Those aren't insignificant numbers by any means, and sure enough, the S21 feels blazingly fast; we'll be paying close attention to the performance during our review period.
The Snapdragon 888 also includes an integrated 5G modem, meaning all three models will at the very least support sub-6 5G connectivity. The Galaxy S21+ and S21 Ultra have UWB support as well, and Samsung is using that tech for more than just networking. The company is partnering with a number of automakers to enable users to unlock compatible cars using either UWB-equipped phone.
Underneath the display of each phone, Samsung has finally updated its ultrasonic fingerprint sensor with a 1.7X larger footprint that should yield far more accurate reads. After years of falling behind the competition in this regard, this is a very welcome change — though it's nothing compared to perhaps the biggest addition to the Galaxy S21 Ultra.
Samsung Galaxy S21 Ultra S Pen support
The long-whispered rumors have come true, and the S21 Ultra has an active digitizer under its display that enables the S Pen stylus that's been so endemic to the Galaxy Note line. It works with any S Pen from previous Galaxy Note and Galaxy Tab devices, though Samsung is also happy to sell you one separately if you don't have a spare lying around.
Of course, they'll also gladly sell you a case — there's no receptacle within the S21 Ultra's hardware for an S Pen, so instead Samsung designed a handful of specialized cases with a wider footprint to hold the S Pen when not in use. It's a bit clunky, and most of what we've seen so far have been the folio-style cases I've never been fond of, but it's only a matter of time before other case makers release their own options. (There are plenty of great Galaxy S21 cases, too, if you're not into Samsung's official ones.)
Because there's no supercapacitor on the S21 Ultra to charge the S Pen, you won't be able to take advantage of some of the Bluetooth-enabled features like remote shutter control and Air Actions that were first introduced with the Galaxy Note 9, but you can still write, draw, or hover the S Pen over the display to access a floating cursor. Like the Galaxy Note 20 Ultra, the S21 Ultra has 4096 levels of pressure sensitivity, as well.
Samsung Galaxy S21 New year, new cameras
The new Contour Cut Camera housing isn't just there for aesthetic purposes. The S21 series introduces new cameras across the board, with the most significant improvements coming to the Galaxy S21 Ultra. The 108MP primary sensor, now dubbed the Bright Night sensor, still utilizes 9:1 "nona-binning" to output 12MP photos, but Samsung says it drastically improved low light performance and, of course, fixed the auto-focusing problems found on last year's S20 Ultra.
The S21 Ultra is also the first Galaxy device to feature dual telephoto lenses — one 10MP f/2.4 lens with a native 3X zoom, and another 10MP f/4.9 lens at 10X. This should significantly improve telephotography, automatically switching lenses at different zoom levels and both optically stabilized to improve clarity at 100X Space Zoom.
Image 1 of 2
For the first time, you can shoot 4K video at 60fps on all five lenses of the S21 Ultra, including the front-facing camera, and Samsung has introduced new shooting modes like Director's View, which gives you a live thumbnail preview of each lens simultaneously while filming, allowing you to switch perspectives on the fly.
As a videographer myself, I'm most excited for the new option to capture 12-bit RAW video in the S21 Ultra's Pro shooting mode, which directly translates to richer color information and more flexible footage for editing in post.
Samsung Galaxy S21 More to come
We'll be covering the Galaxy S21 series extensively in the coming weeks, but first impressions are, as expected, very positive. These devices will almost certainly become the de facto phones to beat within their respective price points, at least through the early months of 2021, and I'm absolutely excited to put the cameras through their paces.
All three Galaxy S21 models will be available starting January 29, with pre-orders going live today, January 14 at 11 AM EST. As always, Samsung will be offering a number of incentives for pre-orders, including up to $700 of trade-in credit, a $100-200 gift card depending on your model of choice, and a free Galaxy SmartTag.
The ultimate experience
Dual telephoto lenses and S Pen support
The Galaxy S21 Ultra is Samsung's most powerful phone ever, with a Snapdragon 888 processor and four incredibly capable cameras. It's also the first device in the Galaxy S series to support the S Pen stylus, opening up a whole new world for creatives.
Get the Android Central Newsletter
Instant access to breaking news, the hottest reviews, great deals and helpful tips.
Hayato was a product reviewer and video editor for Android Central.
1440P to 1080P even on Plus
RAM downgraded
Wireless charging Wattage downgraded
Plastic back ? WTF
No SD slot
No 3.5mm jack
No charger in the box
No earphones in the box Sounds like a winning recipe!

Most people can't tell the difference between 1080p and 1440p on a phone screen.
8gb of RAM is more than enough.
Wireless charging downgraded? Wireless charging is meant for casual charging when the phone isn't in use. Such as at a desk or a night stand overnight.
SD slot? Very niche for most people and SD cards fail all the time.
The writing has been on the wall for the 3.5mm jack since Apple eliminated it.
Most people buying these phones will already have a compatible charger.
Pack in headphones have always been of inferior quality to what you could buy off the shelf for not much more than $20. I realize that the items you listed are most likely the reasons why it is a no-go for you. However I've noticed on almost every Android site that people complain about these things. We need to remember that we actually don't represent the average phone user. Heck, most outside of our little circle couldn't even tell you what version of Android their phone runs. They just want a reliable phone that takes good pictures and allows them to use the apps they want without issues.

Look I've said this before just cause you don't think these things are important or worthwhile doesn't mean it isn't for someone else. Effectively whatever way you or Samsung want to spin it, they are making people pay more for less! and as a long time Samsung fan that doesn't sit well with me so I'm now looking elsewhere.

The s21 series is actually $200 cheaper than the S20. And with trade ins, as much as $600 less. So I'm not sure what you're talking about. I'm not buying the s21 because I already have a Note 20 ultra, but the complains here are redundant. You knew this was coming 3 months ago.

You've seen the list on the first post on the thread? SD cards, charging leads, 1080p screens, plastic etc not including Iris Scanners, headphone Jacks and changes to MST for Samsung Pay. I don't care about trade ins or they've lowered the price, they certainly have lowered much on the S21 Ultra here in the UK think it's £50 cheaper than last year that's what I am getting at.

"Heck, most outside of our little circle couldn't even tell you what version of Android their phone runs. They just want a reliable phone that takes good pictures and allows them to use the apps they want without issues."
I agree, and that's why they do not need to spend what any of these new phones cost! The average person can get everything they need/want and more for $400.00 or even less and be very happy. The only reason Samsung has lowered the price and got these out early is because the S20 sales tanked, and I think these may tank also! When the vast majority of people go into a providers store and see the difference in prices for phones that all do basically the same thing...and the economy is shaky...they're going to buy the cheaper phone. Time will tell.

That is absolut nonsense. The camera is THE most important thing for people today. And a $400 phone is not in that excelle t camera range. Maybe the Pixel 4a, but what "normal" person buys that ugly thing?

This normal person here is still on a Pixel 3a XL that's still running well on Android 11 doing everything I need on a phone. And I'd wager it still takes better snaps than the S21 in a lot of conditions.

It's more about what you get your money... They are pushing the limits. The next it's maybe only let you use the phone if you pay the monthly fee as there is no more to remove, aside de fale marketint with telephoto lens... that are no real... only 1.1x optical zoom in two lens and the rest cropping in some way and digital to a ****** scape one.

Agreed with the headphones. I've got a box of old headphones, some still in the original packaging. I didn't even realize headphones in the box was even still a thing.
Headphone jack is lamentable. SD slot is ehh. No charger in the box is fine. Seriously I feel like I include a load of extra cables every time I donate to Goodwill.

But the issue with the charging brick is the S21 comes with a USB-C to USB-C cable...unless you bought the 20 line, you most likely still only have a USB-A charging brick so the included cable is useless til you do get a new charging brick... Its Apple again. "here's a cable that you most likely can't use...but we do sell the charging brick if you do need one".

I haven't had an SD card fail on me in years. Ironically, all of my current cards are made by Samsung.

Jmorris1974 - Agree that most people can't tell the difference in resolution, but it does eliminate this phone from VR use. 8GB is fine, and if someone wants effective and efficient charging, they will plug it in because wireless in neither of those.
SD slot, I'd have to disagree with. I use my micro SD card to transfer media immediately after film projects, and the speed is important when you are dealing with 8GB videos. I use dozens of cards in different cameras and phones, and the only one to go bad was almost 20 years ago in a Palm M500.
People need to stop crying about the 3.5mm jack. I know I did when HTC invented something better.
Your comment on headphones is mostly right, but it depends. The AKG Samsung earbuds sitting in my drawer literally sound worse than $5.99 earbuds bought from O'Reilly auto parts, while the earbuds that came with my U12 Plus sound better than most studio monitors. So yeah, for Samsung fans; no big loss. But for people who are used to the best in-box audio experience in the world, $20 off the shelf headphones would be crap in comparison. Just speaking as a licensed pro audio engineer.

SD card slot "very niche"? Seems like you are a niche sheep that doesn't do much with their phone. Christ, if you don't need it, doesn't mean others don't. And f you again with 8 gigs of ram is enough. So says the high and mighty Master of all. Most people buying these phones will already have a compatible charger? Now I know you work for AC or Samsung. You do realize some people will be upgrading from s10 that came with fast charging at 15watts..or older phones which had lower wattage charges (not the 25wattz--or 45watts max the s21 uses). Unless your logic is that new s20 owners will be throwing out their phones for the s21? Yep, they already had a 25watt charger that came in the box. So for most new s21 owners they won't have uptodate "spec" charged.. (and they will have to get the 45watts chargers so maybe they can use them with the s22 or s23 (if those don't go up in watts either) What kind of tin can earphones can you get for 20$ that are better than the slightly above average kit earphones that usually come in the box? Gag gag barf. I agree with your first line and last 2 lines.. Everything else shows you are a paid evangelist for Acentral and Samsung.

Completely agree - how are these phones better than the S20 series or even the S20 FE?

Right... I'm happy we have a cheaper price but the features that got removed to reflect that are ridiculous.

No Heart rate sensor
No O2 sensor
No IR blaster

I'm disappointed about losing the micro SD storage option, but I lost that when I went with the Fold last year. I've been getting along well enough without it, but I still resent not having it.

Add to your list that MST has been removed, too.

The lack of an SD card slot is a deal breaker for me. That is why I skipped over the Samsung S6 all those years ago and went for a Note. So I'll be keeping my S20 and S21 plus for another year and then see what Samsung phones are available in 2022. Also the lowering of screen resolution isn't good as I have mid range galaxy phones and I can notice the difference when playing videos from you tube for example. Samsung have dropped the ball on this one.

Same here. Went from the S3, S4, S5 then to a Nexus 6 because of the S6 lacking the SD card. Came back for the S7 when it was brought back. I was hoping the S21 would support a 1tb micro sd card. Probably not a big deal for a lot of people, but it's a definite no for me.

I'm baffled by these supposed 'upgrades' that actually downgrade specs??? Samsung have started doing it on high end models but also motorola have done it for couple of years too on their entry/midrange phones dropping screen res from 1080p to 720p on 'new' models and using lesser chipsets! A complete headscratcher! Also taking away popular features that people use all the time like headphones, memory cards and oh yeah 'CHARGERS'!!! Taking the p7ss to whole new levels!

When I read here what's all a "deal breaker" for some I can't help but laugh. Years ago a non removable battery was a deal breaker. Phone manufacturers ignored the whining and today nobody talks about that anymore. I do like an SD card extension but can live perfectly fine without. Nor do I miss the headphone jack. You just adapt and move on. Good luck finding something of quality with everything you wish for!

The sky screamers want everything and want to pay half the price. They are never happy

Or people like myself that travel by motorcycle, in areas without service for extended periods of time. Say you want to listen to your saved music or want to watch a movie, while in the cabin or camping, that's when does pesky SD cards come in handy.

or you can spend $50 and get a 256GB phone and use the cloud for pictures. 256GB is a LOT of storage. i have 1000+ songs and 11 movies downloaded on my 128GB phone and have 35GB left over .... how much junk do you need on a Phone. you people cry over everything

You're the perfect consumer. You adapt to what the company gives you instead of them adapting to you. In most industries, companies work hard to satisfy their customers needs. This industry gives you what they want... All thanks to Apple that does it first and people still buy their products. Then it enables others like Samsung to do the same because at the end of the day they feel that they can get away with it and make more money.

Downgraded specs, are they crazy? Sales on the S20series were down 59%, sales on the S21series will be down 75%. Hells bells my 549.00 dollar FE is better, good luck & God bless with the downgraded features, 😬 yikes!

No microSD slot and no headphone jack? Guess I'm sticking with my S10e for another year.

If only they will bring it back next year....
(I am also staying with my s10e for now)

I am pretty sure it am in for the S20. Samsung will give me $250 for my S8 meaning out the door for $549. This will be my first phone without a headphone jack. I will miss that but life goes on.. I think $549 after a trade in is a good value...

Seems like my A71 5G in August with SD card slot and head phone jack for 42 dollars in tax traded across for my S9 was a good deal. Honestly tho I would have never traded my S9 had it been included in the new Samsung upgrade policy. Samsung has made excellent premium hardware since the S7. Since "glastic" is being embraced they should return to a grippy texture like the S5 or the texture on my Black Edition Blackberry KeyOne.

Cheaper in what sense? If you add the lack of expandable memory and the lack of in box charger in all models, then add the fake zoom, yes is another downgrade in two of them, with only 1.1x optical zoom... in the S21+ and S21, also downgraded displays in resolution. And in the vanilla one even a plastic back. At the prices their are asking, in my eyes is an insult in the face of customers. Also its already being leaked that they are trainning carriers and comercials to avoid mention all that when they try to sell them.... Seems a back joke bag real. Don't purchase downgraded phones paying more like some fruit users do. Android users used to have brain... Close your wallets.

iPhone isn't downgraded phone and yes iPhone users pay a lot but you're getting more cohesive and polished experience as Apple makes both the hardware software unlike most Android OEMs including Samsung who have to rely on Google for the OS and Qualcomm in the states in the case of Samsung who sell their inferior Exynos versions outside the US. And iPhone users get 5 years of updates and before you say "Apple slows down older IPhones to get users to buy the new ones" that isn't true unless the battery is significantly degraded. Back to the topic, I'm impressed with Samsung of late, especially the Note 20 Ultra, I really like that phone and is the one phone that's tempted me go ditch my iPhone as well as the S20 FE.

Bro, you're back! Apple does slow down phones to extend the usable life when the battery wears out, and that's good, but a lot of flack came from them not being transparent about it. Now they are transparent about it, and it's optional, so we're good. Being a former Apple hardware tester, I do think that 5 updates is 1 too many because the hardware often struggles at that age. I don't think it will be an issue for A13 and better though.

I agree 100% with your comment, I was angry with Apple at the time with "battery gate" which Apple should have been transparent about and was a factor in my moving to Android but I've forgiven Apple and came back for one of a few reasons with Android's lousy updates being a factor (my 7T is still on Android 10) while my 11 Pro Max is on iOS 14.3.

The same people who dissed the Pixel 5 on it's less than flagship processor are the same people dissing one of the first phones to have the newest flagship processor. Maybe proof having a flagship processor is not the be all or end all feature to look for in a phone. They're all good enough for day to day use.

I think these are going to be great. Snapdragon 888 with the 5nm should be a battery and speed champ. Bigger battery on the S21+. Finally, finally they upgraded the finger print reader so hopefully that is much better. As far as the screen resolution goes, I'll bet the vast majority of people used the galaxy's last year in HD so they could run at 120 htz. I think this was smart. All this and they reduced the price by 200 bucks. If they had kept the price the same I would agree with those upset, but I think Sammy did a good job. Oh, and all the new google integration. Definately picking up one of these.

I get that the cameras have been upgraded and the processor has been but do people really need to upgrade from even say S10? I don't think so. I don't get this new trend of not including a charger in the box........if I am upgrading from an older phone or even trading in an old phone, I have to trade in the charger as well at least in my country otherwise the trade in value drops by a little bit. If you aren't providing the accessories then reduce the launch price a bit but that isn't the case, the launch price is still higher than the S20 launch price in India.

You're choices in phones is dropping by the day.

SD cards are so overrated, as an iPhone user I've never cared for expandable storage and internal storage is way more reliable.

What's over rated is phones you buy today. IPhones included .you pay more for less every year .

I am reading all the comments here and couldn't agree more. The loss of the SD card, and option for headphone jack is a deal breaker for me. SD cards have a big advantage that if the phone gets damaged, most files are still available/recoverable, and when you get a new phone you just swap the card and you have all your stuff instantly. I understand that photos have a backup in the clouds, but I have tons of songs, downloads, documents, and more, which I want to have local on my phone (card). I understand that some people don't need it, and thinks that SD cards always fail (never by me), I also understand that not everyone needs a headphone jack. But millions of people do, and they are not being catered. For those who doesn't need it, they couldn't care less if the slot is still there; but for those who do need it, they have a void and it is usually a deal breaker. My take on this is: The phones are cheaper for a reason. If you take off stuff that can be added for a few bucks, like a headphone or charger, it's fine with me. But if those are things that cannot be added, like a headphone jack or a SD card slot, then it's not justified. Please give me the same phone with these features and I'll gladly pay you $100 extra.

I actually think the camera module looks decent, and I'm looking forward to the software features.
I am a bit confused by calling them "stellar new cameras", when they have not been tested though.
I remember how AC heaped praise on the S20 and Ultra cameras, and they turned out to be mediocre.

Thses phones are 200$ cheaper because they really got downgraded.. No SD card.. Wtf? That's back in the caveman era. I mean these phones are huge compared to the s6 or S7 which had everything in a smaller size... Even an ir blaster (s6)... Why are we going backwards!? Don't tell me it doesn't fit or it's too expensive! Heck they fit and we're cheap in those old small phones. Anyway everyone watch out for Samsung/Acentral comment plants promoting cheapness and remove of features as progress.

Exactly! Look at the way the price in tv's fall when new stuff comes out . Phones on the other hand never seem to get actually better or cheaper. Despite the fact that the technology is beyond mature at this point . Sure the processor gets faster every year but can you really tell nowadays ? Not really. camera same thing . Screen same thing. Yet the price continues to stay high on flagship phones.
I currently have the 12 . And the 12 mini .
Have gave away a unlocked s20 traded in the 11 pro . The only one that was actually refreshing to use is the mini. Because of its size. But of course apple still hasn't cought up to android in usability . So I'm back on my trusty pixel 4.
And I really should be looking for a nib p4 for a back up. Hopefully a upgraded s10e will come out next year ....

"Hopefully a upgraded s10e will come out next year ...." This! I'm waiting for an S10e II. Or as I think of it, an S7 III.

I'll wait for big improvements. The return of the micro SD card because S21 sales will crater. A generational improvement on the camera... Ie. The Samsung six camera patent. Under display selfie camera... It might arrive on this year's note. You can only expect significant change, and return of features taken away, every 4-5 years. I'm hoping for a flat paneled Note.

These were big enough improvements for me, though I'm stull upset about the SD card removal.

I expect the Note 21 will be Samsung's no compromise phone... Micro SD card and everything else.

People are buying into lack of SD cards and chargers they same way they fell for the curved glass gimmick, glass backs and non-replaceable batteries.

The specifications are really good on the new s20, what I did not like is that the upper part of the three camera is a bit high and if we choose to buy a color which is different from the back part it looks odd. The storage is also good and I do not even talk about the display and the frame rate. I just do not know why they have put that of a weird design.