Samsung Galaxy S3 gallery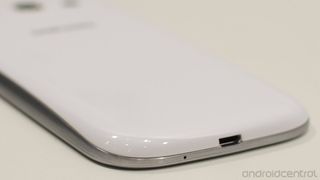 Well folks, here it is. The Samsung Galaxy S III (S3). We have all the pictures you'd ever want. Head past the break to see them all.
Image 1 of 75
Get the Android Central Newsletter
Instant access to breaking news, the hottest reviews, great deals and helpful tips.
Damn! That is a nice looking device. And you guys are fast! Almost like you already had all of these.......

lol.. of course they had, but they couldn't show it util press release

It is weird, I just saw the walkthrough on the AC YouTube page....posted a day ago :P.

wait is Flipboard on Android?!

Yep, it's a Galaxy S III exclusive for now, will hit Google Play shortly.

Removable battery!!! Jay's haPPy!!!!!!

This is the phone I've been waiting for!! Can't wait till its available on Sprint!!

Will be waiting a while on Sprint.

yeah, probably until June...

I hope they are keeping the quad-core for US versions as well!

only the GSM version is quad core...the LTE one uses the dual core S4 which is plenty fast too...

Big Removable battery,SD card slot,4.8 inch screen. Yep, Ill take this over the OneX.

How early did you guys get to see it?

Quite a sexy looking device. Unfortunately the US carriers are going to muck it up with hardware changes & diffrentiation attempts. Perhaps the answer is to import a fully unlocked, carrier agnostic version.

I really don't like it. It looks too shiny and cheap

I agree, but it's to be expected. All Samsung phones are cheap and plasticy, the original Galaxy S phones felt were like this, the GNex was the same, so why should this be any different? You can see in one of the videos how flimsy the battery cover is, and persoanlly, I find the brushing on the metal edge to look very cheap. Would have been better to be straight anodised aluminum. This looks like like it's just a thin metalized plastic as opposed to a real, solid structural aluminum piece.

Nobody goes near full metal phones atm because it wrecks signal and GPS capability.

No one's talking about full metal, there are plenty of examples of phones with structural metal pieces that make for a sturdy phone, while not effecting cellular and GPS signals. And who knows, maybe this Galaxy S III has exactly that, my point was that the glossy brushing makes it look more like a thin metal film over plastic than an actual solid metal piece. Samsung phones tend to feel very plasticy and cheap, and this doesn't appear to have moved the bar at all.

I have the Vibrant and now I have the Galaxy Nexus. The Nexus may be plastic, but it is not cheap and hollow. If they had stuck to their newer designs, all would be well, but I agree, this phone looks cheap, glossy, and a step backwards to their original Galaxy design.

I agree, to me the Galaxy Nexus has a better feel that the SII, a little more premium. This just looks like a longer, thinner, rounder Galaxy S.

Ditto... Not that impressed. Doesn't seem anything special from a design standpoint, just good specs. (Like it or hate it, at least the iPhone 4/4s has some style though it is too small). Mind you the design of the S2 is a bit bland as well but I like it in my otterbox case.

Love it, big battery, big storage and lot's of power. This thing is a hackers dream phone. I want it now. The size of this phone is not much bigger then the T-Mobile version of the SGS2. They made the bezel much smaller to keep the overall size of the phone down. All kinds of gadgets come with this phone, love the wireless battery charger, that is a must have for us phone geeks. Great Job Android Central, I thought I saw Phil running past the camera to get his hands on the phones. Great job Phil, you were the first to report the goods.I will be first in line to get one.

PLLLLLLLLEASE Don't be screwed up by using Qualcom crap I'd take a 3G Capable Quad-Exynos any day, instead of the S2Quacomn CPU...
Don't really feel the need for LTE, if by the time Sprint Launches it, the 3G should be the same speeds, we are getting with 4G currently. I want more options for the US market :/

The Qualcomm S4 is as fast if not faster than this processor. It won't be like going from the Exynos to the Qualcomm S3 like for the Galaxy S2

Why do people keep saying this? Because it's based on newer architecture? It beats the S4 at a lot of things according to anandtech. Comparable? Sure, I guess, but make no mistake this quad core exynos is usually topping the charts.

Sprint 3G speeds will never even come close to touching LTE speeds...

Ewww. Reminds me of the Evo 4G LTE, shiney and cheap looking. HTC won, atleast with the One X. Polycarbon white is such a beautiful touch.

I'm not a fan of the look of the device or the fact that Touchwiz still looks childish and unfinished...I'll stick with an HTC One device, even if it's the One V.

Dont like the colours (something that also put me off the Prime). Id prefer a black front and a white back. One X is much much better looking, but i prefer the s3 in every other way.

If you could take the innards of the S3 (or really just the battery and storage) and pack them in the One X, you would have the perfect phone.

I like the blue version, the white is just too bright and sterile looking for my tastes. What were the two chips below the battery?

sim card slot and microsd card slot.

I don't understand all the fuss over what it looks like and whether it looks 'premium'...are you trying to impress people with the way it looks? And as far as durability...I think they've proven their build quality holds up. I had a HTC a couple of years ago that dropped and the screen busted. I went and bought a Vibrant after that and it still holds up today. Buy a case to cover it up and move on... geeezz...

No offence, but why are your pictures blurry? At times, the screen pictures with text on them are half blurry and the other half of the text is clear. Is this due to the screen or the person taking the photo?