Samsung Galaxy Note 8 vs. Galaxy Note 5: Should you upgrade?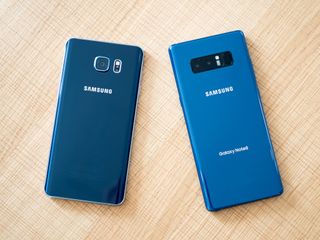 With the quick rise and fall of the Galaxy Note 7, there's a huge number of people out there with a Galaxy Note 5 today who have been dying to get their hands on something fresh. The Note 5 is, with little argument, still a strong phone today — but with contracts and financing plans coming to an end two years after the Note 5 came out, the upgrade cycle is ready to set those people on to something new. At the same time, early adopters who would have (or actually had) bought a Note 7 have been extra twitchy waiting for a refresh.
Note users, on average, are very likely to want to upgrade to a new Note, not just a new phone. And now the time has come, with the Galaxy Note 8. So is this the right upgrade for a Note 5 user? Or has the time finally come to consider a different kind of phone? Let's break it down.
What's changed and improved
Image 1 of 4
The biggest (literally) and most noticeable change in this two-year upgrade is the size of the Note 8. In moving to a new 18.5:9 aspect ratio and going with a larger overall screen, the Note 8 is much taller and heavier than the Note 5. At almost a centimeter taller and 14% heavier, the Note 8 is pretty hefty, even though its curved sides and slightly narrower footprint help a little in terms of grip. Chances are if you're used to a Note you'll be able to adapt to the larger size, but know that you will be going considerably larger here.
But for that size change, you get more inside the phone and more of a better screen to look at. The internals have bumped notably, if not considerably — a more efficient and powerful processor, higher base storage of 64GB, an extra 2GB of RAM and a 10% larger battery are all big perks. The display is nicer, for sure, especially in its color saturation and peak brightness — but the Note 5's display still holds up well today, so you're probably not scrambling for an upgrade just because of that.
The addition of IP68 water resistance is a huge improvement that everyone can enjoy, as is the move to a USB-C connector — at least after you get over the initial pain of swapping out cables and accessories for the new port. The Note 8 also adds iris scanning and face detection for a more seamless unlocking experience ... but in a trade-off, you have to give up your well-positioned fingerprint sensor for one high up on the back of the phone that's tougher to reach when you do need it — is that worth it? It's probably a wash.
More: Complete Galaxy Note 8 specs
In the no-compromise addition category is the rear camera improvements. The Note 8's camera is actually lower resolution, but has a faster lens and larger pixels that together handily beat the Note 5's shooter (which in itself has aged very well). Then you get the secondary camera, which lets you zoom without losing resolution and also take neat photos that blur the background artificially for a pro-like look.
What hasn't changed much
Image 1 of 4
Perhaps unsurprisingly, there are many things that haven't changed much in the Note world in the last two years. Samsung's S Pen, while slightly improved in terms of tracking, hasn't made a monumental leap forward from the Note 5 to the Note 8. In the same vein, the new suite of S Pen-focused software is good ... but much of it has actually already come to the Note 5 in its Android 7.0 Nougat update. There are just a handful of new software tweaks that you aren't likely to see on the Note 5, but none of them are game-changing.
The same actually stands for much of the software experience. Assuming your Note 5 has the Nougat update, you have perhaps 90% of the same experience as a Note 8 out of the box. That's worth a golf clap in Samsung's direction for keeping an older device up to date, but it also means you don't need to go clamoring for the Note 8 just to get new software. That will, of course, change in the near future as the Note 5 is likely at the end of its life in terms of major software updates. The Note 8 will be one of the first phones to get Android 8.0 Oreo, and the Note 5's prospects of getting much more than a few future security patches are slim.
There's no doubt that the Note 8's hardware is great, and we already covered some of the spec and feature differences included in it, but hey the Note 5 is no slouch — even by 2017 standards. The metal and glass found on that 2015 device feels just as solid as today, if not more so considering how much more exposed aluminum there is, coupled with a flat display glass that's less susceptible to damage.
Should you upgrade?
Samsung does a fantastic job each year in designing its new phones so that they, by and large, are notable upgrades from their predecessors without losing much along the way. Looking at the Note 5 to the Note 8, it's almost all upside: a larger (nicer) display, better specs, improved cameras, waterproofing, and of course the expectation of future software updates. On the downside, if you could call it that, it is a considerably larger phone and the fingerprint sensor move can be a vexing one.
If you're a Note 5 owner that's still proud to have a Note, buying the Note 8 is a clear decision that you shouldn't hesitate on.
The bigger question, as always, is for those who are happy with their Note 5 but not necessarily in love with it and would potentially consider something different. The Galaxy S8 offers the whole experience, minus the S Pen and dual cameras, in a more compact package for those who have grown tired of the Note 5's size. Since 2015 the competition from LG, HTC and others has also caught up quite a bit, offering larger devices with great specs and many of the same features — again, sans stylus.
If the Note 8 price makes your eyes water, and you're not tied to the S Pen, you should look at the field of great smartphones today rather than jump right to the new Note.
Sign up for Black Friday email alerts!
Get the hottest deals available in your inbox plus news, reviews, opinion, analysis and more from the Android Central team.
Andrew was an Executive Editor, U.S. at Android Central between 2012 and 2020.