Samsung Galaxy Note 8 vs. Galaxy Note 5: Should you upgrade?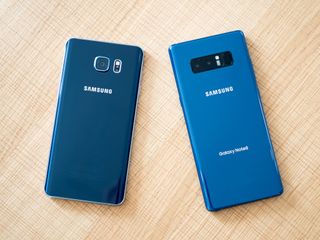 With the quick rise and fall of the Galaxy Note 7, there's a huge number of people out there with a Galaxy Note 5 today who have been dying to get their hands on something fresh. The Note 5 is, with little argument, still a strong phone today — but with contracts and financing plans coming to an end two years after the Note 5 came out, the upgrade cycle is ready to set those people on to something new. At the same time, early adopters who would have (or actually had) bought a Note 7 have been extra twitchy waiting for a refresh.
Note users, on average, are very likely to want to upgrade to a new Note, not just a new phone. And now the time has come, with the Galaxy Note 8. So is this the right upgrade for a Note 5 user? Or has the time finally come to consider a different kind of phone? Let's break it down.
What's changed and improved
Image 1 of 4
The biggest (literally) and most noticeable change in this two-year upgrade is the size of the Note 8. In moving to a new 18.5:9 aspect ratio and going with a larger overall screen, the Note 8 is much taller and heavier than the Note 5. At almost a centimeter taller and 14% heavier, the Note 8 is pretty hefty, even though its curved sides and slightly narrower footprint help a little in terms of grip. Chances are if you're used to a Note you'll be able to adapt to the larger size, but know that you will be going considerably larger here.
But for that size change, you get more inside the phone and more of a better screen to look at. The internals have bumped notably, if not considerably — a more efficient and powerful processor, higher base storage of 64GB, an extra 2GB of RAM and a 10% larger battery are all big perks. The display is nicer, for sure, especially in its color saturation and peak brightness — but the Note 5's display still holds up well today, so you're probably not scrambling for an upgrade just because of that.
The addition of IP68 water resistance is a huge improvement that everyone can enjoy, as is the move to a USB-C connector — at least after you get over the initial pain of swapping out cables and accessories for the new port. The Note 8 also adds iris scanning and face detection for a more seamless unlocking experience ... but in a trade-off, you have to give up your well-positioned fingerprint sensor for one high up on the back of the phone that's tougher to reach when you do need it — is that worth it? It's probably a wash.
More: Complete Galaxy Note 8 specs
In the no-compromise addition category is the rear camera improvements. The Note 8's camera is actually lower resolution, but has a faster lens and larger pixels that together handily beat the Note 5's shooter (which in itself has aged very well). Then you get the secondary camera, which lets you zoom without losing resolution and also take neat photos that blur the background artificially for a pro-like look.
What hasn't changed much
Image 1 of 4
Perhaps unsurprisingly, there are many things that haven't changed much in the Note world in the last two years. Samsung's S Pen, while slightly improved in terms of tracking, hasn't made a monumental leap forward from the Note 5 to the Note 8. In the same vein, the new suite of S Pen-focused software is good ... but much of it has actually already come to the Note 5 in its Android 7.0 Nougat update. There are just a handful of new software tweaks that you aren't likely to see on the Note 5, but none of them are game-changing.
The same actually stands for much of the software experience. Assuming your Note 5 has the Nougat update, you have perhaps 90% of the same experience as a Note 8 out of the box. That's worth a golf clap in Samsung's direction for keeping an older device up to date, but it also means you don't need to go clamoring for the Note 8 just to get new software. That will, of course, change in the near future as the Note 5 is likely at the end of its life in terms of major software updates. The Note 8 will be one of the first phones to get Android 8.0 Oreo, and the Note 5's prospects of getting much more than a few future security patches are slim.
There's no doubt that the Note 8's hardware is great, and we already covered some of the spec and feature differences included in it, but hey the Note 5 is no slouch — even by 2017 standards. The metal and glass found on that 2015 device feels just as solid as today, if not more so considering how much more exposed aluminum there is, coupled with a flat display glass that's less susceptible to damage.
Should you upgrade?
Samsung does a fantastic job each year in designing its new phones so that they, by and large, are notable upgrades from their predecessors without losing much along the way. Looking at the Note 5 to the Note 8, it's almost all upside: a larger (nicer) display, better specs, improved cameras, waterproofing, and of course the expectation of future software updates. On the downside, if you could call it that, it is a considerably larger phone and the fingerprint sensor move can be a vexing one.
If you're a Note 5 owner that's still proud to have a Note, buying the Note 8 is a clear decision that you shouldn't hesitate on.
The bigger question, as always, is for those who are happy with their Note 5 but not necessarily in love with it and would potentially consider something different. The Galaxy S8 offers the whole experience, minus the S Pen and dual cameras, in a more compact package for those who have grown tired of the Note 5's size. Since 2015 the competition from LG, HTC and others has also caught up quite a bit, offering larger devices with great specs and many of the same features — again, sans stylus.
If the Note 8 price makes your eyes water, and you're not tied to the S Pen, you should look at the field of great smartphones today rather than jump right to the new Note.
Get the Android Central Newsletter
Instant access to breaking news, the hottest reviews, great deals and helpful tips.
Andrew was an Executive Editor, U.S. at Android Central between 2012 and 2020.
I agree with that last sentiment.
With a price tag of almost 1000 bucks you definitely should atleast consider other phones - even the ones from Samsung like the s8+.

What other devices have the S Pen?

I know, so I ordered new note 5(new sealed) for $321.00 eBay and will see how well it keeps up, yes over $1k is little too much. when most of the phone drops its value in half in less than 2 years. perhaps I will get note 8 next year or so when a price drops radically. lol but it is subjective. lol

Ya, this is a gorgeous phone, no doubt, probably even the best on the market in my opinion, but at $1300 Canadian, I can no longer justify the note series. It's great, not that great though. There's a very good chance that my next device will be a OnePlus

Yep, best phone for top dollar. Although grey market is making this pretty cheap already (sub $1000), and it's not even out.

The Note5 Trade in is what makes this worthwhile...
Verizon offered 1/2 price for the Note 8 when you trade the Note 5 in.
That's $480 for the new phone. That is the best offer I have had for upgrade value on my Note.

That's what made me go for the upgrade too, traded in my Note 5. Plus, Best Buy offered an extra $150.00 off the price of the phone. Pre-orders that were ordered in store didnt release until 9/14 & 15 which was a bit frustrating cause online orders were received much earlier, but in the end, I paid $320. for a Note 8 (not including tax which you payup front.) Not bad!

Damn good for you. Happy note'in

The Note5 Trade in is what makes this worthwhile...
Verizon offered 1/2 price for the Note 8 when you trade the Note 5 in.
That's $480 for the new phone. That is the best offer I have had for upgrade value on my Note.
Also There is the Free gift... 360 gearvr camera.. $299 retail added for free.

$1469 in Canada. Not on your life Samsung. No.

Lmao would totally agree.

How much is the iPhone 8 plus or iPhone X in Canada? THe Note 8 is $1499 in Australia. The IP8+ is $1600. With American Express discount I got the Note 8 for $1250AUD with screen assure and wireless charger and case.

The Note 5 is STILL a great phone in terms of what it can do. If you're interested in the S-Pen but don't want the bulkiness of the Note 8, I say go for it (or stay with it)!

I love my note 5...it's the second Samsung phone I ever owned (and the first one I use as a primary phone), I have used iphone since 08 and I'm tired of it. Also my work requires me to know everything about the phones, IOS, Android...(and the dead windows). So I switched to note 5 and I LOVE it! I think Note 8 def. worth the upgrade, but I will wait to see what pre order gifts they offer, and maybe I will wait till the holiday season for a lower price/better deals. Yes it is expensive, and people will complaint, but let's just shut the mouth up for now and see how much the new iPhone costs. I mean compare note 8 to note 5, is like to compare iphone 7 to iphone 6, which has greater improvement? It is easy to tell. Still, many people are in love with iPhones, I think because here in the US, Americans are more proud to use "american" stuffs, so that's one reason. Second, still, I found it's funny to think that you have an iPhone and you are better than others...Third, most people are not competent to use Android system, so they stuck with iphones.
To be honest, I would still purchase macbooks and ipads, but for phones, I will go with Sammy for now and for the next few years probably. Based on the iPhone 8 leaks, that phone has nothing attractive.

Please tell me how an android phone is more difficult to use than an iPhone?

What a amazing device Samsung has delivered here. And yes I am definitely going to purchase one as soon as they become available.

This is a easy answer ...if you can afford it hell yah the two are almost night an day in build quality an software and camera so yep it's a go . To bad were not getting the blue kinda pissed about that

I don't think it's about affordability.....IMHO. More than 10 years ago I spent $799 for N95 and thought that was awesome and cool! Not really. That was one of the dumbest decision I've made. I do agree that the phone has dual cameras and bigger battery, etc. so it needs to be more. But if you look at how much profit Samsung has made each year, it's a bit outrageous for a phone that is $1k+. I guess it's all priority and personal choice but being there before, not worth it.

I completely agree in 2010 when Google brought out the first Nexus device from HTC I bought it the day it was announced and ended up spending $830 and within a year I felt that it was not worth it at all because the device was crap compared to what was coming out. I mean r

Couldn't agree more I'm a little pissed about not getting the blue either because I really love my Coral Blue Note 7.

The "Galaxy Note 8" stamp on that Blue version makes me think it is eventually coming to other markets. The Canadian version apparently does not have it.

I still have my note 5, but I think I'll hold off until the V30 and iPhone 8 are released. I rarely use the S-Pen and was really hoping for a wide-angle lens. The fingerprint sensor is a problem too. I'll likely go with the one that offers the best camera flexibility (wide to tele) and image quality.

The note 8 has a wide an a zoom lens

Samsung calls it wide, but it's not actually a wide angle lens on the non-zoom one.

I don't see any mention of the Note 5 not having expandable storage. That can be a big deal for many.

THANK YOU! At last, someone says it....

It can - but also don't forget that your expandable storage can get corrupt - I put all my photos on my expandable SD card - and it got corrupted - without ever taking it out.... This is on the 7 Edge... Just a reminder that the card can get corrupted... And you can lose your data... So expandable storage is not the total answer...

I've had two cards die in the last 18 months. Should always back up data.
Cards are a poor substitute for "proper" storage.

I have had a Note5 over a year and a half. Even in 2017, this phone is a beast. I will not upgrade... 1. Curved screen, no thank you.
2. Crazy finger print sensor location, YIKES!
3. Taller screen ratio - umm, yo CRAZY!
4. Bixby? Can you say "OK Google". Samsung is going off track imo, or maybe I'm a dinosaur when it comes to today's tech upgrades.

Watched the unveiling and honestly not feeling the need to upgrade yet. Just need a new tempered glass screen protector slapped on my Note 4.

Note 8 looks doofy big..... I'll pass

It is. Even if I wanted this phone, my pockets aren't getting bigger every year to fit that thing.

Pre-ordering mine tomorrow. VZ

Considering the note 4 was a better device then the 5 I think that's obvious

I'm not spending that kind of money on a phone. That's more than my 55" TV and PS4 I just bought for my new house cost combined.

You must have shopped at Goodwill!

I don't believe in over paying, especially for tech. I got my PS4 brand new for $220 on prime day. My TCL TV is ultra HD and has HDR and was on sale at Best buy and has a beautiful picture. I buy quality stuff but I don't spend money on needless features and expensive tech.

Think I'm gonna get rid of my s7 edge for a note 5. The curve display sucks

Still on the 4 and loath to part ways! This 8 looks a tad too thick for me... +8mm...and the language is so very S8... I think I'll wait for the 9 when a more definately new direction has been taken - and my 4 is officially dinosaur...

I loved my Note 4 but when it finally bit the dust six months ago, I bought a mint Note 5. While I think overall, the Note 4 was a better design, there is no way I'm spending that much money to upgrade to a Note 8. I've already heard the Bixby nightmare stories, I'm not all that interested in the next Android upgrade since I'm still working through this last one and really, the Note 5 I have now should last another couple years provided I don't drop it in a pool or something. The next new thing isn't always the next needed thing...

Have you looked for Bixby success stories? It works great for me.

I would be one of those who had the trouble. I've read enough to know I'd want to shut it off completely and people are even having trouble with that so...

Agree 100%: The truth about tech has always been consumer balance between NEED and WANT. There are over 3 billion people just trying to survive, let alone have a 1st world tech marketing struggle. If you want the latest in tech, then you pay an extreme premium to do so.. It has always been so.

Heavier than my Note 5, no thanks but the main reason to keep my 5 is $$$$. These things are getting too expensive to replace every two years!

Can you do the whole comparison again but with the Note 4?

True, but the Note 4 was, overall, a much better, much more complete "Note" than the Note 5. Sure, the Note 5 has a better CPU and GPU, that much is a given, but the Note 4 had expandable storage and a removable battery. It was the last of the truly GREAT Note phones. The Note 7 only had a problem with its fiery personality, and the Note 8 has a problem with its gigantic pricetag. I have a Note 3 and a Note 5, and once the i-Blade case finally arrives I can finally make use of my 200GB MicroSD card with the Note 5. I have no interest in the Note 8 for the next 12 months, as it will effectively be about $1750 over here in Australia once it lands. That kind of price is inexcusable.

Yep. Holding onto my Note 4 as long as it runs like it does. I use my S Pen regularly and there's not much different I would do on my 4 vs the 8 (notes, art and selection). The camera is obviously fantastic on the 8 but the 4's is no slouch - especially after tweaking and editing through Google's awesome Snapseed. The Note 4 was a great choice for me when the Note 5 was the new kid on the block.

USB jump drives always were a cheap storage solution for the Note 5. Buy a male micro USB to female USB adapter cord and plug in a USB stick... Or, use a WiFi portable hard drive.... U know, not a portable solution, but a media solution for a connected vehicle...

No one is paying $1000 for it!

Check out the s8 plus it's 90% what the note is but way better then what you currently have for a lot less $$

I didn't see the S Pen on the S8

That's too much for a phone that will probably stop getting updates after 2 years. I say stick to the note 5 or look into other smart phones with similar specs

The s6 still gets updated mine is on 7.0 right now . So you'll be good for at least 3 years by that time you'll have a new phone

I've got a Note 3 that I'm trading in on the Note 8 if it ever gets here, and my Note 3 continues to get updates. I did use the Note 7 for a couple of weeks, but then back to the Note 3. You're right, even with my $425 discount on an unlocked phone, it's still $505 for a phone. If I had upgraded to the Note 5, I doubt I'd of been in the market for a new phone when the 7 came out, but now with the note 8 Best Buy and Verizon are giving a great deal to trade a 5 in, $480 trade in value on the 5, and a $150 discount, gives you a price of $299. That price is lower than what Samsung gives those of us that went through the 7 recall. But there really is nothing else comparable to the Note 8 if you need and are using all of the features. I have looked, but no success finding another phone with a stylus and the apps that go with it.

The 5 isn't going to upgraded so....

being that my Note5 is glitchy and the screen glass is delaminating... I need something new.

My Note 5 has lived in an OtterBox case and had a tempered glass screen protector since the day I got it. It works great, runs Nougat and is paid for. Now Samsung wants $1000 for the Note 8?! It's too big & heavy. The fingerprint sensor location is whack. I really don't like the fact that the curved screen which is more prone to damage too. My Note 5 was expensive enough two years ago and now Samsung wants $250 more and my dog too! No sir, I don't like it! If I do upgrade it will be at least a year down the road. Even then I may very well opt for another manufacturer whose pricing structure isn't ridiculous. My two 40" HD flat screens were cheaper than what Samsung wants for a Note 8. I am very curious as to how much it costs Samsung to manufacture a Note 8. Their profit margin must be extreme to say the least.

So long story short your not buying a n8 got it

No one said you have to upgrade if you just got a phone two years ago. They're just giving the difference between the phones.

I'll keep my Note 5, the only bad thing is a strange buzzing when I open the camera, but it eventually goes away.

Mine does the exact same thing. It almost sounds like something is shorting out.

Same thing in the S6e+ loaner I had when I returned my Note7 in the first recall. I suspect its the OIS module

Nobody have issues with the curved screen anymore? For me it's too much gimmick, keep the S-line curved and Note only curved on the back side please. That will also help further differentiate S and Note. If not for the curved screen I would consider trading in my Note 5, though except for the too small storage it still works great.

Note5 is great & IMHO the * does not offer enough of a spec / funtional upgrade to justify the cost to upgrade...

I have a note 3, I will hopefully upgrade...provided I find a way to transfer all the data to note 8 (s note, scrapbook etc etc). but, I'm worried about the price tag of 128 gb variant though

There was no internal 128GB storage preorder option in Canada, nor is there one in America : 64GB internal memory only.

Scrapbook, SNote, all those Samsung apps sync through Samsung account.

Let the negativity rain in this comment section, i swear. lol
I personally LOVE my Note 5, but I think the Note 8 looks great, and a year is a long time to wait for another phone while hoping your 2015 model holds up. Unlike everyone else apparently, I was expecting the Note 8 to be priced around where it was, so to me that's not some OMG huge shocker to see the price. The only hesitation I have is if the Note 9 is a HUGE upgrade from the Note 8 then I'm going to have to pay off the Note 8 to upgrade, which means 500-600 bucks - depending on when the Note 9 is released. I still haven't made my mind up, but I'm leaning towards getting it atm. An in-screen thumbprint scanner isn't enough of a reason to wait......especially since I have the feeling that technology is going to be buggy and inconsistent in it's first year or so.....I rather watch other people struggle with that BS and then get the Note 10 - which should have the kinks worked out.

The writer forgot the most significant difference between the Note 5 and 8: The Note 8 has expandable micro SD memory (up to 256GB), the Note 5 doesn't. DeX docking also is intriguing (the Chromebook killer?) I did preorder the Note 8 as an upgrade from the Note 5 I'm using right now. Once received, I can contact Samsung for the wireless charger (I won't use because my Note 8 will be in an Otter Defender case, also en route) and 128GB micro SD (the good 2017 EVO card from Samsung). Base $60/month cell plan, $749, base $70/month cell plan $549, no contract $1349. The Note 8 will be the 1st Samsung phone to truly be unaffordable to many with device upgrade eligibility with contract extensions due. It will force many to wait a year for the price drop. The upgrade from the Note 5 is big enough for me. I'll fill micro SD storage with my iTunes collection & subscription. The new camera looks great, the ram boost is needed, as in house 'device maintenance' cleaning software is required often on my Note 5. I also have the 360 camera being shipped, and bought DeX: I can afford it. I'm hoping DeX is a laptop replacement solution. My old, yet still strong custom desktop is in storage, was considering a high end Dell XPS 13, my Note 5 the only online device I use. The Note 8 will be the last phone I need until expefted 5G networks come online in about five years.

PS The wireless charger and 128GB micro SD I mentioned in my post are both free, part of the preorder incentive through Bell Canada.

I'd like to know how the sound recording is from the microphone??? I have a Galaxy S6+ and my wife has a Note 5. When I go to concerts and stream some video with audio to friends or just record locally to the phone (Note 5 or S6+) the audio part clips (distortion) constantly. SO much so that it's annoying beyond belief. I have friends with Note 5's that also have audio clipping at concerts. However all my friends with iPhones standing next to me record concert audio just fine. I want to upgrade my phone but refuse to do another Sammy (Ive been loyal since the first Galaxy) if they dont fix he audio clipping. I havent tested the S8 yet and wonder if anyone has this issue with the S8 or know if Samsung addressed it on the Note 8.
Also, I love that my s6+ is only 153 grams. the Note 8 is 195 (about 30% heavier) . Im not a fan of the note5 weight (even adding a light case) and the 8 being about 7oz is pretty heavy. Also the back fingerprint scanner can be a handicap to unlock a phone while its sitting in a dash mounted car mount (iOtter wirelless charging mount I have). Why are all the android phones going rear finger mount? Was it an iPhone patent infringement?

I really enjoy my Note 5 here recently the latest software update has caused some transparency issues and stuff like that but overall the phone still performs very well and it does everything I need it to other than the battery doesn't last 6 hours. And since it doesn't last 6 hours I have been charging it pretty regular and my USB charge port finally halfway crapped out. Every once in awhile it will register that I plug something into it power-wise but it will always put out power for usb OTG devices. So not too terribly sure what's going on there but I look forward to getting my Note 8 I was a note 7 owner honestly wish that phone didn't go away as it did because I would probably use it for a longer. The Note 7 to Note 8 wouldn't have been the spectacular upgrade it seems to be now comparing the Note 5. One thing I have to say that irritates me highly is people complaining about the smaller battery. Yes it may be smaller than the S8 plus but it also is the same size practically and it has an S Pen shoved up its clacker. I'm honestly but Samsung could have made some optimizations and stuff like that to the software to make the battery last longer who knows. I am curious if anyone else heard that the S Pen that they're using with the Note 8 is the exact same dimensions and everything that the Note 7 was where if it is identical pain to the Note 7 because I still have my coral blue S Pen from my Note 7.

If you don't use the S Pen, no. If you do, it's a major upgrade. If you can swing it, go for it. If you can't, there are definitely lots of good phones on the market right now. It's very expensive, but very good.

I was looking forward to this article. The comparison to the s8 never made sense to me. My note 5 is still an awesome backup phone now that I'm on my note8 but yes this phone is awesome... Daré I say even better than the short lived note 7...rip.

The Note 8 has been a great phone for me. The removable storage, gorgeous screen and lightning quick response is a nice upgrade from my Note 5. I loved my Note 5 and it was still going strong. $150 off from Best Buy, $480 trade in credit from Verizon for my Note 5 and the wireless charger - SD card from Samsung made this too sweet of a deal to pass on.

Wow, that's a great deal. Unfortunately I'm still with the Note 3, and Verizon was only offering $50 for it, so with the $150 from BB it was still going to cost me $760+. I said no to BB and was considering other phones. Then Samsung sent me an email offering me the $425, and they told me they would still give me the $425 for my Note 3. So I went with the $425 Samsung offered me for my Note 3, that turned out to be the best deal for me. You absolutely got a killer deal. I wanted to get it from BB as you get great service after the sale, and Samsung is dragging their feet; I'm still waiting on my phone! But at least once I get it I'll have an unlocked phone so I don't have to deal with all the bloatware Verizon likes to put on their phones. But I understand that buying it direct from Samsung, instead of BB, I'll get little to no customer service, and if it needs to go back for repairs, I'll have to supply my own back up phone. With BB, they will give you a phone if needed until yours is returned to you. I wish I could have gotten $630 off, that's a deal that can't be beat.

That much for a Note 3? For real. Because I have one not in use.

I would buy it off u cor cash but less

In the immortal words of Stone Cold Steve Austin "Give me a hell yeah"!

I only moved to the Note 8 from the Note 5 because of the $480.00 trade in from Verizon, an additional $205.00 instant credit to my account, a wireless charger and SD card from Sammy. The Note 5 has been an excellent phone, and it's going back to VZ on Monday. In many respects, I will miss the Note 5 as it has served me well with its flat screen, excellent display, size is ideal, and a fast processor.

After owning my note 8 for two weeks now an having all the notes from one to 7 . This is by far the best of the best of the note series . I've owned two note 5s great phones with a so so battery . Listen every carrier is having some kind of deal going on so . Your not going to pay $1000 so stop saying that . An your getting freebies it's a no brainer if you ask me . Oh an by the way I have a s8 plus nice ...but is not a replacement for the note

Absolutely upgrade. I traded in a Note 5, S7 edge and an S8+ for 3 Note 8's! Easily the best phone of the year.

I've had my Note 8 just over a week and coming from a Note 5 this is a nice upgrade. The location of the FP scanner is not an issue for me since I use Smart Lock with my Pebble, but even without it I don't have a problem with its location. I have an Ultra thin Bear Motion case on it and it is raised just enough around the FP/camera area that it guides my finger right to it and it is much quicker and less finicky than the Note 5. I don't have small hands so that obviously helps, but all the drama about the location is just that. Build quality is a wash, but the Note 8 is a much better looking phone and nothing compares when it come to the display. The battery on my 5 was getting pretty bad so the difference in battery life is huge and I can make it from 6am until 8pm with very heavy use. Once the newness wears off it will have no problem making it until 11pm. It is noticeable faster than my 5 and I haven't experienced any lag whatsoever. I'm loving the zoom lens and with a quick tap you instantly get the 2x zoom. The other 2 cameras are phenomenal in typical Samsung fashion and it still takes great macro shots like the 5. My daughter has an IPhone 7+ and we were doing camera comparisons last night and I seriously felt bad for her because my Note 8 was better across the board in all of the pictures we took.
The S Pen seems to have a little better feel on the glass and I frequently use it. I haven't played with Bixby, but I eventually will. It seems like I read somewhere that the radio and antennas were supposed to place the Note 8 at the top in regards to signal strength/reception, but its still not as good as my Nexus 5X which has the best reception of any phone I've ever had. The only thing I don't like and the Note 5 had it too and that's a glass back. For me it's just asinine to put glass on the back of a "mobile" device and there is absolutely no reason for it. Sure it looks good, but most everyone puts some sort of case on thier phone so it doesn't show anyway. Some sort of rubber would make much more sense, add grip and make it more durable and for those that don't use cases it would keep it from sliding around when you set it down. I'm sure it would cost less to manufacture, wireless charging would still work and since it would never break or scratch replacing the back would be a thing of the past. Am I the only person that feels this way about glass backed phones?

Obviously yes. As covered, there's iP68 rating, dual OIS rear cameras, more unlocking capabilities...

I wasn't going to originally because of the price. However, getting half off, plus the Samsung accessories was just too good to pass up.

This Note 5 VS 8 upgrade article is not very good... Not mentioned is how the Note 8 has micro SD expandable memory, sorely lacking in the Note 5. The Note 5 had no accessories free with preorder... So it's not an equivalent comparison. In Canada, the Note 8 includes: 128GB micro SD card and wireless charger preorder extras. They would cost $210 separately ($79 for the card + shipping), and the charger worth $130). I also disagree completely with the bulky Note 8 comments... NO, the Note 5 was bulky. The Note 8 thinness is very obvious today, my first day of full use of the Note 8. The extra centimeter taller is noticeable. I'm 6'2" and have large hands, thin fingers... I'm now pretty much maxed out in being able to use my thumb to reach any part of the screen without moving my hand. I have a music subscription service, and can now put absolutely all the music I want on my phone thanks to micro SD. I did notice significant battery improvement compared to my Note 5. I played podcasts during 2hr of commuting and with regular use about an hour of my work day (no phones allowed in my work environment) the phone still had a 66% charge, which compares to about 20% remaining battery on my Note 5. I kept my Note 5. I deleted all apps except my music service and use the Note 5 as a Bluetooth music source in my SUV. Yep, my Note 5s intended purpose now is an Android iPod... Call it an Andrpod? love my first day with my Note 8. I do have empathy for those who can not afford the Note 8. Yes, the best two phones in the world... The Note 8 and Apple X, are now priced only as the best premium phones could be... No other devices could get away with asking such a high $.... Or they would. Don't hate the Note 8 or dismiss it as a joke... It is the best android phone today... Maybe not a month from now, or six months... But it is today.

Honesstly it really is worth it to get the Note 8, especially over the S8. Even with the same processor, my Note 8 gets significantly more performance than my S8 did. And not just in benchmarks, it is noticeable in real life use.
I also really love the S-Pen, as I find it really awesome and useful.

Well, I've had no RAM slow down issues on my Note 8... If you can't afford the Note 8.... Then I absolutely agree, the S8+ is a decent value now... But it does not have the dual camera like the Note 8. The zoom video with no lost quality is insane.... It is.. Screen wise, the S8+ and Note 8, for all intents and purposes, are identical... Only fractions of a difference.

Well, as a former Note 7 owner I get a juicy discount from Sammy. It's about half price off if I send them my 5. At first I didn't think of doing it but in the end I probably will. If all would be equal... but the fact of being waterproof and SD card support will tip the scale towards the 8. Start wrapping it, Sammy!

This article should have consisted of one word: "Yes."

Waiting for all the note 4 users to come here and claim how their phone is still just as good if not better than the note 8 and all 2017 android phones lol.

I loved my Note 4, but my Note 8 slaughters it in every respect.

Note 4 owner here... and NOPE... my Note 4 is one of the worse phones I've ever owned... because the camera totally sucks on my. And yes, this is my second Note 4... both having the same camera problems.

"the Note 5's prospects of getting much more than a few future security patches are slim" Depends on the carrier. Even the Note 4 is still getting security patches from Sprint.

The Note 5 charges faster (wired) than the Note 8. When I did the test, the 5 was at times 20% ahead of the Note 8. I used both the original charging cables that came with the phones. I wonder is Samsung,on top of making the battery smaller,also made the 8 charge slower for whatever safety reasons. If anyone has a 5 and an 8,test it for yourself.

Yeh might charge faster ....but the note 8 will just kill it in the battery test an it's not even close. My note 5 battery sucked ....

Pretty sure they did....as my note 5 lost almost a third of its battery capacity over the years, if this helps the longevity at all I will take it. Because it's a good bet I will not be upgrading to the Note 9 and will have to be my wife to let me consider the Note 10.

The note 8 because of the new battery design will lose very lil battery capacity over years compared to the n4

I just got a new Note 5 for 320 three months ago. . I absolutely will wait until late 2018ish and grab a Note 8 new online for under 600, guaranteed.

Good luck! The Note 5 is two years old and it's selling for this price

I don't have a choice. I'm gonna have to consider getting one because I'm tired of my Moto Z having issue after issue and Motorola not wanting to do anything about it because "Sorry, you bought it in a neighboring country and even though it's literally the same phone even down to the bands supported, we can't do anything". Aside from the big recall, I never had complaints with the 7, but that price is silly. I might be able to snag one for a good discount, so that will ease the blow a bit.

If the Note 5 had better battery life I probably wouldn't have upgraded to the S8+, I loved my Note 5.

This is sooo true. It's the main reason I've upgraded

After a recent battle with Samsung over a bad 4K TV we will no longer support Samsung after years of buying their products. My Note 5 will be the last Samsung phone I use.

This could relate to any brand though.

Exactly. I've had big issue with LG appliances.

I moved from my Note 4 to a Note 8. I'm loving the camera but I actually miss the hardware home button. I'm sure I'll get used to it, but it's definitely a big change. I'm still getting all the settings and software set up like I want. It usually takes me a week or so to get everything just right. After rooting every Android phone and tablet I've owned (a LOT) over the years, this will likely be the first device I won't root and drop in a custom ROM. I'm actually very conflicted about this because it's almost an instinct to root my devices at this point.

Went from the Note 5 to Note 8 and couldn't be happier. Definitely a worthy upgrade in my opinion

The camera alone is worth the price . Wow wow took a bunch of live photo shoots yesterday in live mode . Let's just say my trusted dslr is now my second best camera the back bound blur affect looks soooo professional. The note 8 is a beast

Had the note 5 and yes much needed upgrade in my opinion.

Note 4 owner here. Took the plunge on this upgrade and so far loving it!

Why do you publish old content without identifying it as such?

Andrew, To just casully menrion the significance of the new dual lens camera is one thing.... But not mentioned at all is the Note 8 has micro SD expandable storage. The Note 5 had no expandable storage.... And thus storage alone is significant to a lot of Note buyers. But now that we are literally at boxing day, some three months after the Note 8 launch, I'd recommend waiting for price discounts. And... If a phone isn't your primary online device (in my case it is), then consider waiting for the Note 9.... Or a cheap battery replacement for your Note 5.

How is this an article...... The note 5 was the only note i did not get for good reason. Upgrade..... Like yesterday.

Just read some Notes are bricking if left to go completely flat.
As this has happened to my wife's S7 and my son's S6 in the last week could be an update issue?