Samsung Galaxy Note 8 specs: 6GB RAM, dual 12MP cameras, 3300mAh battery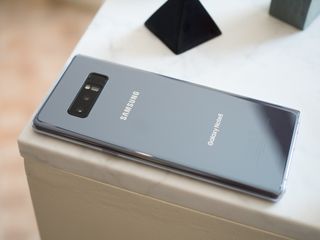 As has been the case year after year, the Galaxy Note 8's specs expectedly follow the Galaxy S8 and S8+ from earlier this year — plus a couple key changes, of course. The new Note is built on the same general platform as the Galaxy S8+, with the same hardware features, processor options, storage and screen resolution. It's also only slightly larger than the Galaxy S8+, but with the addition of an S Pen it also has a smaller battery.
Here are all of the specs you need to know and care about in the Galaxy Note 8.
Swipe to scroll horizontally
Category
Spec
Operating system
Android 8.0 Oreo
Samsung Experience 9.0
Display
6.3-inch Super AMOLED, 2960x1440
Processor
Qualcomm Snapdragon 835
or Samsung Exynos 8895
Storage
64GB (U.S.)
128/256GB (international)
Expandable
microSD up to 256GB
RAM
6GB
Rear camera 1
12MP f/1.7, Dual Pixel auto focus, OIS
Rear camera 2
12MP f/2.4 telephoto, auto focus, OIS
Front camera
8MP f/1.7, auto focus
Connectivity
802.11ac Wi-Fi, MIMO
Bluetooth 5.0 LE
Charging
USB-C, Fast charging
Qi wireless
Powermat wireless
Battery
3300mAh
Water resistance
IP68 rating
Security
One-touch fingerprint sensor
Iris scanner
Samsung KNOX
Dimensions
162.5 x 74.8 x 8.6 mm
195 g
Colors
Black, Orchid Grey, Deep Sea Blue (U.S.)
Black, Orchid Grey, Maple Gold, Deep Sea Blue (international)
Android Central Newsletter
Get instant access to breaking news, the hottest reviews, great deals and helpful tips
Andrew was an Executive Editor, U.S. at Android Central between 2012 and 2020.
Anyone else just start watching the event? 😂

Is it me, or is this Note more different from its S-line counterpart? More RAM and dual cameras. The last 2 Notes were nearly identical.

Previous Notes have generally had more RAM than their S counterparts, the RAM being essential to supporting the extra junk that the stylus can do. The only real point of differentiation has always been the size and the stylus, and usually some other tech (or a shift in design language) that will make it into next year's S. Since the S8 Plus already exists, the only new feature is the dual camera. But a new camera isn't really a noteworthy inclusion on a Note, since most of the previous Notes have also featured upgraded camera hardware. (Note 3 added 4K video, Note 4 added OIS.) So, this is par for the course. Nearly identical to the current S, but with a stylus.

I just feel that it's just a bit more different this time around. Not as a big of a difference in the pleather-era of the Note though

It looks exactly like a S8 Plus, but with 2 cameras -- a feature that has been standard on most flagship phones launched in the last two years. There isn't a very interesting release from Samsung, just kind of catching up to where the rest of the market is.

The Note 2, 3, and 4 was vastly different. Starting with the 5, Samsung made them to be big S phones with an SPen. I'm glad they've tried to go back to having the Note be the King of the Galaxy.

Specs-wise, the Note 2 was nearly identical to the S3, at least internationally. It had a faster-clocked SoC and 1GB of extra RAM. It wasn't as big of a difference as the Note 3 and Note 4.

What the heck is going on in the US that makes Samsung believe 64GB internal storage is appropriate as opposed to 128 or 256 like the rest of the world?

They probably just know they can get away with it...

You know we have to pay extra for everything in America lol

It probably has something to do with the fact that US consumers pay no attention to specs. For the majority of them 16 GB iphones were the norm not very long ago so a 64GB android probably sounds wildly large.

Is 64GB the only storage option available in the USA? I must have missed that part in the presentation.

Or maybe because they know carriers push the Jump On Demand and NEXT 12 type of plans where people can get the latest and greatest every year.
It's like feeding a technology addiction...give them a little so they keep coming back. Don't give them too much because then they'll realize how much they've got.

I know when the S6 launched with several storage options, the vast majority of users weren't interested in spending more for extra storage. This is probably part of the reason we get left out. That and most Americans have a computer, some markets a smartphone is all people use to access the internet.

At that price 128gb should be standard

I didn't catch the event. What is the ballpark price in the US? Any awesome pre-order bundles? US release date?

One hundred... BILLION! dollars. Ballpark is about a grand.

Price: $930-960 depending on carrier Pre-order: Free Gear 360 camera ($229 value) OR Free Samsung EVO+ 128GB SD Card and Wireless Convertible Charger ($199 value) Release date: 9/15/17

That battery is waaaaaaay too small for such a large phone, no way battery life, usually very, very good on previous Note's, is gonna be the thing that kills this one off. Pity, looks really good otherwise....

The s8+ has great battery life so I doubt this will be much different.

Seems the same is said about EVERY device that comes out with less MaH than it's predecessor. For the most part, it has yet to be true.

Would like to know the field of view / focal length equiv of each camera lens.

The back is ugly. Way too ugly for me. I'm out.

Looks better than most phones IMO...and I don't buy phones for fashion, I buy them for function.

Well function is great and all, but what about Samsung and their notorious glitchy phones after a few months? Still a problem. I'll be sticking with my Pixel until the next one comes out. Function over form...indeed!

Honestly I've owned the S3, S7,Note 2, Note 3, Note 4, and Note 5. Also have the Note 10.1 and Tab S2. The only device that isn't working anymore is the Note 2, that had water damage during a camping trip. S3 a friend of mine is still using as his daily phone. The only major glitches and slow downs I have experienced could be fixed by clearing cache and resetting touchwiz. The old touchwiz had a problem where it would slow a phone down to the point it felt unusable, resetting touchwiz to factory and organizing your home screens again could fix it. Pixel runs great, but personally I dislike stock Android and most of Google's stock apps.

For a second there I thought I saw a 3800 mah battery.

That would have made me look past dedicated bixby button and fingerprint scanner placement

i was planning to be really jealous of this phone over my S8+ (which has amazing battery life), but... a bigger screen with a *smaller* battery, and still the FPS is in the same spot and flat with the camera?...i don't think so...still very happy with my S8+! :-) will keep it until the S9 comes out.
Note: i rarely used the stylus on my Note 4 or Note 7, so that's not a selling point for me.

I always wonder why people get the note if they don't want the S-pen. I use it every day in every way. Love the shortcuts and the quick screen write + share options.

I agree. So many downplay the S pen and say it's pointless or not a differentiator. Well, then why the he** are you even considering the Note 8? Save a ton of money and get the S8+. I never know what differences people expect. "Well it's an S8 with more RAM, two cameras, and all of the S Pen features. That's all! It's basically the same phone."

Few years back it was the largest screen on most carriers while offering top of the line specs and a good camera. I knew many people that bought them for the screen.

I used it sometimes... Basically only when I was eating out somewhere and using my phone as a mini tablet to read articles online. And maybe annotating a few screenshots. I bought the Notes because they had the biggest screens, along with all their other great specs.

Essentially confirms I'll be going with the mate 10.

Maybe me too... Mate 10.. Great sound great dual camera GREAT battery. Infra red? Shame no pen

$1,000???? Yeah, I'm done with that line now....after having Notes for years. On to something else. I hope this bites them and this line tanks.

Expect prices to go up each year until the sales figures show that people aren't willing to spend that much.
Of course Samsung can counter and say, "You're actually getting a high-end phone with best in class cameras, the latest processor and a desktop PC like experience."

Wonder how many S8/S8+ users actually use Samsung Dex?

Only a hair over $500 with Note7 owner trade in credit. Now that's a deal!

Try the LG V20. Great phone and, at the reduced prices, about a third less than the Note 8. I thought about switching, but came to my senses. My extended battery last 2 days between charges.

They will sell plenty to profit, especially since the Note effectively skipped a year.

wish they had more color options for us :( I guess I can only go with the black lol

$1,349.99 + tax in Canada. That is a cool $1511.99 for a Note series phone with 64GB storage. Heck, even if they gave me 256GB of storage it would not be worth it. That's a grand and a half for a phone! No thank you. Craigslist maybe.

Ouch... way too much for a phone.

Phone looks great, but I'll be passing on it for now. I don't have the spare cash to throw at this when the home could use some repairs, I have bills to pay, and an S7 that still works great. The one thing I miss from working at Verizon was getting phones at cost, it made it easier to justify upgrading all the time.

I'm still wondering why they would put a telephoto lens as a secondary instead of a wide-angle.

Probably because most people try to digitally zoom in and crop images because they can't get close enough to their subject, while few people are wishing their images were wider and causing a fish eye effect. I like LGs wide angle approach, can create some more artistic shots, but telephoto feels like an obvious choice to me. Most dedicated cameras come with a telephoto lens, not a wide angle one.

Very disappointed in the small battery. A high end phone needs to last all day. 16 to 24 hours not 6 hours. The old Note 4 had a 3200 battery. Not much progress. And the price is ludicrous. Needs to be down to about $250.

250 is too much - you can get a unlocked LG V20 for 300 , which is better - removeable battery
- metal build military 810P drop spec
- FM- Radio
- Dual Camera Wideangle Lens
- HIFI- Quad DAC Amp
- IR-Blaster
- Second Screen
- DUAL SIM plus memory card - no hybrid Now, what has the Note 8 to offer over the V20 that is making it worth THREE TIMES more ?

And even the old Note 4 had no problem with all day battery life. I expect better from the Note 8.

Haha same battery size and mine is removeable. V20 still most feature-rich phone and king of mobile , wow it's blowing the Note 8 away for 1/3 of it's price

Only the Note has the pen, which is a big deal to some. Note also has.
Better Screen
Wireless charging
Water resistance
Better processor
More RAM
Better camera set up
Better battery life.

No removeable battery, they should at least give 20000 mah powerbank for free - you will need it with such a small battery in a powerful device That alone and DUAL SIM plus SD-Card makes the V20 better. Agree , better SoC and camera but ,meh not worth 1000,00 $

I had the V20 ..it's a decent phone but does not blow the Note 8 away ...that's for sure

Curved screen... So another year of Apple for me. ALso, tiny battery for a 6.3" " device. 1 00mAh more than a Note 3. We're making progress!

Blah blah blah... Bogus fingerprint se. Sensor placement whiff again and Bixby BS button again. Great camera I'm sure, but No thanks Samesung.
Android Central Newsletter
Get instant access to breaking news, the hottest reviews, great deals and helpful tips
Thank you for signing up to Android Central. You will receive a verification email shortly.
There was a problem. Please refresh the page and try again.