Samsung Fascinate lands a Gingerbread leak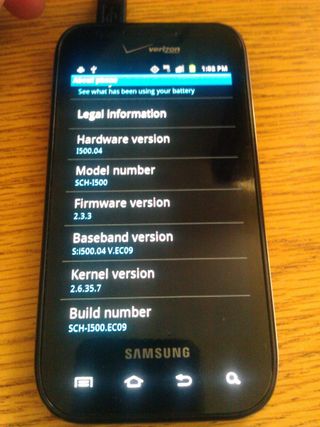 We all know, the Samsung Fascinate has not been known as the device to receive the quickest updates, heck it feels like just yesterday that we saw Froyo land on the device officially. While many would think that Gingerbread is something that we would never see on the device, an unofficial build has leaked for those risky enough to install it. For more instructions about the install be sure to hit the source link, and be sure to hop in the forums and let us know how it goes for you. Video after the break.
Source: My Droid World
Android Central Newsletter
Get instant access to breaking news, the hottest reviews, great deals and helpful tips
Jared started off writing about mobile phones back when BlackBerry ruled the market, and Windows Mobile was kinda cool. Now, with a family, mortgage and other responsibilities he has no choice but to look for the best deals, and he's here to share them with you.
Quick...somebody needs to check if Hell has frozen over!

It has! And Satan is giving free sleigh rides!

Wow, i didn't expect that at all. Cm team do your thing.

nope the weather shows 72 and rain. Weather for Hell, MI
72°F | °C Mon Tue Wed Thu Current: Partly Cloudy
Wind: SE at 6 mph
Humidity: 74% 79°F | 66°F 87°F | 69°F 80°F | 65°F 73°F | 61°F
Detailed forecast: The Weather Channel - Weather Underground - AccuWeather

Nice ! If I'm in love with the froyo roms, I can't wait to see what our amazing devs come up with this!

TSM will be able to do some awesome stuff once they get their hands on it!

Congrats Fascinate owners!! I know Verizon has been stringing you guys along for some time now. However, from what I can see, your Fascinate, along with the rest of our Galaxy S family, still has great things coming. As an Epic 4G owner, I can totally sympathize with your situation. All the Galaxy S phones have experienced this type of feeling, but leaks have been going around for all of us, which shows that Samsung IS working hard on it. The first GB leak for the Epic was quite unremarkable. It did however, show us that there was hope. The second leak was pretty significant. It had it's glitches, but for those who were savvy enough, they were nothing that couldn't be worked around. It was stable enough for many to use it as their daily ROM. Dev's found it good enough to make some custom ROMs out of it. It gave us a nice taste of the real thing, and it showed us that GB for the Epic might not suck after all. It got a little boring after awhile, but now we've been blessed with EF02. We've only had it for a couple days, but I can say that this build is about 98% complete. There's already a great custom made from it,(THANKS MARCUSANT!!)and most everyone is pleased. There's another build(EF10)that hasn't been leaked yet,and I'd assume that it'll be the official. EF02 is good enough to be official IMO. So, this shows solid progress by Samsung on each build, and I'm sure theyre working equally hard on the whole GS series. People's complaints were heard, and I have to hand it to Sammy-they've turned around. Don't forget that most un-rooted phones are still stuck on Froyo in the US. I think Sammy is trying to be ONE of the first to update with GB, instead of being one of the last. Id say that it's a solid strategy, huh? lol. GB is looking good for Galaxy S phones, so don't abandon yours just yet!
Of course, that doesn't mean I won't be picking up an EVO 3D this week! I mean, come on... still gotta have the newest thing! ;-)

And just when I had gotten tucked and sleeping well running Kang Bang. How can one possibly let this slip by without trying it on for size hmmm? It does appear that Samsung has buckled down on the whole galaxy S line and is doing solid work to update them. Now if the carriers will just fall in line and release the builds we can all sing Kumbaya. On a side note... I have to wonder out of pure speculation... Could this flurry of activity be Samsung telling Apple to shove the stupid lawsuit over supposed copycat designs? Never can hurt to show that this hardware is more than iPhone ever was or could be. As an former iCrap victim I speak from experience.

WHEN OR "IF" IS THE HTC EVO SHIFT GETTING ITS UPDATE?

I thought I had seen that it was coming in early July... could be wrong though.

Did anyone else notice the lack of a 'flash of light' effect when scrolling to the bottom of the settings menu? I thought Gingerbread devices made a little flash of light when you scrolled to the end of a list. Maybe Samsung didn't like it.
Plus, I'm seeing a reworked Daily Briefing widget (about time), and a new taskbar,green battery icon and all, so I'm thinking this is real.

That may be something that isn't in this particular build. It's pretty stable for me so far, but the baseband, EC09, tells that it is an early build, being as the latest Froyo release is ED04. My guess is the official OTA will hit sometime in early fall.

I wouldn't expect an OTA from Verizon until Samsung/VZ gets a handle on the battery burn issue all of us are experiencing with the official (ED01/ED04) Froyo update. If you go to the Verizon Fascinate forums, you will see that Verizon has acknowledged they are looking into the matter. Obviously that means a timeline could be anyone's guess...
Android Central Newsletter
Get instant access to breaking news, the hottest reviews, great deals and helpful tips
Thank you for signing up to Android Central. You will receive a verification email shortly.
There was a problem. Please refresh the page and try again.