Samsung lets us in on some of its Galaxy S9 960 fps slow-motion secrets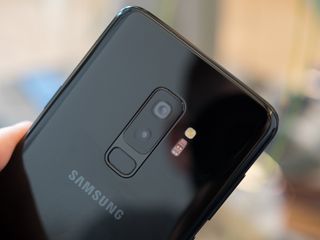 Amazingly slow motion video capture is the latest big differentiating feature on smartphones. And Samsung is one of the leaders right now, pushing to 960 fps on the Galaxy S9 — only matched by the Sony Xperia XZ2. But Samsung actually released its phone already, and it isn't hard to see why people are excited about using the 960 fps slow motion mode.
Now that we're over a month removed from the Galaxy S9 and S9+ launch, Samsung's pulling back the curtain a little bit to give us more details on how it achieved 960 fps slow motion, overcoming issues of light, sensor types and user experience.
Modern camera sensor technology already put Samsung in a good starting position, as CMOS sensors were already capable of rapidly exposing images and lowering distortion. And using them up until this point Samsung was able to offer 240 fps slow-motion without issue, as was just about every other phone maker. But in order to have slow motion on the level of the Galaxy S9, it had to switch things up to support a typical CMOS sensor with new technology underneath.
The result is a three-layer stacked camera module, which uses a CMOS sensor at the top, but also backs it up with a four-times faster readout circuit to take in the data and dedicated DRAM just for the camera. Having the dramatically faster circuit and dedicated memory is the only way the Galaxy S9 can capture 960 fps video — and even at this point it can only be capture for 0.3 seconds at a time.
But even if you don't use the 960 fps video mode (though I really recommend you give it a shot), this new stacked camera module with dedicated memory also enables the Galaxy S9's fantastic low light photo performance. The same technology that lets the sensor capture 960 fps video also lets it capture a dozen frames simultaneously for still shots, processing them in batches and outputting a single photo with dramatically lower noise and smoother details. And the results are pretty clear to see: the low-light photos on the Galaxy S9 are great, and a substantial improvement over the Galaxy S8.
Samsung Galaxy S9 vs. Google Pixel 2: Camera comparison
If you're been using a Galaxy S9 you may not really care about how the phone gets this advanced camerawork done, but smartphone (and photography) nerds among us can appreciate how big of an improvement this all is. The next step, of course, is to get the resolution higher (960 fps is just 720p) and potentially improve the low light performance further with new lens technology. Samsung seems pretty proud of its advancements in photography, so I wouldn't expect it to stop here.
Andrew was an Executive Editor, U.S. at Android Central between 2012 and 2020.
Maybe Samsung can release an update to make photos not look so bad on the S9+. I have to take 5 just to get a good one. Shutter is way too slow.

That's definitely not the experience we've been having ...

Sony invented this technology and debuted it on the XZ premium. Why is this article written as if Samsung pioneered this? Also, taking shots at xz2?

The only "shot" taken at the XZ2 is that it just isn't available globally (yet) the same way the GS9 is. But credit where credit was due, the XZ2 does the slow motion at a higher resolution.

Not quite. They're both using the same sized DRAM. So the XZ2 just has a 3 seconds of 1080p slow motion, which is approximately 0.1 seconds of time frake.

Mark this date on your calendar. Andrew Martonik made it through an entire Samsung article without saying something about it is better on the Pixel 2.

But yet, the previous article about the best camera on a phone was no doubt the Pixel 2. I highly doubt that, even if Google threw in 400 non-security updates or patches to fix the issues.

The Note9 is going to be one hell of a phone.

So do I. Not sure what everyone's problem with it is. I just love the phone period.

But the Qualcomm Snapdragon 845 CPU shipped to North America CAN NOT do 120 FPS for 4K UHD video. Only North America gets the inferior Snapdragon CPU... Why? Mostly due to an old Qualcomm deal... And Qualcomm chips worked well on CDMA network, now completed abandoned in Canada, and limited use in America. Also, Samsung will be first to receive the upcoming Qualcomm 5G LTE modems (no, no network exists yet.. but they will be first). I understand this is an international blog... But it is misleading to rave about S9 slow motion to the large North American audience. #fakenews

I'm not getting your point. Nothing in this article is misleading and nothing is fake. It's stating exactly what it is, what it does, and how.

Fair enough. The article is misleading because it does not clearly state that low resolution video slow motion is being discussed. Typically, only highest resolution slow motion performance is the true measure of what a mobile camera can do. The international S9 outperforms the North American S9 because Exynos CPU outperforms Snapdragon 845 for 4K UHD video. Cheers
Android Central Newsletter
Thank you for signing up to Android Central. You will receive a verification email shortly.
There was a problem. Please refresh the page and try again.