Samsung announces the Gear S Tizen SDK for developers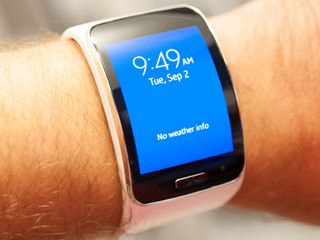 Samsung has today announced that the Tizen Software Development Kit (SDK) is now available for download at its developer website. This kit will provide all the tools to develop cool stuff for the recently unveiled Samsung Gear S wearable. The company has already been working with partners and consumers can expect to see experiences covering fitness, shopping, social media, music and more.
A few APIs have been listed on the Samsung blog post, so we recommend you check the list to see what's included. As well as the APIs, Samsung also boasts numerous apps that are currently available, including PayPal, Runtastic, Facebook, Foursquare and many more. What would you like to see come to the wearable?
Head on over to the Samsung developer website (opens in new tab) to download the SDK and check out the full blog post (opens in new tab) for more details
Source: Samsung
Get the Android Central Newsletter
Instant access to breaking news, the hottest reviews, great deals and helpful tips.
Man it's a good thing I waited and not get that crappy G Watch or Gear Live. But now I don't know which way to swing. Keep with the Xperia Brand and get the Watch 3? Get the elegant Moto 360? Enjoy a full circle Watch R? Or have a standalone Gear S? Oh the choices have finally come in. Posted via Android Central App

hey r u android developer doing job

I want this watch for sure. I've wanted a watch like this for a long time. This will be perfect for running or biking. I hope we don't have to long of a wait to buy this. Posted via the Android Central App

It's definitely better than that ugly Pine brick attempt Posted via Android Central App

Awesome. I would have loved if had NFC so I could pay for things with just my watch! This might be the one watch to sway me towards "the smartwatch" . This is why Samsung consistently stands out above the crowd, because they offer what "stock Android devices" cannot offer.

NFC would be good to pay if Tizen supported Google Wallet in my opinion. I don't if Google allow Tizen to do so. But I agree with you Posted via Android Central App

ah fudge, Apple already will do it... http://www.iol.co.za/scitech/technology/software/apple-smartwatch-to-hav...

Definitely ready for the Galaxy Gear S nothing is better than this Wrist Watch Communicator it's on the level of the Rufus Cuff. Android Wear can't touch this with a with a fifty foot pole regards of all the silly Google updates. From my Galaxy Note 3 on T-Mobile via Android Central App

You know, I think I would actually pay real money for you to shut up and quite astroturfing. But not to Samsung.

I'd pay money to not have to read the inevitable 10 replies to him. Don't feed trolls, just ignore them. The responses he gets fuel his joy. He laughs at how he gets under your skin. He probably doesn't even buy Samsung, just that is the easiest way to get his troll on.

Regardless. Regardless of any Google updates... Posted via Android Central App

I'd pay £300 for this IF it was running Android Wear. Running Tizen it has no appeal other than how it looks. Posted via Android Central App

Except, THERE IS NO WAY TO GET THESE FEATURES THAT MAKE THIS WATCH GREAT WITH ANDROID WEAR, it'll be "just another Android Wear watch" (Which they already make BTW...) .. Google will NOT allow Android Wear to be customized, hence, it's all the same..

Sorry, what features does Tizen offer that Android Wear can't / won't feature in the near future? Posted via Android Central App

You mean besides the obvious built in radio? This thing is a full blown phone, inside of a watch after all. Not something Android Wear is capable of yet anyway.. I think if Google let folks customize things like Android, Samsung would have stuck with Android Wear (I doubt they would spend money on unneeded development..) I try to embrace all new tech because if no one pushes the envelope a little further then tech will be rather boring. I just wish it had NFC, then I can be sans phone!

Why would a site called "Androidcentral" constantly give me updates about a watch that doesn't run Android? Don't you guys have a site dedicated to wearable technology that this thing can get posted to? At least then I wouldn't have to see the pointless Richard Yarrell posts about this silly looking "wrist communicator".

Or you could, I don't know just a thought, not click on it.

QI charging? Posted via Android Central App