Samsung and Google reschedule the Ice Cream Sandwich media event to Oct. 19 in Hong Kong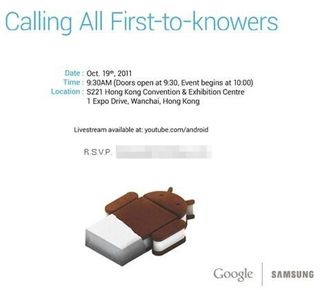 The Google and Samsung event that was planned for CTIA on Oct. 11 -- the one everyone is sure would have been the Ice Cream Sandwich announcement -- has been rescheduled to Oct. 19 at 9:30 AM in Hong Kong. With today's email, there is no doubt that this one is all about Ice Cream Sandwich. While conspiracy theories and rumors abound, the official word was that the event was postponed out of respect for Steve jobs, who passed last week.
We're still looking forward to any announcements, and you can bet many an Android fan (including yours truly) will be glued to the live stream next Wednesday.
Android Central Newsletter
Get instant access to breaking news, the hottest reviews, great deals and helpful tips
Senior Editor — Google Ecosystem
Jerry is an amateur woodworker and struggling shade tree mechanic. There's nothing he can't take apart, but many things he can't reassemble. You'll find him writing and speaking his loud opinion on Android Central and occasionally on Twitter.
So 9:30 AM on the 19th in Hong Kong is actually Tuesday the 18th at 9:30 PM on the East coast. Right?

HK is +8 hours GMT... so if its at 9:30am Wednesday morning in HK, that means for USA people its going to be at 8:30pm Tuesday night for the East coast and 5:30pm for those on the Pacific side.

You beat me to it lol. but yeah it will be Tuesday night for us.. I CANT WAIT!!!

Yup....can we get clarification on this?

Since we're still in DST the east coast is -4GMT so 9:30am wednesday HK is 9:30pm eastern or 6:30pm pacific on tuesday.

You're correct.....prior to the invention of Daylight Savings time.

the event time for the different timezones:
http://timeanddate.com/s/2569

Why in Hong Kong? Most people in Hong Kong gets iphone 4/3gs cheap. For every Android phone, you will probably see 10 iphones.

Because, Samsung's main plant and headquarters are not in Detroit.

They're not in Hong Kong, either. As others have said, they (and Andy Rubin) already had an event there, making it easier to fit in there than booking a whole new event.

Im sure it was only because they already had this venue booked for a seperate event(I forgot why but they were already planning on having an event in hong kong) and figured it would be too much trouble to find another venue and set another date with such short notice.

http://allthingsd.com/conferences/asiad/about/

Oh God... let's hope it's not THAT much better than the SGSII on AT&T, or it's even available on AT&T because my girlfriend will be getting a SGSII and I'll be paying full retail for this baby.

I'm sorry, but we're going to have to throw you in front of the proverbial bus on this one.

Hmm...I know I get some nice choices for my work phone. Let's hope this will be one of them :) Phil, will you be going to the launch event?

I seriously doubt that anyone from our favorite tech blogs will be going to this event. No one was given enough advance notice. We all get to watch the YouTube stream, I guess. I hope they're expecting a crapload of extra traffic. It would suck to see it crash. LOL

Is someone from Android Central going? Boy - CTIA would have been better for you chaps!

the time difference is going to be confusing

Finally!!!!! Can't wait:D

Well, hell, shoot me out of a cannon. I was going to pick up a Galaxy S II on Sprint or ATT Monday morning after work and getting my paycheck. But now it looks like i'll give things a few days to see what happens.

A Hong Kong trip might not fit into the Android Central traveling plans considering they have been out and about all week. I hope this phone s released right away and hoping on my new Carrier's Network with the LTE radio. I also have an account with T-Mobile and will welcome the Nexus Prime on that Network as well. Just let this baby out.

Let's get this party started.

Phil should have to fly out there for it :)

That works for me. With it being at 8:30, at least now I can watch the live-stream.

Phil will b in NY for vzw moto Presser.

Yeah, doesn't that VZW/Moto event kind of imply that Verizon won't be in Hong Kong for this event with Samsung and Google? Weird, if they were actually getting the Galaxy Nexus first. Maybe they'll send an exec or three that way and leave the rest in NY/NJ?

yet again our glory is outsourced!!

their statue arrived so now they can schedule the release! woo!

I'm so thrilled and proud of my home city! Too bad I'll be at school at that time :( Can't watch live stream either...
Anyway I love Hong Kong and I love Google

Umm perhaps a dumb question before hopes of watching the stream gets to high, what language will the event be given in ??? And is it really likely that they'll announce a verizon phone in HK ?

Considering that this is a Google event as much as anything, that this is of global relevance, and that English is one of Hong Kong's official languages, I can't imagine it not being in English.

Looks like that moron Eldar was wrong.
Android Central Newsletter
Get instant access to breaking news, the hottest reviews, great deals and helpful tips
Thank you for signing up to Android Central. You will receive a verification email shortly.
There was a problem. Please refresh the page and try again.