Replace your aging phone with the ZTE Axon 7 for just $330 today!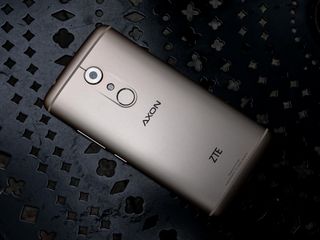 One of the best low-cost flagships, the ZTE Axon 7, is available through Newegg's eBay store at a pretty great price of $330 (opens in new tab). This is a savings of around $70 on the already-affordable smartphone. It features a 5.5-inch AMOLED display, 4GB of RAM and 64GB of internal storage that can be expanded using a microSD card.
ZTE recently released the Nougat update, making this an even better value for the price. It also comes with dual front-facing speakers, a fingerprint sensor on the back, and is Daydream-ready so you can immerse yourself in VR.
This deal is set to run through Monday, April 24, or while supplies last. If you are looking for a new, unlocked smartphone, you won't want to pass this deal up!
See at eBay (opens in new tab)
For more great deals be sure to check out our friends at Thrifter now!
Jared started off writing about mobile phones back when BlackBerry ruled the market, and Windows Mobile was kinda cool. Now, with a family, mortgage and other responsibilities he has no choice but to look for the best deals, and he's here to share them with you.
Save your money. MiFavor is still bad.

What's so bad about it that: A) overshadows what otherwise is an excellent phone, even at its original price, or...
B) can't be easily fixed with a launcher like Nova. Love to hear your reasoning instead of a generic opinion.

"Save your money. MiFlavor is still bad" And yet you can switch to the plain Android UI.

I disagree, I went from a pixel, to an S7 EDGE, and this axon 7 beats them all. I'm running nova prime and it's incredibly fast, and if course the best sound system in any smartphone. I'm selling my onkyo dp x1 DAP because the sound on thus phone, kills it. And don't forget, there's a reason why it made the list of the 10 best smartphones of 2016.

You say this on every post and forum.... Are you paid by ZTE?

He's right though, this is a great phone and a screaming deal at this price.

I'm sure it is a good deal.

And a great phone, easily best of the budget flagships from last year if you don't need an unlocked bootloader.

I doubt it. I wish there were some in stores so you could get some hands on time with the Axon 7. Once you actually use it any preconceptions about it being just another Chinese smartphone go out the window. It's seriously impressive, hardware-wise, and the skin is substantially lighter than TouchWiz or LG's skin

They have it at Best buy, I've already played around with it.

Good phone, i preferred the feel of the Axon7 over the S7 I ended up with; I only swapped cos i needed GearVR dev access.

If sound and value are your top priorities then sure, its a good buy. But the Pixel is a better phone overall. Especially if software and camera are your top priorities.

The comparable Pixel XL is more than twice the price of the Axon 7, and the regular Pixel is too if you need more than 32GB of storage. I'm not saying that everyone should buy the Axon 7, but I certainly wouldn't recommend a Pixel XL (or Pixel, not that you can actually buy one) to anyone at full retail price. For what it's worth, The 20MP camera on the Axon is actually quite a bit better than the Pixel in good lighting conditions, but the Pixel is much better in the dark. Whether you favor the Axon 7, OnePlus 3, Honor 8, Moto G5 Plus, or a used GS7, any of these would be be $300-500 less than a Pixel, and make the Pixel impossible to recommend to anyone who cares at all about value.

You're absolutely correct.

If being full and value are your top priorities then sure, it's (a salisbury steak) a good buy. But a filet mignon is the better cut overall.

A good burger is far more delicious than any slab of steak in my opinion, though in your metaphor the Axon 7 is probably more like a rib-eye. However you slice it, if you really like steak, you could buy a lot of it with all the money you'd save by not buying the overpriced Pixel.

Does this work on Verizon?

While I believe it has CDMA radios, I don't think Verizon or Sprint support this device, so I think you'd have trouble making it work.

Yes it works on Verizon but not Sprint.

I successfully use the axon 7 on Verizon for three months before switching to T-Mobile. For some reason it said I was roaming the entire time on the status bar, even though I clearly wasn't, but other than that it worked great.

It, "Works." It's technically not supported by Verizon, but people have been able to connect. I'm currently testing Verizon on it right now, and it's working pretty well.

Could anyone provide more info on getting this working with Verizon? Is it just slipping in a new SIM and done?

I have one of these as a backup and it is insanely good, not just for the price. They're really bad with timely security updates, but their skin is actually not half bad and Nova works well if you don't like it. Battery life is great, particularly standby time. The sound quality is insane both from the front facing stereo speakers, and the DAC with a good set of headphones. The screen is pretty close to Samsung AMOLED quality, and it's fast too. Not OP3t fast, but fast enough. At this price it's a steal.

ZTE isn't as bad with security updates as a lot of others. Currently on the March 1st patch.

Zte axon was one of the 1st phones to get nougat 7.1.1... Samsung s8 still launches with nougat 7
Know your facts before talking rubbish

Dude, take it easy. I was extremely complimentary of the phone and encouraged people to purchase it. If I got some facts wrong, duly noted, no need to slam me for "talking rubbish" - especially when it seems we're both big fans of this phone. Thanks for correcting me.

>Samsung AMOLED quality The screen is actually a samsung AMOLED display.

The screen is the Note 5 panel. That's pretty damn close to being a AMOLED screen by my calculations.

I've been very happy with this phone for the last... holy crap - 8 months?! How time flies. There have been one or two issues along the way, but at $330 it's a steal.

One of the best phones money can buy... I sold my s7 edge for Axon 7 Limited Edition 128gb with 6gb ram and I'm super happy... Best sound in a phone... Great built quality...
Now I'm buying G6 will have 2 best phones in android world

I can't argue with this decision.

I seen on GSM arena I think that they are releasing a 7S with a 821. I NEED to know if this is real or not.

Yeah but considering how much the 6 gig of RAM regular version costs, this is going to be way more. Probably closer to 600.

This is a great phone with really good specs. The price isn't terrible. Could be a little lower. I'd check swappa.

How is $330 for a "great phone with really good specs" just "isn't terrible"? It's an incredible value at this price.

$330 for a brand new phone with specs it has is a great value. Spec wise it can go head to head with the S7 the only areas where it falls a little short is in the camera mainly low light while it has gotten a better it still struggles a bit. Most Axon 7's on swappa are going for at least $300. Why buy used if you can buy a brand new one for only $30 more

How's the Engrish throughout the UI, though?

It is deigned in the US so that might account for how well the English is. Speaking as an owner, I've found no language issue.

I know ZTE has been pretty good with software updates....But I returned my Axon 7 Just after they were released, due to poor signal quality and the mic problem where people would randomly not hear me. I loved the rest of the phone...speakers were awesome!
Android Central Newsletter
Get the best of Android Central in in your inbox, every day!
Thank you for signing up to Android Central. You will receive a verification email shortly.
There was a problem. Please refresh the page and try again.