For the past few years, the Harry Potter series has been getting re-released in beautiful illustrated editions. These versions offer an exciting new way for both older fans and new readers alike to enjoy the series, and today Amazon has the first novel Harry Potter and the Sorcerer's Stone: Illustrated Edition on sale for just $13.97. That's one of the lowest prices ever reached for this version of the book and saves you $10 off its usual cost there.
Accio!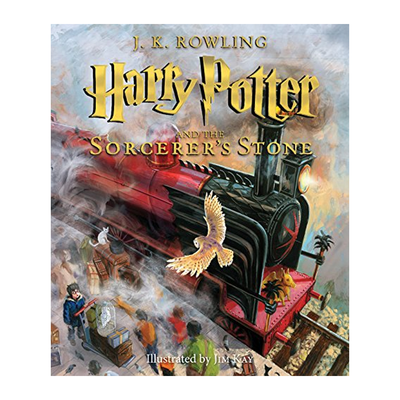 Harry Potter and the Sorcerer's Stone: The Illustrated Edition
This large, illustrated edition of the first book in the Harry Potter series is now down to one of its lowest prices in history at Amazon. It's filled with full-color illustrations, including of some scenes that never happened in the movies.
$13.97 $23.99 $10 off
You can pick up the illustrated editions of Harry Potter and the Chamber of Secrets, Prisoner of Azkaban, and Goblet of Fire at Amazon now as well. Goblet of Fire even has a $10 coupon you can clip to bring its price below $20.
This illustrated edition of the first Harry Potter book is nearly essential for hardcore fans of the series. Featuring full-color works of art by Jim Kay, these editions can lead you through the story as if it were the first time. They're also perfect to share with a younger fan of the series. It's really interesting to be able to see moments and characters illustrated that never showed up in the movie adaptations, such as Peeves the poltergeist. These editions feature the entire novel, along with thoughtful, exciting, and sometimes stunning imagery throughout.
As of yet, only the first four books have been released in this series, though the entire series is slated to receive this treatment. That gives Potter fans something to follow along with through the years as they may have done with the original series.
Other illustrated books from the world of Harry Potter include The Tales of Beedle The Bard and Fantastic Beasts and Where To Find Them. It's worth noting that these books have a different illustrator than the one working on the original series.
We may earn a commission for purchases using our links. Learn more.