Red Samsung Galaxy S 3 available at Carphone Warehouse in the UK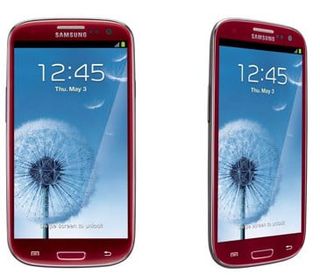 Just last week Samsung dropped a whole range of new colors for the Galaxy S 3, but as you would expect not everyone seems to be able to get all of them, everywhere. In the UK at least, the Garnet Red variety is available should you desire one. The phone is exclusive to the Carphone Warehouse in the UK, but seems to be available at the same price as the other colors, and across the major networks provided by the retailer.
Previously we've seen the Garnet Red Galaxy S 3 offered up by AT&T in the United States. And, whilst differing European carriers were displaying the black, and grey versions at IFA 2012 in Berlin, the red S 3 was nowhere to be seen. We've still not seen the brown version yet either.
Source: Carphone Warehouse (opens in new tab)
check the toilet for the brown version :p

Sell in February for valentines day.

No thanks. Not for me.. alanandroid

Wow I wish they had them in Canada it would match my big sexy red truck!!!

The site name should officially be changed to Samsung Central. Then you guys can shill for Samsung non-stop ... oh wait, you already do!

Damn it... do you think they'd take a white S3 as payment?

Damn it... do you think they'd take a white S3 as payment?
Android Central Newsletter
Thank you for signing up to Android Central. You will receive a verification email shortly.
There was a problem. Please refresh the page and try again.