Potential Moto X 2016 back covers shown off in new leak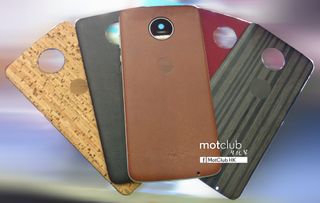 It appears that some of the rear cover options for the Moto X 2016 (which may also be known as the Moto Z) have appeared online. These apparent "MotoMod" style modifications offer covers with a number of different designs and materials for Motorola's next phone. Materials for these covers seem to include leather and wood.
Images of these covers come by way of +hellomotoHK:
In addition to these style modifications, the Moto X will reported feature support for modular attachments such as speakers, a projector, and a full external camera. The Moto X 2016 is expected to be unveiled next week during the Lenovo Tech World event on June 9.
I hope this doesn't mean the end of Moto Maker and instead is just what the backs will look like for Moto Maker. Posted via the Android Central App

This is probably Moto Maker. It gives the unique options that no other phone has; and is better than regular old cases because it looks like it connects magnetically, so you still get that metal band around the device .

Well why have moto maker when you can buy and swap out backs for your phone? It's like the styleswap covers for oneplus 2.
I hope this moto z has a fantastic camera. Moto g4 plus had great reviews so I'm hoping they can outperform the other flagships this time.

Seems better to be able to order a phone with the back you actually want rather than having to purchase one aftermarket and throw the crappy "sandstone" one into a drawer. Well, better for the consumer at least. It's best to assume I'm being sarcastic. if I'm ever serious I'll type "/s" to make it clear.

I'd actually prefer it to be removable. That way, if it gets damaged or if I just want a change, I can swap it out for a new one in under a minute. Posted via the Android Central App

I'm not saying it shouldn't be removable, but that it'd be better to be able to pick the back plate the phone ships with. It's best to assume I'm being sarcastic. if I'm ever serious I'll type "/s" to make it clear.

Did you never own a Nokia 3210 / 3310 / 8210? You could have a cover for the day of the week. I think it's a nice flashback, let's you refresh your device should you **** it. Posted via the Android Central App

Well as I said in the comment that's literally above yours, I'M NOT SAYING IT SHOULDN'T BE REMOVABLE, BUT THAT IT WOULD BE GOOD IF YOU COULD PICK THE BACK IT SHIPS WITH. I have a OnePlus 2 with two extra backs in addition to the one it shipped with, and the original "sandstone" gets zero playtime. Seriously, reading helps. It's best to assume I'm being sarcastic. if I'm ever serious I'll type "/s" to make it clear.

Well they could ship it with no backs. That one droid phone already has a colored back but it also has the pins to add another back.... Posted via Android Central App on 1+1

They could, and it wouldn't surprise me if they did. But if it wasn't customisable there's to be a good bit of backlash. It's best to assume I'm being sarcastic. if I'm ever serious I'll type "/s" to make it clear.

But this is how they did Moto Maker for the third gen Moto G. Posted via the Android Central App on the Moto X Pure Edition

My guess is that Motomaker died with Motorola

This is how they did Moto Maker for the third gen Moto G. Posted via the Android Central App on the Moto X Pure Edition

Cork!? Posted via the Android Central App

That's exactly what I said. Maybe for fans of fine wine??

Not pretty...but maybe good for shock absorption? Heheh :P

I think the Moto Z Moto X 2016 looks like hell. That's just me though, I'm sure other people will love it. Rodeo time, time to get er on down the road

Not many, Moto has lost its way. Posted from Nexus 6

Totally agree. As I stated below, I hoped Moto would deliver a more premium device (even if it meant a more expensive one) than last year's version. Love their software, but the hardware just doesn't do much for me. Most importantly though, I'd need to see timely updates before even considering them. Right now, it's only Nexus and the HTC 10 that has my attention. 6p on Verizon

Looks kind of like the Lumia 950xl with the leather backs that has. Posted via the Android Central App

Hopefully there's an unlocked version compatible with Verizon. Hopefully has a big battery too. Posted via the Android Central App

I've heard 2650 mAh which is appalling. I'd like to see a truly premium Moto phone with timely updates, but this doesn't seem to be it. And I'd gladly trade in some of that nicer hardware in exchange for a much larger battery. Right now, 3000 mAh is the absolute minimum if consider (even if it's swappable LG) and preferably larger. I'm tired of these OEMs talking about efficiency and optimization. All that's great, but raw power isn't replaceable. 6p on Verizon

If that's the case, then that means their midrange G4 Plus will have more battery capacity. It should be the other way around no question. Posted via Xperia Z5

That's actually pretty tepid. Remember the Galaxy S6?

I've heard these phones will come with this accessory (at no extra charge!) that you connect between the phone and these electrically charged slits you find in walls wherever people exist that allows you to reuse said battery--as many times as you want!!! I've also heard they're are also portable versions of this technology that you can buy in case you're in a situation where there's no power In other words, power is rechargeable so why does it even matter? If you have a dead phone before your day's done, you're doing it wrong

Yeah because carrying a power pack around with you everywhere, and having it tethered to your phone to use it, is a substitute for a proper battery. Nope, sorry, if a phone can't easily last the day, I'm out. If my 2 year old phone can do, and other phones on the market can do, there's no way I'm taking a downgrade like that. Posted via the Android Central App

A battery bank is a lame excuse for a small battery that doesn't last the day when using the phone. And frankly, saying that the fault is with the user for their heavier usage pattern is also kinda moot because everyone has different usage patterns. I shouldn't be forced to be more frugal just to save my battery. To me, a phone with good battery life is one where it can last a day on my usual usage pattern. As for battery banks, I only use them when I know I'll be away from a power point for a really long period. And while we're on the topic, isn't the point of a thin and light device rendered moot when it has to be plugged into a battery bank just to make sure it can last a day on anything other than really frugal usage? R.I.P GPe program

To me, all day (as in a full 24 hours) battery life, is like a 400+ppi screen. Once you've had a phone that has it, you never ever want to go back. Posted via the Android Central App

I heard 2600 mah battery, but one of the modules will be a power amp, which will serve as additional battery. Who knows how it will work though.

I was hoping Moto would make a note premium phone that the 2015 version. They don't seem to be heading in that direction. Definitely not a fan of the mods, but before I'd even consider a Moto going forward, Lenovo would have to prove they're capable of providing quick updates. 6p on Verizon

Well considering the snap on modules, should we assume the backs will now be swappable? They appear to have their own trim around them.

Yes. Posted via the Android Central App on the Moto X Pure Edition

So, it looks like if you want a leather back like my 2014 Moto X, then no mods? For me the dual front facing speakers were a real selling point on the 2015 X and Nexus 6P. Having to snap on some kind of mod to the back to get what just as easily could have been on the front without a mod sound really stupid. Posted via the Android Central App

I'm looking forward to this announcement. Posted via the Android Central App

The 2015 Moto X Pure Edition is my last phone from Moto/Lenovo. This Lemoto Z phone is too far a departure from the Moto X phones since 2013. Forsaking the front facing stereo speakers for a larger chin to house the fingerprint reader? Really, since the dimple on the previous phones on the back would've been perfect for it? Sorry, having add on modules doesn't make up for it. You can keep your uninspiring phone Lemoto. I'm not remotely interested. Hope a good non HTC, LG or Huawei Nexus hits the market in the next 2 or 3 years...

Alternative for you at this point: either Nexus 6p or the soon to be released ZTE Axon 7, preferably the ZTE Axon 7. I dont think this phone is uninspiring, but by the same token, I do prefer rear fingerprint scanners and front facing speakers. Since dual front facing speakers seem like a requirement for you, and the phone is a damn good phone in pretty much every regard, I would again wait for the ZTE axon 7, which will be available in the US unlocked for $450 in about a week, if not already available. Now, this has a front firing speaker, which doubles as the earpiece, and triples as the loudspeaker; the audio will probably have excellent quality; all Motos of 2015 except for the pure edition had a front facing speaker, but other than the Moto E, there were two grilles, one housing a dedicated earpiece, and the other being the speaker/loudspeaker. The Moto X force had it split into three separate units: the top one being an earpiece, the bottom left one being the loudspeaker, and the bottom right one being the actual speaker. So some devices look like they have dual front facing speakers, when they actually don't (Case in point: Nexus 5x, ZTE Axon). Moto went with a single front facing speaker for the fingerprint scanner to fit at the bottom (BTW that fugly Moto logo above the fingerprint scanner is probably not making it to production given that the Moto logo is in actuality on the camera area, between it and the flash) obviously because of the modules. But everybody has their opinion, and given that your opinion and preferences on what you want in a phone are as they are, again, the ZTE Axon 7 would be great for you. Check it out! Yes it is Daydream capable if ur that person.

Are these legit pictures, because if you look into the right corner cover (grey) the Moto dimple or possibly the fingerprint scanner circle is off center in comparison to the camera circle!

Thats what i was thinking. it looks likes its not an actual photo but some sloppy mock up. although it could be he removed the backgrounds to hide his identity too.

Somebody ask Rene...he keeps up with these things. Posted via the Android Central App

If Lenovo keeps the features that made the 2015 X Pure and Droid Turbo 2 great (support for all carriers including Verizon, shatterproof screen, slight water resistance, front facing speaker or speakers, SD slot) while improving the camera, that would make this my perfect phone and I'd snatch one up. I don't mind the large chin, even though it's not pretty the Turbo 2 has one as well and I was surprised that it improved its ergonomics. Plus, no Android phone out there has bezels like the horribly oversized ones on the iPhones. My only reservation is on software updates...

This phone better be at least top ten of this year. I have faith in Lenovo (albeit very little). As much as I like the pure, I hope this phone is future proof. I rarely update phones so I hope this receives regular support. Lenovo is the only company that can give Motorola what it needs to be great again and competitive against Samsung and other OEMs. If this phone fails then Lenovo will be slow roasted and crucified. Posted via the Android Central App
Android Central Newsletter
Get the best of Android Central in in your inbox, every day!
Thank you for signing up to Android Central. You will receive a verification email shortly.
There was a problem. Please refresh the page and try again.