Moss's Twilight Garden add-on finally available for all VR platforms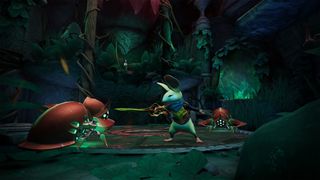 What you need to know
Twilight Garden update to Moss is a free update for PlayStation VR, Oculus Rift/S, HTC Vive, and Windows MR tomorrow – it was previously only on Oculus Quest.
New puzzles, environments, and weapons.
Update available on Tuesday, June 25 and on Valve Index as a launch title on Friday, June 28th.
When Facebook released their Oculus Quest to consumers back in May, the VR headset offered gamers something no other VR headset could. No, I'm not talking about tetherless 6DOF VR - I'm talking about an updated version of Polyarc's critically-acclaimed VR game, Moss, that included "Twilight Garden", a brand-new add-on experience that gave players new environments, new challenges, and storytelling that had lucky Quest owners giddy with excitement.
Unfortunately, because the Twilight Garden add-on was only available for Quest owners, fans of the popular adventure game using other VR headsets felt a tad dejected.
However, that is all about to change, because Polyarc has announced that they will finally be releasing the Twilight Garden update for all Moss players using a PlayStation VR, Oculus Rift/S, HTC Vive, and Windows MR platforms beginning on Tuesday, June 25th and on Valve Index as a launch title on Friday, June 28th.
Oh, and it's going to be free!
If you're not familiar with Moss, the game begins by transporting you into a fantastical book where you meet and help guide a young mouse named Quill - who is on a quest to save his uncle.
At the same time, you are shaping the virtual environment as your own character, and together the two of you venture off into the unknown in pursuit of saving Quill's uncle.
During your travels, you uncover portals that take you into the mysterious Twilight Garden. It's here that you discover new environments, puzzles, character interactions, a mini-boss and an alternate weapon/armor set that you will quickly realize you need throughout the game.
Each turn in the Twilight Garden is a test for you and Quill, all while a mysterious presence prepares the two of you for the dangerous road ahead. If you can overcome the challenges in the Twilight Gardens, you could change what is believed possible for a partnership of your kind.
One thing to mention the small fact that Moss has over 80 global industry awards and nominations to its name, and bringing Moss' Twilight Garden to all platforms will surely make fans of the game incredibly happy, and even make non-Quest owners feel a little better about not owning one.
Android Central Newsletter
Get instant access to breaking news, the hottest reviews, great deals and helpful tips
Bobby Carlton is a contributing writer for Mobile Nations who lives in Upstate NY and has covered events such as SXSW, CES, Tribeca Film Festival, Learning, TechLearn, Comic Con, and countless other conferences that may have the latest in VR and AR news. He doesn't like raw onions, always up for a chat about Star Wars, and once met Matt Damon in an airport and for some reason called him, Ted Damon. Follow him on Twitter at [@bcarlton727.
So I saw a few days ago that Moss has gone on sale till July 9th and that it will sell for $19.79. Which sounded great as I never got the opportunity to get it for the Oculus Rift. My old Rift broke a few weeks back and I purchased the Oculus Quest as a replacement. I was very excited that Moss is on sale and the timing was perfect as my Quest is being delivered next week. I was eager to buy it now until I saw that Moss was on sale for the PSVR, Oculus Rift, HTC Vive, Windows Mixed Reality, basically every headset on the market, but NOT the Oculus Quest. Are you kidding me Polyarc? It's not bad enough Quest customers are being raked over the coals as it is and paying more money for games than any other headset out there, but when there is a great game like yours that goes on sale and a Quest customer can finally catch a break on price gouging for a change, you slap us in the face and say uh uh, not for you, that sale is for everyone else but you, psych! What a lousy and crappy thing to do to your new customers. What a way to welcome us as new Quest owners by alienating us from the rest of the VR headset community. I expected better of Polyarc due to their game quality. I thought they cared about their customers and wanted them to have an amazing game experience, instead it just left me with a very sour taste in my mouth. Polyarc is just like the rest of the Quest devs out there, milking new Quest owners for everything they got.
Android Central Newsletter
Get instant access to breaking news, the hottest reviews, great deals and helpful tips
Thank you for signing up to Android Central. You will receive a verification email shortly.
There was a problem. Please refresh the page and try again.