Poll: Did you preorder the iPhone 13 or iPad Mini?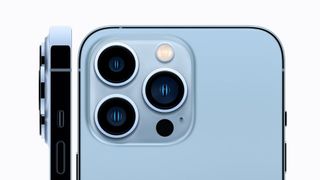 (Image credit: Apple)
Preorders for the iPhone 13 have finally arrived, with people scrambling to get their hands on the latest and greatest from Apple. It wasn't exactly smooth sailing, though, with many facing errors when trying to order with their Apple Card, Apple Pay, or through iUP upgrade flow.
Not only that, but many orders are now expected to arrive in mid-October.
Despite the errors, many people were still able to process their orders for the new phone. And while our viewership mainly consists of Android fans, we know there are plenty of readers who use Apple products. In fact, some Android Central staff are fans of devices like the iPad Pro (2021), and we want to know if you've preordered any of Apple's new products.
The iPhone 13 isn't much of a significant change from the well-received iPhone 12. Still, it brings an upgraded A15 Bionic chip, improved cameras with better video capabilities, low-light capture, and a 20% smaller notch. The iPhone 13 Pro and Pro Max received some display upgrades thanks to the new variable refresh rate panel that can transition between 10Hz and 120Hz depending on the content displayed. It's a feature that has appeared on some of the best Android phones, so it's nice to see Apple stepping up.
Buyers can also look forward to more storage, starting at 128GB for the same price as last year's models, which is a nice change.
The new iPads are also available for preorder, including the redesigned iPad Mini, more like a small iPad Pro. It features the upgraded chip, Apple Pencil support and has transitioned to USB-C instead of Lighting.
Lastly, while the new Apple Watch Series 7 was announced earlier this week, rumored production issues mean interested buyers won't be able to get their hands on the wearable until later this fall. Sad face.
Comment below and let us know what you preordered and why or why you decided not to. Of course, you could just wait for the Google Pixel 6.
Get the Android Central Newsletter
Instant access to breaking news, the hottest reviews, great deals and helpful tips.
Derrek is a long-time Nokia and LG fanboy who loves astronomy, videography, and sci-fi movies. When he's not working, he's most likely working out or smoldering at the camera.
Waiting on Pixel 6 Pro. Haven't been this excited for a phone in years. Gonna trade in my Pixel 5 (and Pixel 2XL if needed). Hope I get a good deal.

No. Still holding on to my T-Mobile OnePlus 6T. Not sure when I'll upgrade.

Got the 7T. No need to upgrade

Mine sadly crapped out earlier this year. One of the best value phones I've brought to date.

I've actually ordered my very first Ipad, the Ipad mini 6. Have had some dibs in an IPhone 5 yrs ago but this is my 1st time over the pond for an Apple Ipad. I feel the Ipad OS is well optimised and has a great selection of apps and is tailored well for productivity, media consumption and general use. I was almost sold on getting the Galaxy Fold 3 5g but I don't think the market for that is matured enough personally. Also I need something that will last sometime and be supported and Apple keeps their portfolio updated for 5 yrs plus. Let's see it this is going to be a love or hate relationship. 🤔

"In fact, some Android Central staff are fans of devices like the iPad Pro (2021)" This sentence is laughable. AC not only talks about Apple products half the time now but praises them over Android products. I wish there was another Android site like AC used to be. Seems like every one I find now likes Apple more than Android.

It's very expensive to stay in the apple eco system and upgrade to their latest and greatest. I decided not to change phone yet and hopefully just bank the money instead. Will look to see if any decent Android alternatives in the coming months perhaps but in no rush.
I echo the comment above though .. what is this site nowadays ? Few comments on most stories suggests little engagement (even if I think there has been some good topics recently). I would say too many non-stories and ads cheapen the experience for me.

Not necessarily. Carriers have been pushing deals the past few years (and even with the new iphones) where you can get the devices for less than half price (and sometimes even free) so it's not as expensive as a buy in as it used to be.

Yeah, many Android sites (notably Android police) have this weird fixation on Apple these days. Not sure what that means for Android enthusiasts.

you will never see the iphone blogs asking users if they preordered a pixel or a samsung phone. this is just sad. between this and the playstation posts, this site should not call themselves "android" central. i'm okay with the occasional review of iphone/ios especially if they compared the feature to what android has or has missing to get some insight out of it

Well I understand your point but the main difference between Android fans and Apple fans is that Android fans are open minded, Apple fans aren't.

Haven't given Apple any money thus far, don't see a reason to now.

Same here. *More words because ac apparently wants more*

Me either. They just don't make anything that I want or need.

Jon Prosser is the reason why I'm waiting. I've always thought that the iPhone 4/4s were the best Apple designed phones. So, after learning that the iPhone 14 Pro could be a reincarnation of the iPhone 4s, I had no interest in the iPhone 13 Pro. My iPhone 10s (Xs) works just fine, and will still get iOS 15, so what's the hurry? It's not as if I use my 10s every day. Android is still my preferred OS of choice.

Hoping the IPhone 14 is that dream phone too!

Have a Surface Duo and just traded my Note 20 Ultra for a Z Fold 3 which has just arrived... Apple products hold no interest for me... Can't ever see me going back to a single screen device...

Ordered both iPhone 13 Pro and Pro Max like every year 😎 Next in line is Pixel 6 Pro

I have no interest in any apple products.

Absolutely not. I bought a new 12 about 2 months ago primarily to view clear and full screen videos of my grandkids that my daughter texts to me and I was also very curious if I could live with an iphone. It was exclusively my daily for a little over 4 weeks and I found it frustrating at best. I couldn't have been happier putting the SIM back in my Pixel 5.
The only two things I liked better on the 12 were it's haptics which are phenomenal and Face ID which for me is superior to any other unlock method.

I stay away from overhyped, overhyped fashionista apple trinkets

Since the Pixels next release, the 6, is sort of fugly to me and the fact that the smaller version does not offer all the same features as the Pro version, I might just jump to the iPhone 13 Pro. Same features as the Pro Max; however, smaller.
If google had done that with the 6, I might have been able to overlook that camera bar from edge to edge.
But the pro is too large....

Agree. It is a shame they neutered the smaller pixel 6 outside of the normals which you expect with a larger device (like screen size and battery).

I don't buy Apple products at all.

I'm not interested in dealing with apples ecosystem nor their bizarre restrictions and inconveniences software wise.

There's no Android phone that I found compelling this year so I am getting the iPhone 13 Pro Max 512GB.

I have. I always have an iPhone and an Android phone. Currently using the S21 ultra. I might sell it to get the pixel 6 pro

Neither. I don't pay full price for Apple products. They're not worth it. I do intend to buy an iPhone 13 Mini to replace the OG iPhone SE I keep around to be up to date with what's going on on iOS without needing to read "articles" written by iSheep 😂 (and the only reasons I haven't switched to the iPhone Mini is because it lacks expandable storage and a headphone jack. Both of which are non-negotiable features to me. Otherwise...).

If I did it would be discussed over on iMore not Android Central

Nope. My phone upgrade money is going towards the Pixel 6 pro.

I didn't preorder one but I'd love to have the iPhone 13 Pro Max 256 GB in Sierra blue. The only way I could get it would be through a carrier and I just dont want to go in debt for a phone again.

People wondering why Apple stuff is being talked about here, yet this thread is 4 times as active as any Android thread, and when we do get an active Android phone thread, it's filled with people b*tching and moaning about said Android phone. Samsung sucks
Google sucks
Android sucks...at least according to what I'm reading here. You don't hear iOS users bashing iPhones nearly as much. Do the math people...

it's called clickbait How to get your blogs alot of views on a dedicated Android site, starting trolling your own viewers about Apple. I think it's sad Android sites have resorted to this tactic. I do envy Apple users, their dedicated sites have much more true Apple enthusiasts than many Android sites now. Android Central of years past is long gone, now it's a troll your own readers for click site. It's pure laziness.

The latest iPhone would be a downgrade from my Note 20 Ultra. The iPhone 13 is underwhelming and not a leap forward.