Pokémon Go Android settings you need to know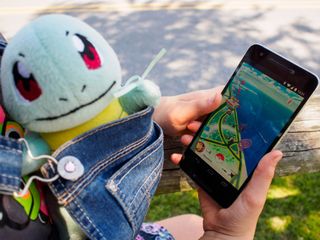 Welcome back, Pokémon! We've been waiting ever so patiently. Well, not patiently, if we're being completely honest. Now that Pokémon Go lives on your Android device, you need to know how to navigate the settings before jumping in and playing the game.
Accessing the Main Menu
Launch the Map View of Pokémon Go.
Tap the Main Menu button. It's the Poké Ball at the bottom of your screen.
Tap Settings at the top right.
Tap the menu item you wish to select.
Music
The music is enabled by default, so don't be alarmed when you head out to play and you suddenly have your own Junichi Masuda soundtrack accompanying your walk. You can toggle it off here.
Sound Effects
The game sound effects are enabled by default, and as awesome as they are, you may not always want them on. You can toggle them off here.
Vibrations
Vibrations are enabled by default, and they are useful for letting you know about nearby Pokémon. But if you don't want them, they can be toggled off here.
Battery Saver
This is your battery life optimization feature. The reality is that this game is going to drain your battery mighty quickly. While the Battery Saver is enabled, your display will be disabled when your device is pointed downward. You'll still be able to track distance in this mode, and you will continue to be notified if Pokémon are nearby.
More: How to save your battery while playing Pokémon Go
Quick Start
This will launch a gameplay tutorial. If you're brand new to the Pokémon Go experience, this is going to be tremendously helpful.
Help Center
The official Help Center gets launched in your web browser to answer any more detailed questions you may have.
About Pokémon GO
If inquiring minds want to know, here is where you'll find the copyrights, Terms of Service (seriously, consider reading it), Privacy Policy, and license information regarding the game.
Sign Out
Well, that one pretty much explains itself... and you probably won't be using it very much.
Android Central Newsletter
Get instant access to breaking news, the hottest reviews, great deals and helpful tips
Thank you for this! Posted via Team Mystic.

Awesome articles. In all seriousness there really is no guide or instructions in game. Felt stupid when I couldn't find pictures taken in game but of course they were in device folders. Haven't been able to go out and explore like most of the world but I've caught some. Really is fun with the exception of the lag and golbats Posted via the Android Central App

Have u you ever kissed a girl?

Nope. But I've enjoyed life and everything Android. The articles are super effective too. Posted via the Android Central App

At least you're honest. But one day you'll play with a girl and forget all about Pokemon.

Have you ever not been a dick? Posted via the Pokémon Central App

We all know for sure u haven't, your parents must be proud of your Pokemon fetish.

oh come on! is it pokemoncentral now? all main page flooded with this crap

This is ridiculous. I counted total of 22 articles on Pokemon Go as of I'm writing this on this site only.

Wow...haven't been following too closely with the world of Android since it's been baseball season. I have kids that play and I coach as well. But now that all of that is winding down I came back to Android Central and I agree it's Pokemon Central. Pretty ridiculous....and yes, I know...a sports guy and an Android guy all in one?! It is possible Posted via the Android Central App

Now if only there was a way to exit the app...

Another Pokémon post? Jesus Christ...
Android Central Newsletter
Get instant access to breaking news, the hottest reviews, great deals and helpful tips
Thank you for signing up to Android Central. You will receive a verification email shortly.
There was a problem. Please refresh the page and try again.