Pixel C keyboard shortcuts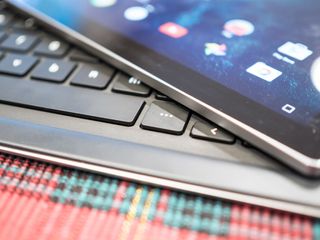 Google's Pixel C tablet has a couple really good keyboard options available for it. They're surprisingly spacious for a mobile typing mechanism, and the keys have a pretty good feel to them.
But one way Google got the keyboards to be as good as they are was to do without some of the less common secondary functionality. Some symbols have been moved. And others are missing altogether. And so you'll want to learn some keyboard shortcuts on the Pixel C.
Then there's the matter of navigating Android itself. There's no trackpad on these keyboards, so you'll have to lift your hands from the keys and peck at the screen more than you might like. Or, you can once again use some Pixel C keyboard shortcuts.
Google has a good cheat sheet that's worth taking a look at. But here are the Pixel C keyboard shortcuts we think you need to know above all others:
For navigating Android
Home — Search + Enter
Back — Search + Backspace
Recent apps — Alt + Tab (same as it ever was)
Missing symbols
Brackets — Use three dots + o for left bracket [, three dots + p for right bracket ]
Back slash — Three dots + equals =
Escape — When would you use this? We don't know. But it lives at three dots + 1
Default apps
Android sets defaults for a number of applications types — default browser, email client, messenger, etc. And there are keyboard shortcuts for launching them, which can be handy. Those shortcuts are:
Browser — Search + b
Search Search + l
Contacts — Search + c
Email — Search + e
Messenger — Search + t
Music — Search + p
The apparent lack of an easy way to type [ and ] actually had me worried. I'm a chemistry teacher and I'll be using this to make worksheets and what not, square brackets crop up all the time. News of all these shortcuts makes me feel like I'm going to buy this again. Posted via the Android Central App

The ESC is handy for coders (vim in my case), and you can get curly brackets the same way as brackets just add SHIFT Posted via the Android Central App

Hi all, You can find a full list of keyboard shortcuts for the Pixel C at https://support.google.com/pixel/answer/6326992 Hope this helps!

Yep. Same one I linked to in the post Posted via the Android Central App

D'oh, can't see for looking!

Nice !!! Thanks for this. I have both the iPad pro and pixel c with the respective first party keyboards. Even though iPad pro is more complete with split screen, app ecosystem for tablets the keyboard shortcuts and on-screen navigation using pixel c keyboard is much better. With the iPad pro I have to touch the screen for scrolling etc, with pixel c I can use the arrow keys which is more preferable with the keyboard attached. Posted via the Android Central App

Anyone found a keyboard combo to adjust volume? Posted via the Android Central App
Android Central Newsletter
Get the best of Android Central in in your inbox, every day!
Thank you for signing up to Android Central. You will receive a verification email shortly.
There was a problem. Please refresh the page and try again.