Pixel C keyboard shortcuts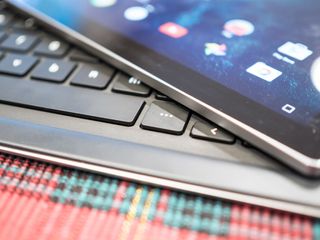 Google's Pixel C tablet has a couple really good keyboard options available for it. They're surprisingly spacious for a mobile typing mechanism, and the keys have a pretty good feel to them.
But one way Google got the keyboards to be as good as they are was to do without some of the less common secondary functionality. Some symbols have been moved. And others are missing altogether. And so you'll want to learn some keyboard shortcuts on the Pixel C.
Then there's the matter of navigating Android itself. There's no trackpad on these keyboards, so you'll have to lift your hands from the keys and peck at the screen more than you might like. Or, you can once again use some Pixel C keyboard shortcuts.
Google has a good cheat sheet that's worth taking a look at. But here are the Pixel C keyboard shortcuts we think you need to know above all others:
For navigating Android
Home — Search + Enter
Back — Search + Backspace
Recent apps — Alt + Tab (same as it ever was)
Missing symbols
Brackets — Use three dots + o for left bracket [, three dots + p for right bracket ]
Back slash — Three dots + equals =
Escape — When would you use this? We don't know. But it lives at three dots + 1
Default apps
Android sets defaults for a number of applications types — default browser, email client, messenger, etc. And there are keyboard shortcuts for launching them, which can be handy. Those shortcuts are:
Browser — Search + b
Search Search + l
Contacts — Search + c
Email — Search + e
Messenger — Search + t
Music — Search + p
Get the Android Central Newsletter
Instant access to breaking news, the hottest reviews, great deals and helpful tips.