Google is slowly restocking the Pixel, so get it before it sells out again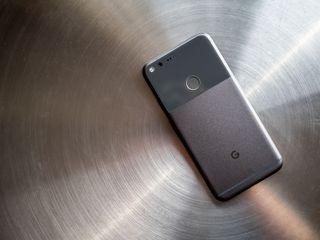 (Image credit: Android Central)
What's better than a new smartphone under the tree? A really blue Pixel XL. The phone is back in stock at the Google Store after missing for a few weeks. It's available in all three color variants, along with the 5-inch Google Pixel.
If you've been thinking of playing Santa with the gift of a Pixel or Pixel XL, there are plenty of reasons why. The Google Pixel is equipped with one of the best 12-megapixel camera sensors and it comes with unlimited backup to Google Photos. It's also one of the few Daydream-ready phones available, not to mention it runs the latest version of Android.
Don't forget that you can also purchase device protection, in case the person you're gifting the phone to is a bit of a klutz.
Get the Android Central Newsletter
Instant access to breaking news, the hottest reviews, great deals and helpful tips.
Florence Ion was formerly an editor and columnist at Android Central. She writes about Android-powered devices of all types and explores their usefulness in her everyday life. You can follow her on Twitter or watch her Tuesday nights on All About Android.
I'm never ordering a pricey device from the Google store again. It's reminded me way too much of the nightmares with ordering direct from Motorola a couple of years ago. I returned my Pixel due to the bluetooth issues. They've had it over a month and still haven't processed the refund (yes I'm taking appropriate measures on my end). I'm sure my situation is in the minority, but it's been enough for me.

What Bluetooth issue? I've never experienced experienced any issue. I use to Bluetooth headphones and my camry and I've had 0 issues

I have Bluetooth issues in my car, but that's because Subaru has the worst Bluetooth implementation of any auto manufacturer I've ever dealt with.

I beg to differ. I think BMW has the worst Bluetooth, but then again my car is almost 10 years old.

You have a car that old that has Bluetooth? Wow

Bluetooth in a luxury car in 2007 doesn't seem all that surprising.

I have a 2013 Subaru Crosstrek, Bluetooth works 95% of the time.

I have a Mazda CX-5 and Bluetooth works 100% of the time.

Bluetooth issues are well documented. This is one of the first threads: https://productforums.google.com/forum/#!topic/phone-by-google/SZrziPyWiHw 7.1.1 hasn't fixed it either. Mine would often freeze up my system in my car. I have another user whom it will connect to their system in their 2011 Silverado but it won't make or receive calls. I've had to move myself and my 2 Pixel users here at work to a Moto Z Force Droid. No Bluetooth issues at all.

Bluetooth problems are probably not related to your phone as everyone is telling you. :-) If that's why you sent the phone back, that's a shame.

Bluetooth issues on the Pixel have been pretty widely advertised. Obviously they don't affect everybody, or every car (to reference a couple of the comments above). But they're definitely there (or were there - sounds like they might've fixed them in the latest update).

The good ol scarcity trick. No thanks

lol yeah because not selling your product to people that want to buy it is a sure fire way to...sell more? Makes perfect sense.

Well, it sure seems to work well for massive companies like Google, Apple, Nintendo, etc.. You're probably right though. What do those billionaires know about artificial supply and demand 'problems'.

I'm not so sure it's artificial....

Only Google didn't make billions from selling phones nor did they make em.

People are buying the stock they have, which is the least they can hope for, even if some customers have to wait or go with something else. They really need to make sure it is a phone worth buying and I think they have done that.

And buying from Verizon is better? I'm still waiting for the other half of my Note 7 refund. Somehow they credited half of it, sent me a letter saying they credited the whole thing, then nothing... Every time I call they say "it should happen in the next billing cycle". Well, 3rd cycle in and nothing yet.

I feel for you with Verizon I returned the a phone as part of a return promotion they credited the wrong account took me over 8 months right around 30 calls,BBB,Texas Attorney Generals Office another couple months of dealing with a corporate supervisor finally he told me the engineers couldn't change back the problem they had created but finally just gave me a credit. Worse CS experience I've ever had in 59 years.

Yet no blue in the UK What's the crack with that ?

Yeah, Google sure likes to take their sweet time giving your money back.

You've experienced that as well?

What on Earth are they doing

4-5 week wait is hardly available

Mine said that when I ordered it two days ago, it came today.

Ships in 4-5 weeks, no thank you.

Good job, Google. Just about as annoying as the invite system on the first OnePlus flagship killer.

One plus was never a flagship killer. I had that phone. Was a huge pile of $hit. Then the company would not respond by email. So I called them, after being on hold for more than an hour I hang up. I contacted them on twitter, with all the issues I was having. Then they block me from Twitter. I foolishly bought the one plus 2, again....same piece of $hit phone. They are garbage and anyone who says they are good is a liar.

too bad for you. oneplus 3 is awesome. the 1 is alright. 2 and X sucks. 3 = awesome.

Lmao, they were so terrible that you bought the follow up model the next year.

No thanks. I prefer devices without overly aggressive memory management and gigantic bezels, especially at this price.

Mine has been running just fine for about 2 months now, don't have any problems multitasking. Idk what you could possibly be doing to make it have a problem with memory management.

The supposed memory management issues some have mentioned on here is pretty much non existent to even a power user in day to day usage. However it's definitely not completely optimized for using the 4 gigs RAM it has to its fullest. That's shown in side by sides with a few other phones where the Pixel never really seems to be able to hold more than 15-20 apps in memory max regardless of what they are. But there's no doubt they do it to improve battery life I'll tell u one phone that doesn't have memory management issues. This 3T I'm rocking with its 6 gigs.of RAM. This thing takes it to a whole new level. For the price if people were more informed the 3/3T would be one of the best selling phones on the market. It has higher specs than some phones twice the price. And it's even better than some of em overall. You should get one if u haven't already youll be loving it

I'd love to have tried one, if only they supported CDMA networks, for those of us who have no choice, for coverage. Oh well, maybe with the one+4, or, maybe not.

I guess the Note 7 fiasco worked out well for Google. Still not my cup of tea.

I've been wanting to order a pixel for what seems like forever in tech time. "Ships in 4-5 weeks" is the best I've seen. Are they waiting to make the phone until I buy it? It's almost Christmas and the phone is still nowhere near being available to buy. Why?
Losing hope on this one, Google. I had high hopes. My current phone's dead. Love to buy a good phone.

FWIW, I felt the same way as you, I have a dying 2014 moto X, and I ordered a 128gb silver pixel on 12/9. The confirmation email told me estimated delivery was 12/27, but it shipped on 12/11 and will be here tmw. I think their shipping times are a bit exaggerated so they can cover themselves, but unfortunately it seems there is no guarantee it would come any sooner.

Ya, I'm on the Canadian side of the border, so it may be a bit different, but I ordered mine on the 3rd and the shipping company is saying it will be here on Friday. Not incredible, but certainly not 4 or 5 weeks.

They have the phones in Best buy. Every single time I've walked into a best buy store that had several different variants of the Pixel. Have you all forgot about the brick and mortar option?

Good for it to finally appear again.

I signed up to be notified when the 128gb XL version was available. I'm thinking next summer at this rate, that's what happens when you partner with HTC.

Order vzw 128 pixel xl on black friday from Verizon. Still showing ship date of 1/6. Guess they didn't share new stock.

I'll consider buying one once the price drops significantly.

So how many sold? Records? More than Galaxy S7? And why back ordered, did they forget that advertising for once works?

Why doesn't google make a Blue Pixel XL in 128gb??

What a joke! The phones will be old news by the time Google figures this out.

Waiting for a clearance sale on Nexus 6p.

To be completely real I wish Google had just upgraded the internals of the existing 6P body... I wold have bought that Pixel in a heartbeat.

I really would like to get this phone, but it is has been released for almost 3 months and still out of stock for the XL 128GB. At this point I mine as well wait to see what Samsung is bringing to the table for the new Galaxy