Google Pixel vs. Pixel XL: Which should you buy?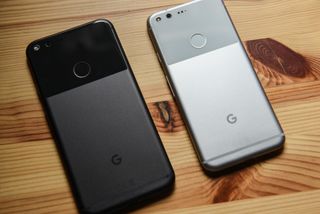 There's no doubt that the question that's plaguing you this very moment as you salivate over the varying color options for the Pixel and Pixel XL is: Which one is even worth bringing home? Well, that will depend entirely on your need, but we've put together a quick, helpful guide so that you can choose the right phone for you.
What's the difference?
Unlike last year's Google event, which revealed two different Nexus devices developed by two entirely different manufacturers, this year's Pixel and Pixel XL are both made by Taiwan-based HTC. As a result, they both look quite similar—so much so, that from far away, you can't really tell them apart, despite their differing screen sizes.
The biggest difference between the Pixel and Pixel XL are their display and battery sizes, though the 5.5-inch Pixel XL isn't that much larger than its 5-inch sibling. The Pixel also feels more like a refined, matte HTC One A9, while the Pixel XL sits in the hand as comfortably as the OnePlus 3. But no matter which one you pick, both devices have high-quality AMOLED screens that are both vividly colored and plenty pixel dense for the average smartphone user.
More: Google Pixel review
Here's a quick specification breakdown for those of you who just want the basics:
Swipe to scroll horizontally
Category
Google Pixel
Google Pixel XL
Operating System
Android 7.1 with Google UI
Android 7.1 with Google UI
Processor
Qualcomm Snapdragon 821
Qualcomm Snapdragon 821
RAM
4GB
4GB
Display
5-inch AMOLED 1920x1080
5.5-inch AMOLED 2560x1440
Rear Camera
12MP f/2.0
1.55-micron pixels
PDAF
12MP f/2.0
1.55-micron pixels
PDAF
Front camera
8MP
8MP
Battery
2,770mAh non-removable
3,450mAh non-removable
Charging
Fast charging
Fast charging
Connectivity
USB Type-C, Bluetooth 4.2
USB Type-C, Bluetooth 4.2
Fingerprint sensor
Yes
Yes
Storage
32GB/128GB
32GB/128GB
IP rating
IP53
IP53
Colors
Quite Black, Very Silver, Really Blue
Quite Black, Very Silver, Really Blue
Price
$649
$769
But which one is better?
Well, let's weigh the options. The Pixel features a regular 1080p AMOLED display with a 2,770 mAh battery, so chances are that its battery life might manage a longer day than the Pixel XL's Quad HD AMOLED display and 3,450 mAh battery simply because the display doesn't require as many resources. Then again, larger batteries do usually manage longer up-time.
Here's more on battery performance from executive editor Alex Dobie's initial review of the Pixel and Pixel XL:
It all comes down to whether you want a phone to be usable in one hand, or one that can double as a small tablet, used with Nougat's new Multi Window mode in landscape with two apps side by side. You're still getting the same Qualcomm Snapdragon 821 processor, coupled with 4GB of RAM and the improved 12-megapixel rear-facing camera, as well as rear-facing fingerprint sensor, USB Type-C, and fast charging. Both phones are also IP53 rated, so you don't have to go into freakout mode if either phone gets rained on.
More: The Google Pixel is IP53 rated — here's what that means
Which one is better for virtual reality?
It's a good idea to buy a Pixel XL over a smaller Pixel if virtual reality is your primary concern. The Pixel and Pixel XL are both Daydream-ready, but the larger Pixel XL has a higher-resolution display, which translates to better per-eye density in VR. This gives the XL a definite advantage for current content and it helps with future-proofing as well. The larger battery may also eke a few more minutes in battery life while playing VR, which is nice.
You also probably shouldn't get a white Pixel for VR.
More: Using the smaller pixel with Google Daydream is a big compromise
What's the price difference between the two?
The Pixel starts at $649 for the 32GB version, while the Pixel XL starts at a whopping $769. If you bump up the storage to 128GB, it's an extra $100. And if you add on device protection, that's another $100. These smartphones aren't as cheap as Nexuses used to be.
Which carriers support the devices?
Both the Pixel and Pixel XL are sold unlocked through the official Google Store. They're compatible with all four of the major carrier networks in the U.S., in addition to Google's own Project Fi. You can also purchase either device through Verizon, though you'll want to hold off on doing so outright unless you've got a grandfathered subsidy that the carrier is offering you.
The Verizon variant of both devices include three Verizon apps, an encrypted bootloader — a bummer for tinkerers — and you'll have to wait on Big Red before receiving any software updates. Alternatively, if you're a Verizon subscriber and you buy it unlocked, you'll still have access to advanced features like VoLTE and Wi-Fi Calling.
More: Don't buy your Pixel at Verizon
Want to know more?
Be sure to peek at our review of both the Pixel and Pixel XL for the full rundown on Google's two new smartphones. Let us know which one you're bringing home in the comments!
Get the Android Central Newsletter
Instant access to breaking news, the hottest reviews, great deals and helpful tips.
Florence Ion was formerly an editor and columnist at Android Central. She writes about Android-powered devices of all types and explores their usefulness in her everyday life. You can follow her on Twitter or watch her Tuesday nights on All About Android.