Pixel and Pixel XL will get guaranteed updates until Oct. 2018, security patches through Oct. 2019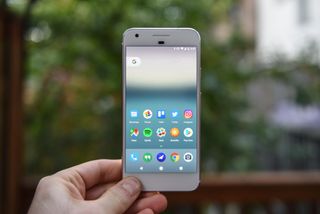 Last year, Google provided a timeline for when the Nexus 6P and 5X will stop receiving guaranteed updates. The company is now doing the same for the Pixel and Pixel XL. Like the Nexus devices, the Pixels will pick up guaranteed platform updates until October 2018, which will be two years from their release date. The phones will continue to receive software patches through October 2019.
The update schedule is exactly the same as what we've seen for the Nexuses last year, but with the Pixels being sold as premium devices, there was a belief that Google would continue to support them for longer. With the company now providing a specific timeline, that doesn't look to be the case. That said, the Pixels are guaranteed two platform updates — the Android O update later this year, and the Android P update that will eventually make its way to devices sometime in 2018.
Google may continue to deliver updates after that time — it has done just that in the past — but there won't be any obligation to do so for the Pixels. You're still getting guaranteed updates for two years, and security patches through the end of 2019.
Harish Jonnalagadda is a Senior Editor overseeing Asia at Android Central. He leads the site's coverage of Chinese phone brands, contributing to reviews, features, and buying guides. He also writes about storage servers, audio products, and the semiconductor industry. Contact him on Twitter at @chunkynerd.
Good. Now they just need to figure out their supply chain issues.

Exactly....how can people update a phone they don't have? Are there any official numbers of how many Pixels sold?

No there are not. Estimates are between 4 and 6 million.

Yep I was going to get one but it was out of stock so I ended up getting the g6.

EVERY major OEM does this for God's sake. HTC, LG, SAMSUNG ALL DO THIS. THIS IS NOT A SELLING POINT. Posted via the Android Central App

Um, they weren't lauding it as a selling point. They even said it was less than expected. This is just information sharing, simmer down.

And, no they don't. Almost none of them guarantee any updates, and those that do (Samsung and LG), consistently fail in their promise.

Another fact is the Pixel gets every single update when it's available... With other brands you're lucky to get every other update 6-12 months later.

That doesn't really matter since stock Android is still adding features that have been part of Touchwiz for more than 3 years. Posted via the Android Central App

That's assuming I actually care about those TouchWiz features that slow down my phone. Not to mention many of those samsung features like multi-window only work with a small fraction of apps... Whereas when they are a part of stock Android there's a much larger and faster adoption rate.

Does splitscreen multitasking slowdown your phone? What of picture-in-picture video? Restart menu option when shutting down? Wallpapers showing in the app drawer? Quicktoggles in the notification shade? Smart alert? Smart stay? Powersaving mode?
All these features have been part of the Touchwiz framework for at least 3-4 years, and have started showing up in you beloved since lollipop (except wallpapers in the app drawer which was added in kitkat). Posted via the Android Central App

How do they fail in their promises? I'm using the 3g only version of the Note 4, my phone got updated from 4.4.4 to 5.0.1 to 5.1.1 to 6.0.1 within the 2 year OS support period. Os updates stopped August last year but security updates are still coming (currently on the March 2017 patch). I had a Galaxy S4 before then, same story minus the security updates. Posted via the Android Central App

You just proved it. Today is April 29th. You have a March update? That's a broken promise if they guaranteed monthly security updates for 3 years. But the note 4 is old and busted. Maybe they forgot about it. But the S7 and S7 edge just missed 2-4 months of updates depending on carrier, and the S8 is already behind.

It is not a broken promise. I got the March update on April 2nd. Updates on older flagship phones always come at the end of the month early next month. It's not ideal but...i still get security updates every month.
My S3 & S4 didn't even get monthly security updates and everything was fine. This paranoia about phone security is absolutely baffling to me.
Posted via the Android Central App

lol security is the one thing it makes sense to be vigilant (not paranoid) about. Like it or not, everything Samsung phone starts off behind the curve and does nothing but grow further behind every single month. Same is true for all of the other oems except Google and Apple.

lol security is the one thing it makes sense to be vigilant (not paranoid) about. Like it or not, everything Samsung phone starts off behind the curve and does nothing but grow further behind every single month. Same is true for all of the other oems except Google and Apple.

I thought we had previously been promised updates for two years and security patches for a further 3 years? Guess they meant three years in total. Sorry Google, I like to keep using my old phones, even though I swop my main phone every two years, so will be moving over to IOS when my current contract is up.

what are you talking about? 2yrs is just fine. you don't see iphone 4 still getting updated to the latest iOS do you?

My wife's iPhone 5s just got the latest update and that phone came out in September 2013.

Yep beat me to it was going to say my friend got the latest update on IPhone 5s...no way you would see an android that is 2013 with nougat..
Now not endorsing iPhones or anything I just wish the Android and the OEM/phone company's get their heads out of their asses and do updates

Yep. I have two Nexus phones, a 5 that got updated to 6.0.1 but hasn't had a security update since October 2016 and a 5X which may stop getting updates later this year. I would probably have picked up a Pixel when the price drops after the Pixel 2 hits the shelves, but with the possibility of only 1 year of updates, no thanks.

Exactly. If Google can't support it's own product for longer, what to expect from other OEMs.

My nexus 4 is on Nougat. Not from Google, of course - but it runs LineageOS 14 pretty well. That's not an ideal situation, and it only helps folks like me who are willing to go through what it takes to keep the old girl running, but at least it works. I would never buy an Android phone that isn't unlockable and supported by 3rd party developers. The downside and upside of Android...

Your friend or your husband?

IOS updates are not as significant as Android. Plus, the older iPhones get half baked version of the updates

That is a WEAK excuse not to provide updates for 3 years.

Great example, it's not like iphone 4 is 7 years old or anything.

This guy just used a 7 year old iPhone to make his point that 2 years of updates is good enough..... One thing that isn't even up for debate between Android & iOS is that iOS is better when it comes to updates. Apple supports their phone for a very long time.

Crosslad, what company do you have your service through?

I'm basically with you. I like Android a lot better than iOS, but I would never spend more than $300 on Android phone for this reason. No matter what phone you get, it's basically insecure, useless, and worth next-to-nothing in 2 years. iPhone's release schedule is predictable, and they only really put out an upgrade-worthy device every 2 years. So, you can buy a phone, be happy that it's basically top-of-the-line for two years, and then give it to your mom and let her use it for another 2-3 years (or sell it and actually get some money for it), and it's always kept up-to-date, no waiting around for updates that sometimes never come.

I would say worth to nothing in 6 - 12 months.
I never spent more than 300 neither - outright or on contract.
The only reason I'm not using iPhones is their extreme limitation (music, moving files , etc) and lack of customization freedom.
When it comes to performance, reliability and most importantly actual Product Support they have no match in US. I say US because no other country has that many Apple stores where you can troubleshoot your phone (or accessories), repair or replace.

we are talking about google's phone. They design the hardware and the software. There is no reason they can't provide a minimum of 3 years of updates. They could even use this as a selling point to justify the price premium over other android phones.

There is a reason - it's support by the third party component makers, such as Qualcomm expires. But you are fully up to date for AT LEAST 3 years buying a Pixel, as it launches with the newest OS and receives two more major updates, and 3 full years (minimum) of security updates. So the Pixels people have this year will be fully up to date until at least October of 2019.

While that may be A reason, it's certainly not a GOOD reason. Apple uses all sorts of 3rd party components and they don't have support problems. There's no technical reason that a new version of Android should require a driver update from Qualcomm or anyone else. Google decided to make Vulkan a "requirement" for Nougat, but that was a decision that they made, even though it would break compatibility with many popular SoCs currently in the market and offer no real benefits to the average user. Google could have just NOT done that. Meanwhile, LineageOS (and other 3rd party ROM) have no trouble backporting Nougat to supposedly unsupported hardware, so it's not like Google couldn't do the same. They just choose not to support their hardware beyond 2 years.

I agree with a lot of the first part of this, but this is one of the main reasons we're hearing rumors of Google trying to develop it's own SoC tech. As for the choosing not to support it - they're not really making that choice, what they are doing instead is being reasonable in what they can guarantee. When October comes around, they aren't forced to stop providing updates, they are simply trying to look into the future and determine what they can actually back up prior to writing it down. And obviously, as stated earlier, it is 3 years of support, not 2. If you buy a Pixel on launch day, you are guaranteed to be fully up to date for at least 3 years.

If hobbyists on the XDA forums can support (to some degree) dozens of different models, there's no reason that we shouldn't demand that Google (and other handset makers) do a better job of supporting older hardware. Google is has plenty of money, and they could pay a couple guys to backport Nougat to the Nexus 5 if they wanted to. They just don't want to.

I'm sure it's possible, but not positive that it is. That said, what's the upside to them for doing so? 2013 device, GSM only - how many people are still using it as a daily driver? Is the investment worth it? Obviously that equation changes with the Pixel line, as now they have multiple millions of customers to support - but I see the guarantee as couching expectations, not as a statement of intent. If the Google SoC rumor is true, I expect that's when we'll see the 3 year guarantee extended. Probably not before that.

The upside is that supporting their older devices helps their older devices retain their value and gives them a leg up on the competition. There are lots of people out there with iPhone 5s's from 2013 who are perfectly content with their old phone, which continues to support all the latest in iOS development. You pay a high price up front for an iPhone, but iPhones last a really long time. If Google wants to sell Pixel phones at iPhone prices, they should offer the same level of support that Apple does. Until they do, I would never recommend a Pixel phone to anyone. Very poor value compared to the cheaper competition, and very poor support compared to the high-priced competition.

I agree with you that they should strive to chain 4-5 years of support into the devices, but other than Apple, literally no one is doing that. I'm not sure why you see a Pixel as a poor value - it's still one of the best, if not the best device on the market and it's still the most secure device on the market. And it's support is in 2nd place, exceeds the average lifespan of devices by over 50% and puts the rest of the market that's not Apple to shame. No other OEM provides anywhere near the same level of support. None of them guarantee anything except for LG and Samsung, and both LG and Samsung consistently break their promise on updates.

I can't see why anyone would spend $700 on a Pixel when you could buy a used/refurb Galaxy S7 for $350 (or new with carrier discounts), or a OnePlus 3T for like $400. The Pixel, with it's 2-year lifecycle, doesn't really offer anything that these other phones do not. Heck, I just bought an Honor 8 on sale for $230. All of these phones have performance that rivals the Pixel, and boast features that the Pixel doesn't have (e.g., dual SIM capabilities or expandable memory, one-handed mode on the S7 or Honor 8, and other stuff). If you have to have that pure-Google experience, the Nexus 6p is selling for like $300 these days (but it kind of sucks). The Pixel has a camera that's pretty good in low-light... for a phone. If you really care about low-light pictures, you can get a $300 point-and-shoot that just crushes the Pixel in every way possible. Couple that with one of the less-expensive phones I mentioned above and you can see why a $700 Pixel is not really a good value.

Oh I thought you meant compared to the other flagships. If you're saying phones are just too expensive in general, that's a different argument. The Pixel has 3 (three) (that's 50% more than 2) - 3 years of full support and is more secure than every other phone you listed. It also has the best camera on the market. We buy phones as packages, not as sets of single features. Every other phone you listed has major compromises when compared to buying a brand new Pixel or iPhone. Even the 6P if you got it brand new isn't the same experience. I don't buy budget phones or refurbs or 1-2 year old devices and I don't buy phones from Huawei and Honor (same thing) or ZTE, etc. because of their major security issues. My choices are what's current and available new, and all flagships are in the same price range - so they're relative to each other, not to a pile of crappy phones or used phones, etc. that are pretty irrelevant to what's actually at the top. And just to reiterate again - the Nexus and Pixel phones are guaranteed to be current for 3 years. Pixel is October 2016 through October 2019, fully up to date. That's the minimum guarantee. And no other OEM has a guarantee that they actually stick to. LG and Samsung promised monthly security updates, but both have never kept their word. No one else is guaranteeing firmware updates. Google is promising 3 years of being fully up to date. The average consumer has a phone less than 2 years. That's 50% longer than necessary, but they're still giving us 3 (three) years, as a guarantee. And the final point. Apple is BEHIND Google on this front. Because while Google provides 3 years of being fully up to date, they also moved most core apps to the Play Store and update then for MANY years. Apple's OS updates include updates to their apps and thus are not anywhere within the same league. If we wanted to compare same to same, then Google would be said to be providing OS updates almost every week.

A lot of OEMs have broken their update promises these couple of months... Makes me wonder just what the heck is going on.

Probably because most consumers don't care. Which is sad.

The big difference there is as you said the guys on XDA are hobbyists. They're under no obligation to do it and if something goes wrong, you can't sue them because you took their update of your own free will. If Google, the company that put out the phone releases an update that does anything from make it run crappy to completely bork it, they're on the hook to repair or replace it. And as happens quite often on XDA, there are disclaimers that the updates put forth may have issues so update at your own peril. Google OTOH can't do that and not have it come back to bite them. I'm sure there are plenty of people who will offer to support products after the OEM drops support. But it's almost always with the understanding that if something goes wrong, it's not their responsibility to rectify the situation, something the OEM can't claim.

Then Google gets sued until Android is no more. Qualcomm owns the software that can't be updated by anyone other than Qualcomm. Google only is allowed to do what is in a contract. Qualcomm is one of the evilest companies on the planet so we're lucky we get 3 years of updates and 2 years of upgrades from any phone that has their silicon inside. The other option is Samsung, and if Google were to use a Samsung SoC they would lose the legal use of the Linux kernel and a good chunk of the middleware that's part of Android because they couldn't comply with the software license. Samsung refuses to and doesn't care, and google can not release source code they do not have. If Google ever decides that making hardware is a profitable venture instead of a hobby and example for other companies to try and emulate, they'll make their own SoC. I actually think they are waiting to see if Apple can't crush the Qualcomm mafia in court this year. I know other companies are.

It's QUALCOMM. They are the issue.

"there was a belief that Google would continue to support them for longer." Nobody who has been paying attention believed this. This was exactly the timeline I expected honestly.

Yeah, I have never had a Nexus device that received updates beyond expiration date.

Nexus was a different product for a different market. That's why expectations were higher for Pixel support.

New boss is the same as the old boss.

They stated this was the case when the phones were released, 2 years of OS updates and 3 years of security updates, exactly as it was for the Nexus devices. Here's an article from October 2016 that states as much. http://www.androidpolice.com/2016/10/19/pixel-pixel-xl-guaranteed-androi... As for expectations, they're like wishing. You expect in one hand and crap in the other and see which gets filled first. Now there was speculation that since the Pixels took a more Apple approach that it would follow to their support window. But they made that clear early on that it would be the same as it was with the Nexus line. I remember reading the articles about it. Just because people expected it doesn't make it true.

Wow, Google promises 2 yr support on their own product - how generous!

I bought my Nexus 6 eight months after it was released, I was shocked when I realized that I only had a year and 4 months of support. I seriously thought that Nexus devices were super special and would always be supported. I guess I was snorting way to much of that Nexus dust.

*picks up old phone*
*SHOCKED that it's old*

The Nexus 6 also had 3 years of full support. It launched on L, got M and N (2 major updates, 3 years of being current) and is still receiving monthly security updates through this fall.

I don't understand why these phones can't get updates for at least 3 years. They are google designed, running google's version of android.

Well, even though it is a Google-designed device, it still depends on hardware vendors like Qualcomm releasing drivers for their hardware so that Google can make it work. If Google decides to get into the chip design business, then maybe we might see update timelines closer to that of an iPhone, but we'll see.

It was a choice by Google to require new drivers for Nougat. There's no reason that a new OS needs to have new drivers. Windows 10 works with Windows 8 drivers, for example. It was Google's choice to break compatibility with existing hardware, not something that needed to happen for technical reasons.

True, but Qualcomm did have a choice on whether they should support the 800/801's Adreno 330. They didn't.

Again, it was Google's decision to break compatibility with most commonly available hardware. They choose to require compatibility with a new gaming API that was not supported by a lot of very popular hardware. There was no technical reason that they needed to do this. Windows 10 supports DirectX 12 and Vulkan on compatible hardware. If you have a GPU that only supports DirectX 10, it's not like you can't install Windows 10. You just can't play games that require DX12 or Vulkan (which is basically no games). There's no reason that Google couldn't have done the same thing: Vulkan for devices that support it, OpenGL (or whatever) for older devices. Google is a very large, very rich company. You don't have to make excuses for them. You can hold them to a higher standard and demand that they provide the same level of support that Microsoft and Apple provide.

I'm not defending Google. I'm just holding someone else accountable as well.

I could be wrong about this, but I'm pretty sure its not a common thing for new graphics APIs to be ported to older hardware. New hardware is almost always required to support the new API. And again, this is a particular gaming API, not something that should be intrinsically mandatory to a general purpose OS. It's not like everyone plays games on their phones all day long -- games so graphically demanding that only a new API will do. Candy Crush would run just fine on a toaster, there's no reason that the toaster should have to support Vulkan.

It's extremely common, but only for certain companies. Your Win 10 v Win 8 example is possible because new API's are supported. Qualcomm is not one of those companies. As an aside, Nvidia is one of those companies. See 2013 Shield tablets getting Android 7 as an example. But Qualcomm's disregard of patent and trade law has priced them out of the phone market. You either use a Qualcomm SoC or you pay even more to use another and Qualcomm's standard patents. Please, Apple drive that company out of business. Exhibit A: Google and Sony ported everything needed to the Xperia Z3 so it could run Android 7. They sent out beta builds, everyone agreed it was faster and better. To run the home screen you need a specific version of OpenGL. It worked, as it was hacked into place. But Qualcomm refused to officially allow the Snapdragon 800 to use OpenGL 3.1 or Vulkan so, in the end, it had to be stopped. Qualcomm then worked on new APIs for the Snapdragon 410 that could deliver the performance (not EGL 3.1 or Vulkan) and we saw the Android One-powered Cherry 1 get nougat. https://plus.google.com/+ZingoAndersen/posts/JfUNdx5iQhF Why? because people in the US and Europe will just buy new hardware and make more money for Qualcomm and people in the Philippines won't. Anyhoo, new APIs are required for new features. Because of Qualcomm, new APIs means new hardware. That means no update. And this is not hearsay. The actual maintainer of the Android source code quit his awesome job because of all the stress involved because of Qualcomm, and that's a matter of public record. Finally, there is no such thing as a "gaming API". The same GPU instruction set that lets me run Fallout 4 at 260fps is used to move an icon. Nobody, not Google, not anybody, is going to write two separate version of an operating system. If you want new features, you need the right version. I wish it were as simple as you think it is. But it's not, and one specific company needs to shoulder most of the blame.

New drivers are required during any update. It's why the Galaxy Nexus support was so short lived because Texas Instruments dropped out of the mobile chip business before it reached it's stated EOL.

Wrong, see above, re: Windows 8 and 10. New drivers are required when the underlying kernel changes, but there's (generally speaking) no reason that a particular version of Android needs to be tied to one kernel or another. Certain features (like Doze, for example) may require a kernel update to work, but there's no reason that phones stuck on an older kernel can't get all the features that aren't dependent on a new kernel.
Apple every few generations, Apple introduces a new feature that isn't supported on older hardware. The older device still gets updated, but that feature is left out. Google could do the same thing. This is sort of what Xiaomi does with MIUI. The latest version of MIUI is delivered to phones running 5.1, 6.0, and 7.0. The OS is a lot more than just the kernel, or even the version of Android that happens to be powering it.
Just because a 2-year old phone doesn't support Vulkan doesn't mean it shouldn't have an up-to-date set of emoji. You know?

Pretty much every update I've gotten on my Android phones have a different kernel version, but you're saying they don't need to because Windows 8 and 10 don't do that? Maybe they're changing the kernel to try to improve battery life or something else. You're making a blanket statement that they don't need to change the kernel as much as they do because an entirely different operating system doesn't do it. I think a company with the most widely used mobile operating system in the world knows what they're doing better than anyone here.

Apple very rarely introduces a new feature that isn't supported on old hardware. Most times those features are developed on that old hardware. They just don't give them out for free so only the newest model gets them unless you jailbreak and install a homebrewed version of the very same feature.

The last time I recall this happening was when they didn't bring Siri to the iPhone 4, and their reasoning was that the DSP in the iPhone 4 wasn't capable of doing the noise cancelling that Siri required for speech recognition. Which is laughable, because Google had been doing speech recognition for years. Since then, I don't think they've held back any features. But they didn't use the lack of DSP as a excuse for not bringing the rest of the OS to the older handset. Google could have brought everything but Vulkan support to Snapdragon 801 phones, but instead they abandoned them completely.

Siri (or the iPhone) have nothing to do with Google. And Google has done that in the past (dropping one feature but bringing the rest of the OS) and people went nuts. It doesn't matter what they do, people just wanna complain about something. If they don't update, people complain, if they bring everything but one feature, people complain. But regardless, if they don't have updated drivers for the hardware, there isn't much Google can do about it. Which is why Google has been working on doing their own SOCs like apple does, that way they control the drivers.

Well there is community support and Android phones are so easy to flash for software updates, you can't flash an iPhone!
Nexus 5 is upgradable to nougat and so are older phones like z3, just flash them...
Before buying a phone check linage website to see of its supported for updates by developers, pretty simple really...
Pixel will he updated throughout flash for 5 years easily...

They aren't that easy to flash anymore. Not with stuff like dm-verity, forced encryption and all that.

Pardon my ignorance, but I keep reading about flashing Android phones. What does that mean?
Do you put another OS on them? Is it secure?

Yes. You basically format the system partition, erase user data and install a custom build of Android. This requires an unlocked bootloader and a custom recovery. It's not for the faint of heart as I've seen people bricking their devices either because they didn't properly follow the instructions or have no idea how to recover.

That's pretty standard fare for most flagship Androids, really. Maybe they might make it longer with the next one. Who knows?

I know I will get burned at the stake for this, but this is literally coming from a phone lover and tech enthusiast who is neutral and just uses whatever works FOR ME...... This is exactly what keeps me off Android and on iOS (prefer Windows over everything but yea....). I want to be able to keep my phone for years since I am prepaid. I bought an iPhone 6 for $220, traded it for an SE (plus $35 bucks), and can sit in this phone for probably the next 5 years (and will probably "upgrade" within that time anyway and just buy another pristine condition "old" device from someone else). I see as many ppl with a 5s as 7s (if not more with a 5s) because of this fact. Google's thought process is that ppl upgrade every 2 years, when in fact, it's the Nexus and Pixel users that DON'T want to upgrade every 2 years (hence why you buy a Google device). It's like Google's logic is backwards when it comes to making these decisions. If anything, you would think APPLE would pull moves like this to push sales, but they do the exact opposite ironically... Again, not Android bashing. I love pulling out my Nexus 5 every now and then and messing with it, but it just irks me that it "can't" run Nougat. There is literally barely any difference in the software from Marshmallow that would render the device "incapable due to hardware", yet I have to put in all this work of rooting and hacking just to get software that it should get anyway.

If you put in all that work rooting and hacking, why wouldn't you use one of the many nougat ROMs available for the Nexus 5? I just did a search and typed nougat update Nexus 5 XDA and right off the bat there were 3 Nougat ROMs available for the Nexus 5. If you were a casual user I could understand what you're saying, but since you've already gone down to road of modding your device, why would you not avail yourself of what's out there?

I've used Android since the original Moto Droid and Android support has always sucked. The fact that the best Google can provide is 12/24 months after last sales date for a $900 phone is pretty frickin pathetic. This is one area where Apple really does it right. I wish Google would do the right thing here too. It's good for their business! NVidia are the only Android vendor that come close to Apple in OS support or customer service (they cross ship, no questions asked) Unfortunately they don't sell a Shield phone thanks to the Qualcomm modem monopoly. I'd happily pay an annual fee to continue to receive Android updates on phones.

To me, it seems like the pixels are more Nexus than the original Nexus ever was. Impossible to get hold of.. The Nexus were all up for sale in my country (Sweden) on Google play store. Pixel? Not a sign of it..

I have a Galaxy S6 running Marshmallow. I really don't care about not getting Nougat, but I do care about not getting security updates.
I assume it's unsafe to use your phone after security updates end. Would I be OK if I simply stopped using banking apps on my phone?
Could someone hack my Google account (I use two-factor authentication).

Hacking your google account through your phone isn;t really a thing. It's a potential thing. Very few phones (statistically zero) that only use apps from Google play ever have an issue with Malware. Google monitors every app in Google Play and every app you install or update. But the potential risk is still there if you do not have the latest security update. The horror stories about 100,000 phones hacked!!! are usually from China where there is no Google Play and the phones have nothing to do with Google. Users are forced to get their apps from places who aren't as diligent or to pirate them. Only install apps from google play. Use 2Fa wherever you can. Don;t click random links from people you don;t know and try not to visit shady websites. You'll probably be just fine.

This is really not good enough IMO, when you are spending hundreds of dollars for a smartphone it should at LEAST get security updates for five years. They are building phones with hard to replace batteries so its useless in 18-24 months, dropping security updates in the same time frame just to be sure. Its absolutely disgusting that a phone that is otherwise still fully functional (if you replace the battery) and perfectly powerful enough to run the current OS/apps are being artificially made useless. Not everyone can afford to keep replacing their phone. Even a small fee to continue to get updates would be better than nothing.

2 years of updates for the latest Google phone is disgusting!!
Should be more like 5 years! I'm sure iPhones get more than 2 years.?
I've ALWAYS had an Android phone, but iphones are getting better these days!
Android Central Newsletter
Get the best of Android Central in in your inbox, every day!
Thank you for signing up to Android Central. You will receive a verification email shortly.
There was a problem. Please refresh the page and try again.