Pixel and Nexus factory images with March 2017 security patch now available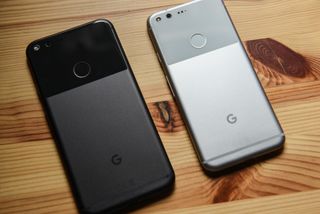 In keeping with its regular cadence of releasing full software builds for its latest devices, Google has updated its factory image page to include Android 7.1.1 builds with the March 2017 security patch for its latest phones and tablets.
The latest images are available for the Pixel, Pixel XL, Pixel C, Nexus 6P, Nexus 5X, Nexus 6 and Nexus 9. You may also recall that this will be the final full platform update for the Nexus 6, with only security patches coming to the phone going forward until its support is ended.
These full images are extremely useful if you've flashed a custom ROM on your phone, or perhaps haven't used it in a while and want to skip through OTA updates and just hit the latest software all in one step. In the most common use case, it can also be used to just update to the latest software release rather than waiting for the software to arrive automatically.
No matter the case, we have a great guide to manually updating your Nexus or Pixel, including step-by-step instructions for bringing your phone or tablet to its latest version. Remember that using a factory image doesn't have to wipe your phone, either — we show you how at the link above.
Get the Android Central Newsletter
Instant access to breaking news, the hottest reviews, great deals and helpful tips.
Andrew was an Executive Editor, U.S. at Android Central between 2012 and 2020.
I just got the OTA a short while ago. As usual Verizon is on the ball.

tmobile user here. it's live.

+1 ... I just downloaded and installed it on t-mobile

Dang I love having a Pixel XL, I checked for an update and there it is. Makes the $15 a month to Verizon worth it. After a $17 credit each month of course...

Google unlocked on t-mobile has as well :)

Not if your on the 7.1.2 beta, that's still on January 5th ! If it wasn't for the fact that it wipes my phone I'd leave the beta as I can't find any difference other than I'm on the same security patch as my s7 edge, so much for the cutting edge android on a pixel !

So much for reading agreements and disclaimers when you sign up for a beta program. I guess it's just easier to complain after the fact.

I did read the agreements I'm just saying that it's strange that they have now released 2 security patches for the pixel and left the beta program without the security patch.
I also signed up to help report any bugs so when the software is released there are fewer problems but it would be nice to have upto date security as well

Your S7 doesn't have this update yet, so there's that.

I understand how you feel, but they tell you these things upfront, before you join the beta program. That's why I do the beta's for just about all available apps, but not the OS itself. It's the wiping part that gives me pause, because of the tedious re setup when a person decides to unenroll.

Just downloaded this for my Nexus 5X in the UK.

Are these Security updates that big of a deal???

Yes, plenty of literature explaining why. Educate yourself.

If you stick to play store and keep installation from unknown sources disabled, you're pretty safe regardless. Also, when your looking at porn and get those virus/fbi warnings, don't click any links... Lol. Close the tab.

I wish OEMs did this as well. Having to wait for them and then carriers is a hassle.

I'm in the beta group and I'm still on January patch. Will we get the March one?

And I just received the outdated 7.0 update on my Verizon Samsung Galaxy S7

I really hope this fixes the Trusted Places in Smart Lock.

Me too! So far it seems promising. After updating I was away from my work location for a bit and it was asking for a pin and once I returned it was unlocking without issue. More testing needed, though.

Fingers crossed that this update will address the random Bluetooth disconnects for the 6P

Man I hope this fixes bluetooth, it just shuts off. It is so annoying.

My Nexus 5x on Project Fi just updated.

Are Nexus devices used on wifi only forgotten about? My unlocked Nexus 6 that I just use around the house with no sim is still on 7.0, though I did get the February security patch.

Checked for update on my 6P on AT&T and it was there about 2 PM. Very nice.

I installed OTA on my Nexus 6 and it seemed to fix speakerphone issue. With that I'm continuing my plan to carry this on deep into 2017

I thought BlackBerry Android was supposed to release these first? So much about being the world's most secure smartphone. 😛