Pixel 4 is lacking dual-band GPS at launch, but it's 'coming soon'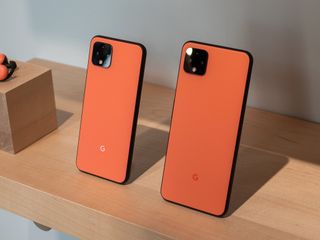 What you need to know
The new Pixel phones have the necessary hardware, but Google will only turn on the feature at a later date.
Dual-band GPS can help improve location tracking accuracy to within 30 cm.
The Pixel 3 did not support dual-band GPS.
Head over to the official spec sheet for the Pixel 4 (opens in new tab), and you'll find buried in the fine print Google's admission that its latest flagships do not support dual-band (or dual-frequency) GPS at launch.
What is that, you ask? Leaving aside technical jargon, it simply means that your phone will read radio signals from two different satellites instead of one in order to more accurately pinpoint your location. In empirical terms, that's the difference between an inaccuracy margin of five meters for single-frequency tracking and 30 cm for dual-band GPS.
If you've ever seen the navigation app on your phone going haywire and seemingly teleporting you across space and time, location inaccuracies are likely to blame. Dual-band GPS can help in fixing that, and the Pixel 4 is among the few flagships to offer the feature — the Pixel 3 from last year didn't.
Unfortunately, however, it seems the feature is not ready for prime time yet, at least on Google's phone, as the company is only promising support for it 'soon'. It's a similar story across the board, it seems, as the phone also does not support Live Captions for audio and video calls at launch. The new Google Assistant will also not work if you don't speak English. Or don't live in the U.S. Or don't use navigational gestures. Or if you use a G Suite account.
The Pixel 4 is Google's best phone yet, and there's a lot to not only like but also love with the phone. Especially the cameras. But the half-baked state of the product at launch leaves much to be desired.
The best of Google
Google Pixel 4
Google's most sophisticated flagship yet.
Google is going all out in many ways with the new Pixel 4 and Pixel 4 XL, two phones that are the very best of what Google can offer. Featuring lightning-faced facial recognition, a stellar camera that can take pictures of galaxies, and the brand new lightning-fast Google Assistant at your fingertips.
Ok, when are they going to finally hire the Apple people that can come up with a final product by launch date? Hey Google, WHAT THE HECK?

And no finger print sensor. They are asking how much for these? Pass...

I'd prefer Iris scanner. It's 2020 time to get on with it

"...it simply means that your phone will read radio signals from two different satellites instead of one in order to more accurately pinpoint your location." More accurately, it allows the phone to track two different satellite SYSTEMS (e.g., GLONASS, QZSS, BeiDou, and Galileo) as well as US GPS.

I was thinking the same thing. A cellphone or any other GPS device doesn't simply connect to one satellite. It has to be at least three satellites to triangulate a position. In military applications, it's even more than three at once. So dual-frequency is likely connecting to at least three satellites on one frequency and three more using the second frequency.

Both incorrect, and the article is laughable. It means that newer satellites that broadcast on multiple simultaneous frequencies will have both of their civilian frequencies received by the GNSS chip. Typically, this will be L1 (or equivalent), the "older" frequency, and L5 (or equivalent), a somewhat narrower one that may have reduced reflection. GPS satellites mostly don't yet have L5, and I don't think any GLONASS do, but it's common with QZSS, Galileo, and a lot of BeiDou. And many SBAS (assisted differential, they're typically over the equator instead of going around the planet) also have dual civilian frequency. (I suspect that "L2" might be civilian also, but for "reasons" it tends not to be implemented in consumer-grade [cheap] hardware.) If you want to see the effect , install "GPSTest" (no space, not by ChartCross) and wait a while under open sky for the magic to happen. You'll see WAY MORE than a mere 3 or 6. Also, it isn't really a "connection" per se, as the GNSS satellites don't receive anything from your phone.
Android Central Newsletter
Get the best of Android Central in in your inbox, every day!
Thank you for signing up to Android Central. You will receive a verification email shortly.
There was a problem. Please refresh the page and try again.