Google Pixel 4 vs. Pixel 3: First camera comparison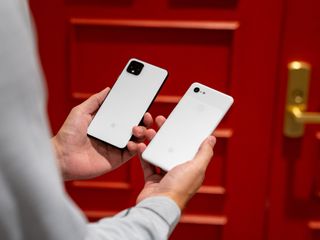 (Image credit: Android Central)
Discussion of Google's Pixel phones is dominated by photography. Google talks a big game about its capabilities, and backs it up with results — even last year's Pixel 3 regularly beat 2019 phones in camera comparisons. And now we have the Pixel 4, so it's time to see what strides Google's made between generations.
The Pixel 4's main camera sensor may be effectively unchanged, but that doesn't mean there aren't improvements to the resulting photos. New software running the show, and perhaps subtle differences in the hardware arrangement, can all make a difference. And the Pixel 4 of course has a secondary telephoto camera now, which can offer improvements in zoom and portrait mode quality.
Here are our first camera comparisons between the new Pixel 4 and last year's Pixel 3 — the results are impressive.
Daylight photos
Image 1 of 2
Pixel 4 (left) / Pixel 3 (right) — click to view larger.
Image 1 of 2
Image 1 of 2
Image 1 of 2
Image 1 of 2
Image 1 of 2
Image 1 of 2
There are a few themes that stand out to me here. The Pixel 4 takes noticeably cooler photos than the Pixel 3, which is obviously extra-noticeable viewing side-by-side — whether you prefer cool or warm photos is a bit more of a personal preference, but I think the Pixel 4's are easier to work with and warm up in post-processing rather than vice-versa with the Pixel 3.
The Pixel 4 is also considerably brighter in all of the shots, both in hitting the "right" exposure and also applying a bit more HDR-like processing to bring down highlights and bring up shadows. You could say it's a bit less natural than the Pixel 3, but I think they look better — and again, it's often easier to bring down the brightness than bring it up without creating other problems.
The Pixel 4 is also hands-down sharper across the entire frame in daylight. I already thought the Pixel 3 was sharp, but the Pixel 4 has better edge detection, better textures and fewer instances of texture being crushed down and overly-smoothed. It's most noticeable in close-up shots, but the effect comes across in the aggregate with wider scenes as well.
In terms of zooming, the results are as expected: at 2X, the Pixel 4 is considerably sharper than the Pixel 3. Though the differences aren't that massive when viewed at normal size — the Pixel 3's advanced digital zooming is good, and does a fine job considering the resolution limitations. But if you pixel peep even a little bit, you see how dramatically sharper and more detailed the Pixel 4's telephoto shots are.
Low light photos
Image 1 of 2
Pixel 4 (left) / Pixel 3 (right) — click to view larger.
Image 1 of 2
Image 1 of 2
Image 1 of 2
Image 1 of 2
Image 1 of 2
Image 1 of 2
Our full comparison including Night Sight photos will have to wait until we've completed further testing, but for now it's still informative to see the differences when shooting in the main camera mode. After all, it's what's opened by default, and captures dramatically faster than Night Sight. Scenes with moving objects and people, in particular, are often better suited for the main mode.
Across the board, I see better low-light performance out of the Pixel 4 than the already-strong Pixel 3. I made many of the same observations in low light as I did in daylight. The Pixel 4 seems to expose scenes better, bringing in light where appropriate while also keeping noise down. Particularly in really dark scenes, the Pixel 4 had smoother and far less noisy skies and flat surfaces.
The Pixel 4 did a better job of preserving detail, fine edges and textures compared to the Pixel 3. Areas of bright light were better controlled to look correct rather than blowing out that whole part of the scene — so once again, the Pixel 4 seems to better incorporate some HDR-like processing to manage highlights and lowlights. At the same time, the Pixel 4's colors seem richer and more accurate, even with tough-to-reproduce colors like red.
The biggest difference between the Pixel 4 and 3 is in the white balance. The Pixel 4 is for the most part considerably cooler than the Pixel 3, which when paired with the better handling of exposure and highlights makes its photos look a lot more blue and somewhat unrealistic in low light. Typically low-light scenes are warmer to the eye, and what I see out of the Pixel 4 is a less-realistic white balancing similar to what Night Sight does. I would love to see something in between the two extremes, but the overall look of the Pixel 4's colors (in addition to everything else) is so much better that I can deal with the cooler white balance.
More to come
With more time using the Pixel 4, we'll be able to show off comparisons between it and every phone including Night Sight, Portrait mode and more. But for now, it's extremely impressive to see the strides Google has made from the Pixel 3 to Pixel 4.
Google Pixel 4
Google's new Pixel 4 is, in many ways, an impressive upgrade over last year's Pixel 3. It comes with a smooth 90Hz AMOLED panel that boasts a 90Hz refresh rate, a motion-sensing Soli chip that enables the face unlock and Motion Sense features, Qualcomm Snapdragon 855 chipset, 6GB of RAM, and a 12MP + 16MP dual camera setup at the back. The phone also offers an improved Night Sight mode with an astrophotography mode as well as live HDR+ previews.
Get the Android Central Newsletter
Instant access to breaking news, the hottest reviews, great deals and helpful tips.
Andrew was an Executive Editor, U.S. at Android Central between 2012 and 2020.
I'm a fan of these changes. Not so much on no ultra-wide option. As good as Google's computational photography is, I won't give up the flexibility of ultra-wide to zoom range in today's flagship phones.

ultra wide would have been awesome, if you like the phone enough to invest in accessories there are Moment or Beastgear Pro cases and lenses

It's just a gimmick. Let's be realistic it all comes down to the software.

Is it just me or do no images appear in the AC mobile app?

they add many ads but cutting out on the quality of the app, what a great company

Adblockers are a godsend!

You have to open in Chrome for these from what I've seen the last few times.

I thought it was me also.

Eh other than two or three photos there is minimal difference, and in fact the Pixel 4's colder and bluish white balance is extremely off putting, making the Pixel 3 shots look better. Sorry, but there is nothing between these!

Agree 💯 honestly there probably the same hardware and the other lens in the back is just a older lens from pixel 1 or something. I don't fall for such BS it's all about the software. Like there going to spend 30million on developing a new camera? It all comes from a company that trades under HWTC or something. This includes even the iPhones. Just keep your phone's people...

The comparison with the biggest difference was the street sign one. The Pixel 4 doesn't blow out the light from the street lamp like the Pixel 3 does. Other than that like others have mentioned the images are on the cool side for the Pixel 4 which isn't necessarily a good thing.

Pixel 4 took better photos with better white balance IMHO. White should be white... not pale yellow. I want to see a comparison of their Super Res Zoom photos. Just want to know if the decision to go with a "telephoto" (2x zoom) over a ultra wide-angle lens was worth it.

Thanks for the article Andrew. I like most (not all) of the Pixel 4 shots better, but it it possible to get a link to original resolution images? Interestingly, I just did a photo shootout with a couple of similar photos. One of them was of my son's Nikon on the table, and it was funny that the iPhone shot looked a bit more pleasant to the eye, until you realize the yellow wall in the photo is actually almond in real life!

Well, if these are full resolution images, I can't say the Pixel 4 is any better than the U12 +.

What's your Deal with the U12+? Can you give us a review or something let's see what the big deal is.

Brighter is good, this is a problem I have with P3. But I am not a fan of those cooler images, I prefer a bit warmer like the ones on P3. Want to see a companion to Note 10

The pixel 3 holds its own in 2 or 3 but the rest, the pixel 4 moves forward to the next level. Really impressive.

Mmh nö real difference. Sharpness quality etc is still the same. Only white balance on same shots is better.. seems to be the same old mid-range sensor from pixel 3.. which was a slight upgrade from pixel 2. In terms of camera they are still good.. but the difference between pixel and mid-range phones is still shrinked down. I didn't see any option to buy the pixel 4

When a phone's camera is already as good as the Pixel 3's, it can't get much better. The Pixel 3 still holds its own in 2019 and probably will for the next couple years as well, it surprises me sometimes when I scroll back in Google photos just how good my Pixel XL's camera was, and that my Pixel 3's is even better. The Pixel 4 is a great camera, but so are all other flagship's cameras, ultrawide done by Google would have been very interesting and I'm somewhat disappointed in it's absence.

Honestly, the 2016 Pixel still takes great shots. It's all silliness at this point. Not worth the money. We aren't getting paid for National geographic pics.

I disagree. Taking any shots facing the sun sucks on the 2016 Pixel. All you get are shadows of the people in the photo and background. The 3 and 4 do better in that regard.

Lack of Ultra Wide angle lens is no biggy tbh. Easily the least used option on phone cameras and almost always poorer quality shots anyway

Yeah yeah yeah until the Pixel 5 gets it and it's amazing. Google's processing could do wonders with an ultrawide but they're stubborn. Why have a square camera module occupied by some unexplained"spectral sensor" when you can include all three like 80% of your competition. Even budget phones give you more options than the Pixel 4 and to me that's just shortsighted. Wait til next year when they show a demo of you taking a picture in a room where you can't move backwards."Sometimes you need to fit more in the frame and have no space." Blah blah.

the tele lens is much more useful for me i can take most of manhattan from my roof by just zooming in
remember there is 2X tele and 2X high res zoom (which is only really about 85% as good as 2x)
I tried the zoom on p4 and its much better then p2
there is no ultra wide lens but there is wide lens and it also removed the focus controls from the p4 so it seems i used this trick to get amazing pics the astro mode is also very useful for taking buildings and landmarks making them very clear
astro mode for lighting strikes would be god sent i was also using the night sight for most of my day shots i have some neat tricks to get excellent pics day time using night sight shots
but they seem to have remove the controls to do that. in the presentation the moon pic with buildings is so hard and they are working to release that in later update that would be so amazing

Yep same here. Telephoto lens I use WAY more for getting better photos of my kids or animals etc. I had Ultra Wide on LG G5 and G6 and have it just now on my Huawei Mate 20 Pro. It's handy for the very rare occasions I need it but when I'm using my Pixel 3 xl I honestly don't miss it. I miss the 3x Optical and 5x Hybrid zoom though that's for sure

So what was this an comparison of? The Pixel 4 had the new software, did the Pixel 3 have the old or the same as the Pixel 4? As the new updated camera software will also come to the old Pixel 3 the interesting comparison will be between the two phones with the same software, that is an comparison between Pixel 4 and Pixel 3. If they are running different software versions of the camera it is more an comparison of the camera software revision.. Anyhow, impressive photography by googles computational photography software.

I really don't see enough difference in the photos to justify purchasing the pixel 4.

I hate the color on the 4! Now the low light for me was 50/50. But the 2nd picture is all you need to see. If that coffee shop has a blue/grey celling then ok the color is true on the 4. But I'm pretty sure the celling is really black like in the 3 picture. That isn't a little color difference!

You could get the same result if you use GCam 7.1 on 3XL. Currently stuck with 6.x I have been running GCam 7.1 on my 3XL, the sharpness does improved and so the color balance. I also have x7 zoom now, it's crazy.

Well, that settles it for me! £250 for an A-grade 3a, or hundreds more for a 4? I'm sure the 4 is better in lots of ways, but it's definitely the 3a for me.

Why doesn't anybody ever test these things with fast-moving subjects in low light? I have the feeling I'm asking a rhetorical question.

I dunno Pookie; that fire hydrant was moving pretty fast! Seriously though, I know what you mean. A slow sensor or an app that just can't capture the image fast enough is a problem that would never come out with the typical sample shots. The Pixel has a lot of processing overhead, so maybe action shots are it's foible? This would put the Pixel at a disadvantage compared to phones like HTC, which have a dedicated high speed sports mode. That's in addition to a full pro mode where you control the shutter speed down to 1/8000 of a second.

I think you're right: such shots would suck on a Pixel. Probably why every single blogger avoids them.

Some of these photos I prefer on the Pixel 3. May be just me though. I really want to see if video got any better?

Staring at the pics, I can barely see a difference. Certainly this wouldn't be a compelling reason to upgrade from the 3 from a cost/benefit perspective.

The OnePlus 7T is better value than the Pixel 4, with it's meagre 64GB storage and terrible battery life and ugly design, it's cheaper and has a 90hz display also which is better, and is faster than the Pixel 4 along with Oxygen OS having long since overtaken Google's software and is arguably the best Android software right now. There's zero reason to buy an overpriced Pixel anymore unless you want a better camera. But other than that, the OnePlus 7T smashes the Pixel 4 in value in being far cheaper than the Pixel 4 as well. I'm so glad I picked the OnePlus 7T over the Pixel 4.