Pixel 4 and 4 XL don't offer unlimited photo backups at original quality anymore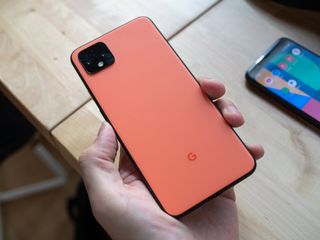 (Image credit: Android Central)
What you need to know
Google is removing the unlimited original quality uploads to Google Photos for the Pixel 4 and 4 XL.
There's unlimited backups at "high quality," just as every other Android phone today.
You do get a 100GB Google One subscription for three months, but you'll have to pay to upload in original quality.
The Pixel 4 and 4 XL are now official, and there's a lot to like. Both phones come with interesting new features and a more modern design, and the best part is that Google has retained the $799/$899 pricing from the Pixel 3 series.
But that comes with a trade-off: the Pixel 4 and 4 XL won't offer unlimited original quality photo and video uploads to Google Photos. You'll instead get unlimited uploads in "high quality," which is the same as every other Android phone today. Google did the same with the Pixel 3a series earlier this year, but those phones debuted at under $500.
The Pixel 4 product page on the Google Store (opens in new tab) clearly mentions that photo uploads are limited to high quality:
Unlimited original quality photo and video uploads was one of the best features on earlier Pixels, and the fact that it's no longer available makes the Pixel 4 series less enticing. Google is instead pushing customers toward Google One plans — both phones come with a 100GB Google One subscription for three months, but that's small consolation.
Like last year, the base variant of the Pixel 4 and 4 XL comes with 64GB of storage. That wasn't an issue previously as you could just delete photos and videos that were backed up to Google Photos, but with original quality uploads no longer available, you'll have to factor that into your purchasing decision. The 128GB option costs $100 more, and that's what I'll be getting.
What's your take on the Pixel 4 series losing out on unlimited original quality uploads to Photos? Will you still be getting the phone? Share your thoughts in the comments below.
Pixel 4 XL
The Pixel 4 XL has a standout camera, but you also get a 90Hz display, Snapdragon 855, 6GB of RAM, and wireless charging. Google had to make a few changes to retain the price point, and original quality uploads was one of them.
Android Central Newsletter
Get instant access to breaking news, the hottest reviews, great deals and helpful tips
Harish Jonnalagadda is a Senior Editor overseeing Asia at Android Central. He leads the site's coverage of Chinese phone brands, contributing to reviews, features, and buying guides. He also writes about storage servers, audio products, and the semiconductor industry. Contact him on Twitter at @chunkynerd.
So glad I didn't wait for the Pixel 4 now. I just bought a Pixel 3 last week instead. So I'll still have the original quality backups for two more years. I've been a Google devotee (Nexus phones, Pixel phones, Pixelbook), but when it's time to replace my Pixel 3, I will now be a free agent

If I end up getting the Pixel, I'll just keep my MS Office 365 subscription. Seems like a better deal, anyway. $70/year for Office and 1TB of OneDrive and auto photo backup with the app vs $99/year for 2TB of Google One. If you've got a family, MS is an even better deal. $99/year for Office on 6 devices and everyone gets their own 1TB of OneDrive instead of (I assume) sharing 2TB

Looks like they're trying to really promote Google one now

I wonder what the fan boys and apologists new justification for an $800 phone only having 64GB storage will be...

Yep, haha. (AC forces me to write more words so that is what i am unwillingly fuching doing)

Shooting themselves in the foot following Apple's trend. Apple's blatant play for $$ in cloud storage is maddening (I have a 128GB iPad for our son) as they always try and cram iCloud down ones throat. Samsung is going to sell a lot more Galaxy devices this year..

64GB is more than enough for 20 minutes of 4k video, and more pictures than you'll take in 9 months! What's the problem?

Not really I have 75 gigs filled of stuff on my pixel 2xl now without any video

That is a lot of ... "content".

I agree with you. Also, most of us who would be buying this phone come from the generation of "back up everything." 64 gigs with a flash drive you can place all your photos on, is perfection. People see numbers and want bigger without really needing it. Basic consumerism.

People also want to keep their phones longer. There is no future proofing here. This phone's specs will be outdated by April. At 900 dollars? Have fun with that.

Most of its specs were outdated LAST April lol.

Yeah you're probably right lol

If you move your photos to a torque drive and delete the originals, that is not a backup.

I'm already over 64 GB on my S10+. Videos, games, app data, etc... add up fast. Also, a chunk of that 64 GB won't be useable since Google phones need to reserve enough space to hold two operating systems (for its seamless OS update feature). Also, 20 min of 4k video isn't a lot of video to take over 6 months. I take at least a few minutes of video per week (mostly weekends when I'm out).

Glad I still have my original Pixel to do the uploads then. This sucks though as it will be an extra step. This phone will get heavily discounted at some point as this is going to definitely distract certain buyers who rely on full res backups at no extra cost.

Ha, I guess my reasons to stick with Pixel instead of going with OnePlus just got smaller. The only thing really left is the wireless charging.

This is a deal breaker. No go for pixel 4 this year.

That does give me pause. Unlimited full-res backup was a very nice perk. Not sure it's deal breaker, but pretty lame.

Wow. I thought Apple were bad, turns out theyre not really. Google pedaling 18month old looking handsets with 24 month old storage options and 2019 pricing!! But all is forgiven because it'll have a really good night mode and its done by the holistic visionaries that are Gooooogle 🙄

This is an example of why companies like Huawei (pre-Trump) and OnePlus are growing so fast. Stellar hardware and specs, reasonable prices, cameras that range from better than good enough to stellar, and large RAM & storage options. I don't want a phone with less than 256GB of storage nowadays. I don't want to HAVE to backup things online, and I especially don't want to be steered into purchasing a subscription to keep all of my photos. It looks like Google will forever offer less storage than the competition due to Google One existing as a product. Nope, not for my money.

Between this and the lost fingerprint unlock, I'm no longer staying with Pixel. Those were the best features of my last two phones.

This sucks.. I made a petition, maybe we could sign to see if it gets attention? http://chng.it/6KYdJxcMN6

Custom Research Paper Writing
Get the help of Custom College Essays and the company writers navigate through the vague or complicated instructions that may confuse you. Also Master Thesis Writing Service is available to help you in submitting a properly Research Papers for Sale Online.
https://superiorwriters247.com/choose-the-best-custom-research-paper-wri...

Absolutely a no go for the Pixel 4 device. I have a Samsung S8 Active. I will hold on until no more updates. Probably soon. I will likely go with another Samsung or I will switch to an iPhone...

Changing the photo uploads to high quality is kind of a cheesy, money grasping move but hardly a dealbreaker for me. It was a nice perk, but I'm not that bothered about doing backups. 64 GB is plenty of storage for me, my 64GB P2xl is 2 years old and still has 25GB free storage. I may not be the typical user when it comes to storage needs, but given all the improvements over the P2, I'm all in on the P4. ymmv

I guess I'll be keeping my Prime 1 TB backup, considering, photos at full res are free for prime members. At 59.95 per year, this is a better deal than Google 1.
Android Central Newsletter
Get instant access to breaking news, the hottest reviews, great deals and helpful tips
Thank you for signing up to Android Central. You will receive a verification email shortly.
There was a problem. Please refresh the page and try again.