The Moto G Power 5G comes with all the right upgrades for a budget/mid-range smartphone in 2023. Now with 5G, the phone has a MediaTek chipset that runs surprisingly well, a smooth 120HZ display that looks great in most settings, and a 50MP camera that's as good as it needs to be at this price range. And while the phone has some of Motorola's usual shortcomings for this category, it does more than enough to really prove its value.
Pros
+

Nice design

+

MediaTek chip performs well

+

Full day or more on a single charge

+

Decent primary camera for the price

+

Fluid display

+

Full-sounding stereo sound

+

Motorola's gestures are awesome
Cons
-

Faster 15W charging is still slow

-

Limited camera experience

-

Finicky fingerprint sensor

-

Unnecessary software extras

-

Only one OS upgrade
Why you can trust Android Central Our expert reviewers spend hours testing and comparing products and services so you can choose the best for you. Find out more about how we test.
I've always had a tumultuous relationship with Motorola. While the company primarily focuses on affordable/budget phones, I still often find myself disappointed with its U.S. offerings. Sure, these types of phones aren't meant to be powerhouses, but they should at least be useable if anyone is going to pay any amount of money to buy one. This is why I always process with caution whenever I'm tasked to review a new Motorola phone, such as the latest Moto G Power 5G.
After reviewing the underwhelming Moto G Play (2023), I realized that part of my problem with some Motorola devices is the lack of 5G chips. It's not so much the 5G that I'm looking for; it's more so that these chips just seem to do a better job at, well… everything. I hoped this theory would prove true with the Moto G Power 5G since I had such good experiences with other 5G Motorola phones like the Moto G Stylus 5G (2022).
The phone is powered by a MediaTek chipset, which may deter some as the company is usually seen as lesser than Qualcomm (read: Qualcomm on a budget). Still, MediaTek makes great chips that offer great value for companies looking to lower costs, especially with its Dimensity line. This is what allows Motorola to offer the G Power 5G at such an attractive price, despite some shortcomings. However, after my experience with the Moto G Play (2023), the Moto G Power 5G was like a breath of fresh air.
Moto G Power 5G: Price & availability
The Moto G Power 5G was launched on April 5, 2023, and went on sale on April 13. The device is available at Motorola's website, Amazon, and Best Buy, where you can purchase the phone universally unlocked, starting at $299.
Motorola stated that the device will be available through carriers such as T-Mobile, Spectrum Mobile, and Xfinity Mobile "in the coming months."
The Moto G Power comes with 6GB RAM and 256GB of storage. There are 4GB/128GB options listed, which may be available later. It is sold in Mineral Black and Pearl White colorways.
Moto G Power 5G: What I like
Off the bat, the phone looks gorgeous. Motorola tends to change its design language every year and then slaps the same design onto every phone in its arsenal. Last year's design wasn't anything to run home about, but Motorola seems to have found a winning formula for 2023, which you can also see from the new Motorola Edge+ (2023). The Moto G Power 5G has a polycarbonate chassis with a nice sheen to it without being too glossy.
I received the Midnight Black colorway for my review model, and it has a nice blue tint to it when in direct sunlight. It is a bit of a fingerprint magnet, but that's nothing a nice case can't fix. The camera housing in the cop corner is rectangular and lets the cameras stand out nicely in the added gloss. On the front, you'll find fairly sizeable bezels around the 6.5-inch display, but that's to be expected at this price point.
Speaking of that display, it's a Full HD+ panel with a 120H refresh rate. It's not the brightest display around, but I never had too much trouble viewing content while out and about. The faster refresh rate also helps make content look great, and while I notice that scrolling through the app drawer or some other areas can sometimes lag, it's not present in many other areas, and I hardly seem to notice it.
Of course, it helps to have a chipset that can (mostly) handle the faster refresh rate. The chipset in the Moto G Play seemed to have a lot of trouble with the 90Hz display, but the MediaTek Dimensity 930 in the Power 5G feels a bit more capable and up for the task. In fact, it handled much of what I threw at it pretty well.
Don't expect this phone to win any benchmarks against the best Android phones, but performance held up when opening, using, and switching between apps. Thanks to the SoC and 6GB of RAM, I hardly ever felt like I was using a $300 phone in everyday usage.
Swipe to scroll horizontally
Specs

| Category | Moto G Power 5G |
| --- | --- |
| Display | 6.5-inch FHD+ (2400 x 1080), LCD, 120Hz refresh rate |
| Chipset | MediaTek Dimensity 930 |
| Storage | 256GB, expandable |
| Memory | 6GB |
| Software | Android 13, one OS upgrade, three years of updates |
| Rear Camera 1 | 50MP wide-angle, f/1.8, 0.64μm (1.28μm via pixel binning) |
| Rear Camera 2 | 2MP macro, f/2.4, 1.75μm |
| Rear Camera 3 | 2MP depth, f/2.4, 1.75μm |
| Selfie Camera | 16MP, f/2.4, 1.0μm |
| Water Resistance | Water-repellent |
| Battery & Charging | 5,000mAh, 15W charging |
| Connectivity | 5G, Bluetooth 5.3, Wi-Fi 5, FM Radio |
| NFC | ❌ |
| Dimensions | 163.06 x 74.8 x 8.45mm |
| Weight | 185g |
| Colors | Mineral Black, Pearl White |
The chip was able to handle gaming fairly well, but you will have to make some sacrifices. Games like Nier: Reincarnation, Genshin Impact, and Gyee were playable, but only on lower settings (frame rate, graphics, etc.). That said, if you're looking to do some hardcore gaming on a phone, this isn't it, and you'll probably wanna look at some dedicated gaming Android phones.
The audio was also a plus for me, as the Dolby Atmos-tuned stereo speakers made everything I watched or listened to sound much fuller and richer. Oddly, that's more than I can say for the Galaxy S22, which makes content sound empty when I turn on Dolby, but I digress.
The phone runs Android 13 out of the box, and besides Motorola's minimal input on the software, it feels kinda like using a Pixel smartphone. However, it's Motorola's input that helps make this a fun phone to use. The company often includes various gestures that you can enable for quick access to features. A chopping motion turns on the flashlight, twist your wrist twice to turn on the camera, and there's even a Tap Back-like feature that lets you double-tap the back of the phone to do… well, almost anything you want it to. I find it incredibly useful to use this for screenshots.
Double-tapping the power button also lets you access shortcuts to user-selected apps, which is my absolute favorite feature. Saves me the trouble of having to scroll and search the app drawer for my most-used apps. And when I need to, I can always access the app drawer straight from this menu.
Peek display is another favorite and a Motorola staple. It's probably the best utilization of a lock screen I've ever used, as it lets me tap, hold, or swipe icons to read, respond, or interact with notifications, all without unlocking the phone. And it beautifully displays album art if I'm listening to music.
Image 1 of 3
As far as battery life goes, I have no complaints. Motorola says the phone should last about a day and a half on a single charge. I got an average of a day and some change, but that's with the display set to automatically adapt up to 120Hz. You can probably squeeze more battery life if you set it to 60Hz if that's your speed.
Then, there are the cameras. Coming into this review, I was not expecting much from the Moto G Power 5G's camera system. Motorola isn't known for being among the best camera phones out there, and given the price point, I tried to keep my expectations low.
That may have been a benefit to Motorola, as I came out quite surprised by the camera. Granted, I'm not blown away, but I find the images from the primary 50MP camera to be pretty acceptable. A bit heavy on contrast, reds can come out a little too red, and clouds can often appear a bit blown out, but this is about the level of quality I'd expect from a phone at this price, and Motorola (mostly) delivered.
Image 1 of 16
Low-light and nighttime shots come out a bit noisy, but the dedicated Night Mode does a decent job of giving some light to near-pitch-dark situations.
Unfortunately, there is no ultrawide or telephoto lens on the Moto G Power 5G. And while I'm not a fan of macro sensors, I managed to get a few nice shots from the camera, so I can't complain too much. That said, I'd rather have a single ultrawide camera than two depth and macro cameras, but I digress. It's a $300 phone, so sacrifices must be made.
Selfies are just okay.
Moto G Power 5G: What I don't like
While there's a lot to like about the Moto G Power 5G, there are a few things I'm not a fan of. First and foremost: there's no NFC. Motorola likes to keep costs down on its budget Android phones by omitting this feature, which is a bummer for people like me who rely on Google Wallet to make mobile payments or for transportation. On the one hand, I understand why they do it. But on the other hand, c'mon, y'all.
Motorola is also known to forego IP ratings for water and dust resistance. Unfortunately, the Moto G Power 5G just has a "water-repellant design," which means it can withstand light exposure to spills or rain. But for someone like me who lives in Seattle, Washington, some level of water resistance is kind of a must.
Then there's the fingerprint sensor. Normally, I don't have many issues with side-mounted sensors, as they usually work just fine. However, the sensor on the G Power is quite frustrating because it's constantly not recognizing my fingers, even after I re-register all four of the ones I use. Fortunately, the phone has face unlock, but that's not very secure, and the fingerprint sensor just hasn't been very reliable for me.
I was surprised to see that Motorola upped the charging speed for its budget phones from 10W to 15W. Unfortunately, that's still too slow to make much of a difference, especially when charging the phone's 5000mAh battery. Sure, I get a day or so worth of battery life, but it takes about two hours to fully charge the phone from 1%. Ain't nobody got time for that!
And while I enjoy most of Motorola's additions with MyUX, there's also a bit of bloatware, too. The company has a "MotoHub" that's trying to be something of a Google Discover replacement, but it just feels very busy and sort of spammy.
The same goes for the little hubs Motorola sprinkles throughout my app drawer. They're folders of apps that separate some of the apps I own into categories for shopping, entertainment, and games. It's kind of useful, I guess, but it also spams me with a bunch of apps it wants me to download, and I'm just not interested.
Lastly, Motorola's track record for software support remains subpar. Fortunately, the phone runs Android 13, but Motorola only promises one OS upgrade, which is a bummer because Android 14 is already in beta. On the bright side, the company promises three years of software updates. Unfortunately, Motorola isn't the quickest at issuing updates (the phone is still on the February 2023 security patch).
Moto G Power 5G: Competition
The OnePlus Nord N20 is one of our favorite phones under $300. It has a great design, good cameras, and a vibrant AMOLED display. It also has NFC and is powered by a Snapdragon 695, which has proven to be quite a good performer for midrange smartphones. Unfortunately, with only one software update, the phone isn't eligible for Android 13, meaning you're stuck with Android 12. And while the display is an AMOLED panel, it only has a 60Hz refresh rate.
While we wait for a Galaxy A24 to hit the market, Samsung's Galaxy A23 is still an excellent choice. It, too, has a Full HD+ display with a 120Hz refresh rate and a 5,000mAh battery. It also has a 50MP quad-camera setup that includes an ultrawide sensor, and Samsung promises to support it with up to four years of updates and two OS upgrades, meaning Android 14 should be its last major software change.
That said, the Galaxy A23 5G only gets you 4GB of RAM and 64GB of internal storage, and you may have to search far and wide to find higher configurations. And the design, while nice, is a bit dated with the Infinity-V notch where the selfie camera hides.
Moto G Power 5G: Should you buy it?
You should buy this if...
You are in the market for an affordable 5G smartphone.
You want a phone that lasts all day.
You prefer the "stock" Android experience.
You're a fan of Motorola's gestures.
You shouldn't buy this if...
You need a phone with NFC.
You like getting (timely) updates and long-term software support with multiple OS upgrades.
You want a versatile camera experience.
When reviewing a phone, I normally can't wait to get back to my daily driver. However, with the Moto G Power 5G, I found myself using the phone a little longer than usual, as it works well enough that I wasn't exactly pining to get back to my Galaxy flagship.
Battery life is good, the design is good, the camera is pretty good, and the software is mostly good. The Moto G Power 5G is a good phone, and I think that's saying a lot for a $300 smartphone. Yes, I wish the cameras were more interesting and tuned just a smidge more. I wish Motorola would give the phone more than one OS upgrade. I really wish charging was faster to match the battery life.
With a name like "Moto G Power 5G," one expects the phone to really be about power and performance. While I'm not quite sure this phone exemplifies "power," I think it does a good enough job of offering just what someone would want from a phone in this price range.
The new Moto G Power 5G is a surprisingly decent phone that gives you all you can ask for at this price point. A decent camera, all-day battery, a slick design, and a fluid display flanked by a loud pair of stereo speakers. You won't feel like you're using a $300 phone.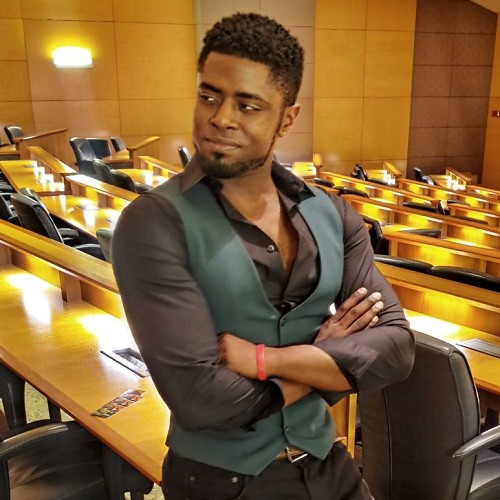 Derrek is a long-time Nokia and LG fanboy who loves astronomy, videography, and sci-fi movies. When he's not working, he's most likely working out or smoldering at the camera.
Unreadable.353192

Reply

You should also get the Motorola phone if you still are from those people who use a dedicated 3.5mm headphone jack, which sadly most other phones dropped recently. I hope Motorola stays with this feature, that's the MAIN reason I am still buying it. The SD card slot is equally important for many people. So if you have 100 GB of videos and 75 GB of music (which you can't stream) you just switch cards from old phone to new, no need for any hassle!

Reply