Motorola starts off the year with a questionable smartphone launch. After skipping a year of the Moto G Play lineup, the latest model offers meager upgrades over its predecessor while suffering through major performance problems. That said, there are some nice qualities, but they're not really enough to make up for the downsides of using this phone.
Pros
+

Good design

+

Rear fingerprint sensor

+

Decent battery life

+

Cheap
Cons
-

Sluggish performance

-

Poor camera quality

-

Dull software experience

-

Slow charging

-

Meager update promise
Why you can trust Android Central Our expert reviewers spend hours testing and comparing products and services so you can choose the best for you. Find out more about how we test.
Motorola is known for its affordable smartphones more than its high-end ones, and it's no surprise. The company has saturated the market with value phones enough to propel it to the #3 spot in the United States. Its 2022 models weren't bad, which gave me hope for 2023. However, the new Moto G Play (2023) seemingly dashed those hopes, and I wouldn't exactly call it a strong start for Motorola.

The company skipped releasing a Moto G Play successor in 2021, so one would think launching the device in 2023 would bring plenty of upgrades to keep up with many of the other Android phones under $200. However, while there are some upgrades, there aren't enough improvements after a year break — in fact, there are even some very noticeable downgrades.
Moto G Play (2023): Price & Availability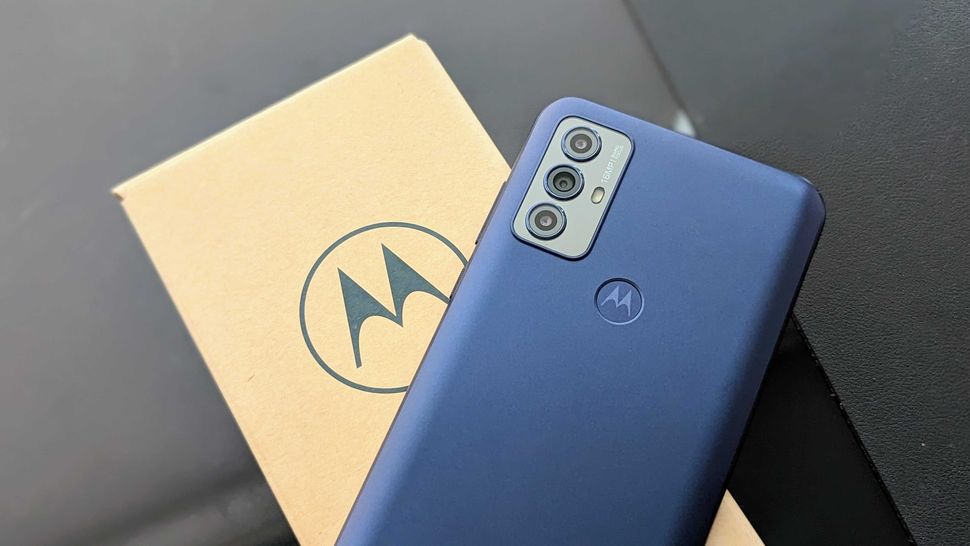 The Moto G Play (2023) was announced on December 8, 2022, and launched on January 12, 2023.
The phone retails for $169.99 and is available online at Motorola.com or through retailers such as Amazon and Best Buy. The phone will also be available at carriers such as T-Mobile and Metro by T-Mobile.
Moto G Play (2023): What I like
Fortunately, it's not all bad. The Moto G Play (2023) has a few redeeming qualities, the first being its design. It's not the most flashy smartphone around, and there's a gargantuan chin underneath the display. But there's a hole-punch selfie camera, which always looks better than an unsightly notch, in my opinion. And the plastic back is a pretty attractive Navy Blue colorway that feels soft to the hand. There are much better-looking phones out there, but there are certainly worse.
Swipe to scroll horizontally
Specs

| Category | Moto G Play (2023) |
| --- | --- |
| Display | 6.5-inch HD+ (1600x720), LCD, 90Hz refresh rate |
| Chipset | MediaTek Helio G37 |
| Storage | 32GB, expandable |
| Memory | 3GB |
| Software | Android 12 |
| Rear Camera 1 | 16MP wide-angle, f/1.22, 1.0μm |
| Rear Camera 2 | 2MP macro, f/2.4, 1.75μm |
| Rear Camera 3 | 2MP depth, f/2.4, 1.75μm |
| Selfie Camera | 5MP, f/2.4, 1.12μm |
| Water Resistance | IP52 |
| Battery & Charging | 5,000mAh, 10W charging |
| Connectivity | LTE, Bluetooth 5.0, Wi-Fi 5 |
| NFC | ❌ |
| Dimensions | 167.24 x 76.54 x 9.36mm |
| Weight | 203g |
| Colors | Navy Blue |
Aside from the camera housing (more on those later), the Moto G Play (2023) has a rear fingerprint sensor, which I don't see much very these days. It's plenty fast, works well enough, and even responds to a flick of the finger to pull down the notification shade, which is always handy (pun intended).
The phone runs Android 12 out of the box and chugs along throughout the day with a 5,000mAh battery. Motorola claims three days of battery life, which could be possible on light use, but I got roughly one and a half days on average. Other Motorola phones I've tested over the past year generally have no problem hitting two days, so it's a bit disappointing but still nice to get more than a day of use when even some of the best Android phones can barely hit that.
Unfortunately, that's where the positives end for this phone.
Moto G Play (2023): What I don't like
My experience with the Moto G Play (2023) was pretty frustrating. The phone features a sluggish MediaTek chip paired with 3GB of RAM that can barely keep up with anything that I do, no matter how basic it is.
Typing can be frustrating, and the phone seems to have trouble keeping up with me, often missing entire words. Apps take forever to open, and basic tasks are an absolute chore for this phone. What I find appalling is that despite the upgraded LCD, which is now a 90Hz panel, the phone is so janky and studders so much to the point that you wouldn't know this was anything beyond a 60Hz panel.
When apps finally do open, they crash very often. I could be doing something like reading an article on a website or swiping through dating apps, and the Moto G Play would constantly bring up the "[This app] isn't responding] warning." Then, when I try to exit out of apps, the phone will just freeze entirely, prompting me to perform a hardware reset to get it back on.
The software experience was pretty barebones too. Motorola sticks with a fairly "stock" version of Android, which is fine, but usually, there are a host of useful features and gestures added to enhance the experience. These were severely limited on the Moto G Play, ridding some of my favorite features like Quick Capture, which lets you twist your wrist to open the camera, or Power Touch, which opens a small shortcut menu by double-tapping the power button.
That said, you still get some useful gestures that let you chop the phone twice to turn on the flashlight or swipe across the screen to open split-screen mode.
As for the camera, Motorola "improved" the latest G Play with a 16MP primary sensor and a new macro sensor, but you really shouldn't expect much from these images. The 5MP front-facing camera is also pretty atrocious.
Image 1 of 16
You can also expect to fill up your storage pretty fast, given the phone's minuscule 32GB of storage. I haven't used the phone for very long and kept downloads to a minimum, but I'm already down to just 4GB. It doesn't help that the System takes up 11GB, so you should definitely expect to spend a little more on a good microSD card if you buy this phone.
While the battery life is pretty good, Motorola is known to cheap out on charging specs with its affordable Android phones, and the Moto G Play (2023) is no different, opting for 10W "TurboPower" charging. Expect to wait up to two hours for a full charge if the phone is on its last leg.
Another staple for Motorola phones is poor software support. We've seen that start to change with devices like the Motorola Edge (2022), but the Moto G Play won't get the same treatment. The phone is slated to receive only one OS upgrade, which means Android 13 will be its last. Given that the changes between the two versions are somewhat minimal, this won't give you much to look forward to. There are three years of software updates, which is a nice gesture, but there are phones in this price range with better support for OS upgrades and security updates.
Moto G Play (2023): Competition
The Galaxy A14 5G was launched around the same time as the Moto G Play (2023), but the Samsung phone has quite a leg up over Motorola's device. It comes with a higher-resolution display, a higher-resolution camera, and better software support. It runs Android 13 out of the box and will receive two OS upgrades and four years of security updates. That said, the phone has an unsightly notch and costs a bit more than the Moto G Play. Plus, you're stuck with Samsung's One UI if that's not your cup of tea.
The OnePlus Nord N300 5G is a good-looking budget device from OnePlus. It has arguably better cameras, a sleeker design, and decent battery life with fast charging support. The software also features plenty of customization options to make the phone your own. That said, the Nord N300 runs OxygenOS, which isn't for everyone. It will also only receive one OS upgrade, and performance can lag at times. The phone also costs a bit more, exceeding the $200 mark.
If you don't mind splurging a bit, the TCL Stylus 5G is a great option for anyone looking for an Android phone under $300. It has a great UI, respectable cameras, decent battery life, and a built-in stylus pen for all your productivity needs. That said, the phone is almost $100 more than the Moto G Play and was initially plagued by app compatibility problems.
Moto G Play (2023): Should you buy it?
You should buy this if...
You're looking for a very cheap phone.
You're more concerned with battery life.
You prefer rear fingerprint sensors.
You shouldn't buy this if...
You need good performance.
You're looking for multiple OS upgrades and long software support.
You want a 5G phone.
It goes without saying that my experience with the Moto G Play (2023) has been less than ideal. The phone struggles through basic tasks, there's no 5G, and camera performance is subpar at best. It's not a great way to start the new year, and I really hoped for more when Motorola launched the Moto G Play after a short hiatus.
The rear fingerprint sensor is still a nice touch (pun intended... again), and the battery life isn't bad. Those are both features that some consumers really care about and definitely help elevate the experience. But the performance issues mostly ruin my experience, and I can't see myself recommending this phone to anyone.
It's a bummer because I've been fairly impressed with Motorola's 2022 models, like the Moto G Stylus 5G (2022) and Moto G 5G (2022). Those phones weren't perfect, but they performed well enough and had decent cameras. In fact, I would be more inclined to suggest either of those options if you don't mind spending a little more. These phones are often offered at a discount, so you may get lucky and find one just above $200.
With any luck, the Moto G Play (2023) doesn't represent what we can expect from Motorola in 2023. If so, we're in for a rough year of budget phones.
The Moto G Play (2023) may be a decent option for anyone looking for a cheap Android smartphone. It has great battery life and a rear fingerprint sensor that you don't see too often these days.
Derrek is a long-time Nokia and LG fanboy who loves astronomy, videography, and sci-fi movies. When he's not working, he's most likely working out or smoldering at the camera.