OUYA retail availability starts tomorrow at $99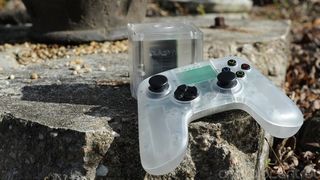 The little Android console that could hits store shelves in the US, UK and Canada
It's been a long time coming, with a lot of changes along the way, but OUYA has finally hit widespread retail ability and will officially go on sale starting tomorrow. Several different online and traditional retailers -- such as Amazon, Best Buy, GameStop, Target and GAME -- will be carrying the Android-powered console, and OUYA says it will be available in "hundreds of stores" across the U.S., U.K. and Canada.
Pricing sits at $99 for the console with one controller, and a (seemingly steep) $49 for additional controllers. Check the links below to either set up a pre-order or have the page ready to go for when the orders go live:
For those of you who don't mind putting pants on to go buy a console, you'll be able to head to local retail locations of the aforementioned stores to grab your own, although OUYA isn't specifying the amount of stock or specific availability at this time.
Android Central Newsletter
Get instant access to breaking news, the hottest reviews, great deals and helpful tips
Andrew was an Executive Editor, U.S. at Android Central between 2012 and 2020.
Yay it's Christmas in June!!!

See. Why would I buy a Shield for (now) $300 when I can get this for $100? I know, this doesn't have nearly all the things the Shield have (ie portability and it's own screen) but this price makes so much more sense!

I think these products are completely different and in no way comparable.

exactly, its like kindle fire.

not only are they functionally different... they also have a diff range of specs... last year the ouya may have been top of the line but this year its nothing but a middle class devices... shield on the other hand....

SHIELD has far better spec, portable and I bet it will have far better games (in graphic). Posted via Android Central App

the price of the Ouya control is odd to me

It's in line with Xbox 360 and Playstation 3 controller prices. Steep compared to the price of the console itself, but otherwise reasonable.

At least you can use your PS3 controller for this thing, most of us already have 1

Can you? I did not know this, I actually just ordered one on a whim, that's how good this price point is. A very easy impulse buy.

If you own a PS3 why would you want to play a stupid gimmick like this? Would you rather play Temple Run or The Last Of Us?

Believe it or not, it's possible for people to enjoy both kinds of games.

I LOVE my PS3, I play it all the time and don't play many games on my phone at at all. But I would consider buying an Oyua for the emulator alone. I still play my NES and SNES a little bit but the idea of having almost any old NES game on this thing sounds pretty appealing.

I've been using my PS3 controllers and a wired 360 controller.

Uh, I "pre-ordered" one and have yet to receive it. Where is my PRE-ORDER?

Same here.. My email said mine would ship by April 2013. Very disappointing..

Same here I got an email weeks ago about it shipping but it still isn't showing up on DHL website tracking. What good is it to be an early backer and get it after everyone else? BS!

I'm in the same boat....that Bullshit talking about it's on its way. Meanwhile people can just walk into the store and get one...wtf... Posted via Android Central App

Usual fail for uk pricing. make it $40 more expensive just so it's 99.99 here Posted via Android Central App

No one likes the UK which is why this is such a common practice.

LOL still waiting on my Kickstarter edition to arrive.

For those of you who have not received your consoles, you're not the only ones. Myself, along with many others are still waiting on both preorders and Kickstarter units, even weeks after Ouya proclaimed that all Kickstarter consoles had shipped. The noise is deafening over on Ouya's Facebook page, as is the company's silence. Why isn't that being reported???

Thinking of replacing my Xbox with this when I sell it. Posted via Droid RAZR M on the Android Central App

OUUUUYAAAAAAAAAA!
Sorry, had to do this. Posted via Android Central App

I'm never pie ordering anything again.everyone time I do it ends up being that I could have bought it in store before receiving it in the mail. Posted via Android Central App

This device needs an up to date article featuring the "Top 10" games available on OUYA now that it is at retail availability. The "best games" articles I've seen before were rather uninspiring. Hopefully that's changed. -Suntan

If you have already purchased games for an android tablet or phone, specifically the Tegra optimized games. Do you have to purchase them again for the OUYA?

Once it's rooted, we should be able to install custom roms on it with the Play Store I would think.

Go read the Android Police review. Ouch! Posted via Android Central App

No Google Play = ooo no okay :-) ... I'm not going to play that free junk that is over run with in app purchases. The only in app purchases I would even consider are those that add content to the game to make b it bigger like Borderlands 2 :-)
Android Central Newsletter
Get instant access to breaking news, the hottest reviews, great deals and helpful tips
Thank you for signing up to Android Central. You will receive a verification email shortly.
There was a problem. Please refresh the page and try again.