Oreo update canceled for OnePlus 5 due to unnamed bug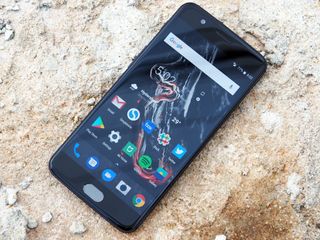 On December 24, OnePlus announced an early Christmas present in the form of a stable Oreo update for the OnePlus 5. Oreo was coming to the OnePlus 5 as part of OxygenOS 5.0, but just a few days after the update began rolling out to handsets, OnePlus has announced that it's canceled it.
Staff Member Jimmy Z. on the OnePlus Forums recently updated (opens in new tab) the original article announcing the OxygenOS 5.0 rollout saying that the update has been canceled due to a "bug." The specifics of this bug aren't mentioned, but it must have been bad enough for OnePlus to cancel the update altogether rather than simply halting it until the issue was fixed.
Instead, OnePlus says that it'll continue the Oreo rollout for the 5 with OxygenOS 5.0.1. The company is said to be "preparing" the new software now, but an exact ETA for its release has yet to be announced.
If you already downloaded OxygenOS 5.0 on your OnePlus 5, have you noticed any major bugs?
OnePlus 5 now has Face Unlock with OxygenOS Open Beta 3
Joe Maring was a Senior Editor for Android Central between 2017 and 2021. You can reach him on Twitter at @JoeMaring1.
Remember guys, #neversettle

I've noticed only small issues with some text not rendered correctly otherwise no bugs here....

Just a reminder why I never settle for anything but a pixel... :-)

Google has had their own issues with updates too......

Right...as if they've never had their own issues.

FYI, Pixel 2 XL was the biggest disappointment of 2017 with it's display quality being harshly panned by users all over

The title of this post is terrible and borderline click bait. This title makes it sound like the 5 will never get Oreo at all. Title should be something to the effect of "Oreo Rollout for Oneplus 5 Stopped for Unnamed Bug" I expect better from you AC. Maybe I shouldn't...

OnePlus is its own flagship killer.

This happens when you rush updates to satisfy crying kids desperate about updates. And now they will start crying again becuse their phones are bugged

Camera freezes sometimes when attempting to use portrait mode.
Also slight drop in battery life, overall I've been enjoying the oreo update.

I have been on the update since it came out. I have no issues.

I've had the update since the beta release. Seemed solid.

This is why they are so terrible on updates

Only issue I've had is I'm unable to shortcut web links to home screen.

This is second time OnePlus tried to rush update and halted it due to error. Its okay to get delayed but worse to roll out rushed update.

For all the **** Samsung gets for their slow updates. I like that they meticulously test them before they are released to the public, unlike Apple who needs two or three updates to fix the buggy updates.

If a bug appears in a rollout which is big enough to worry about, then of course the rollout will be halted, the code fixed and a new release version assigned. There is no difference between "canceling the update" and "halting it until the issue was fixed", both mean exactly the same thing.

"Cancelling" sounds like they have given up on the update. "Delaying" is probably more accurate.

This is the stupidest name for a phone ever...why not just call it the 'six'? WTF is OnePlus 5? Answer: 6. Duh. It's junk anyway.

And 5.0.1 is rolling out now
Android Central Newsletter
Get the best of Android Central in in your inbox, every day!
Thank you for signing up to Android Central. You will receive a verification email shortly.
There was a problem. Please refresh the page and try again.