OnePlus One invites being sent out to future owners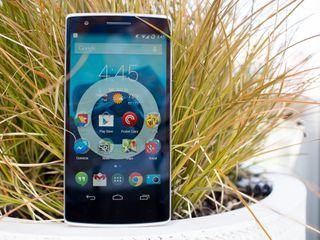 (Image credit: Android Central)
Looking forward to getting your hands on an invite to order a OnePlus One? General availability for the OnePlus One is currently slated for mid-to-late June. The initial batch of phones will be allocated to users who enter the contest and get invited to buy. Turns out those invites are apparently rolling out today.
Michael, an Android Central reader, just received an invite to grab the OnePlus One. They're offering up the 64GB variant of the OnePlus One. Check your email for an invite if you were hoping to pick up the handset.
The OnePlus One offers top of the line specifications at an affordable price. Check out our full review of the OnePlus One to learn more.
Thanks for the heads up Michael!
Get the Android Central Newsletter
Instant access to breaking news, the hottest reviews, great deals and helpful tips.
Congrats Michael :)
I hope "general availability" is soon because I really want this phone. But if the G3 is released first, I might not be able to wait.

We are pretty safe to confirm that G3 will be available first.

Too bad for them, I have seen the LG G3. They would have had my money a few weeks ago. Now? I will not settle for the One+. Posted via Android Central App

Lol @this given their slogan.

I guess you misunderstood things ... ( 0ppo F5) ...

I wish there was a simple oneplus site. And on that site it showed the picture of the phone, the specs and details and a price. And under that price (or even to the side of it, but not the top) was a BUY BUTTON!!!!!! FUDGE!!!!! Posted via Android Central App

Yawn. Whatever. Good luck to those who will need customer service from this Oppo backed "startup".

This is what scares me about this phone. If I have a problem or issue I can't just bring back to AT&T and swap out for another. So I have to send back to China? No thanks. LG G3 for me.

I think RMA will be handled in the US. But you may need all the stars aligned to get through the process lol.

true, since they won't be using retail channels. still, as an unlocked phone, their return and repair policy and procedure isn't any different from any other manufacturer.

Nothing here. We'll see which comes first.. this or the G3.

I was over this phone when I found out it was invite. Posted via Android Central App

Gooooooooood Posted via Android Central App

"Coming to you in 2015 with moar specs and moar powaaaaa!."

Talk about getting hyped for a phone.... then the same company killing my enthusiasm for it.... never had that before. Posted via Android Central App

well if he has an invite, send it my way plz

Too late. The hec with that phone. Stupid invites to buy a phone you can't even get yet. Ill move on. Bad plan by the makers.

I am waiting for mine, nothing yet. Posted via Android Central App

Your better off that way Posted via Android Central App

Too late thanks Posted via Android Central App

Hit me up if any of you ends up getting an invite and doesn't want it anymore Posted via Android Central App

I didn't receive an email :( Posted via Android Central App

So many people mad about their marketing strategy lol. You people are almost as butthurt as the jerks over on CrackBerry. Posted from my TARDIS!

I always appreciate a post with the word "butthurt." Posted via Android Central App

It is not a strategy, it is a 5$ Crack whore that is being a tease...
Big difference
Posted via Android Central App

Mad? Posted from my TARDIS!

Mad that I can't purchase it yet? Hell yeah, I am!

nope I will go with a real phone/company

Ok, that puts a very disturbing image in my head lol.

Our resident expert on Crack whores. ;)

its a tough job but someone has to do it....

Bought the M8. Horrible marketing afaic Posted via Android Central App

I'm just waiting for general availability and I'll decide then. My HTC M7 is still chugging away just fine so I'm in no rush. Posted via Android Central App

I need 'One' in my life. AC App via Nexus 5

Apparently if you have been invited, you can also refer someone else to get one, anyone willing to refer me? Posted via Android Central App

I'll wait for the one plus two. Posted via Android Central App

Moved on .... Posted via Android Central App

This phone is dead. People have moved on already.

Yeah, as much as I like the device and its competitive price point, I have to agree that the hype is over.

Nothing here. LG Optimus G Pro

OnePlus had an opportunity to make a difference and chose instead to continue marketing stunts and BS. Had they released the phone upon their April announcement this phone might have made a difference. Their so concerned with their first 100 users, that they chose to ship the phones without chargers, packaging and anything else you would expect to accompany your phone. Posted via Android Central App

People who got invites can order the phone, sure, but they won't get a shipping date because OP are still finalizing the software (someone posted their letter on the forums yesterday).

Why is there exclusivity for something that isn't overly luxurious or important. A Chinese company needs an invitation system like Google needs 100 bucks. Posted via Android Central App

This! Posted via my hTc one with a cracked screen!

Can't buy, don't care anymore LG G3 for me

+1 Posted via Android Central App

Damn phone will be obsolete by the time someone can actually buy one. Posted via Android Central App

Looks like its available for general ordering: http://www.oppomart.com/oppo-phones/oneplus-one.html