OnePlus just turned into Samsung with the Nord N10 5G and Nord N100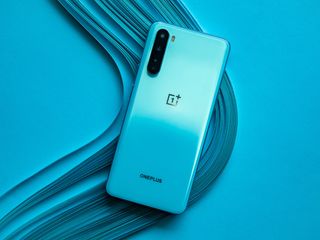 (Image credit: Apoorva Bhardwaj / Android Central)
OnePlus released two new models in the Nord series — the Nord N10 5G and Nord N100 — and there is a lot to talk about. The key takeaway from the announcement is that OnePlus is focusing its attention on the budget and entry-level segments with the new devices, with the Nord N10 5G set to be one of the most affordable 5G-enabled devices yet, and the Nord N100 debuting for under $200.
Unlike the Snapdragon 765G-powered Nord, the Nord N10 5G and Nord N100 will be available in the U.S. That should be welcome news to anyone looking to pick up a budget phone, particularly considering both phones will be sold via T-Mobile.
The Nord N10 5G has a Snapdragon 690, 6.49-inch 90Hz panel, 64MP camera, and a 4300mAh battery with 30W fast charging. The Nord N100 has more modest specs in the form of a 6.52-inch HD+ screen, 13MP camera, and a Snapdragon 460 chipset, but you do get a massive 5000mAh battery with 18W fast charging.
The phones also offer microSD card slots and rear-mounted fingerprint sensors, and while there are a few standout features, they end up feeling derivative. That's because OnePlus is basically reusing existing OPPO designs and switching out the branding, but my main issue is with the software.
Both the Nord N10 5G and N100 run OxygenOS 10.5 based on Android 10 out of the box and not the more recent OxygenOS 11, which is based on Android 11.
Android 11 was released over a month ago and OnePlus was the only third-party manufacturer that rolled out a public beta program. The beta also introduced OxygenOS 11, the latest version of OnePlus' custom skin. OnePlus radically changed the look and feel of its UI with OxygenOS 11, switching to a bold styling and a design paradigm that made the interface look a lot like Samsung's One UI.
OnePlus rolled out the stable version of OxygenOS 11 to the OnePlus 8 series earlier this month, and its latest flagship — the OnePlus 8T — runs the Android 11-based OxygenOS 11 out of the box. But that's not the case on the Nord N10 5G and N100, which are being announced two weeks after the introduction of the 8T. Because these phones are running Android 10 out of the box, they won't be updated to Android 13 — unlike the OnePlus 8T.
This is classic Samsung territory: the South Korean manufacturer is known for prioritizing software updates on its flagships, leaving its mid-range and budget phones in the lurch. Samsung released hundreds of budget phones over the years that ran outdated versions of Android, with a lot of these phones failing to get regular (or even any) software updates.
In fact, Samsung's shortcoming on the software front was what allowed OnePlus to gain momentum over the last five years. OnePlus differentiated itself in two key areas: a clean software interface devoid of overt customization and timely updates. The former changed with OxygenOS 11 as OnePlus started to exert more control over the visual aesthetic. With the Nord N10 5G and N100, the company seems to be showing that it does not care about delivering the latest software anymore either.
It's inexcusable for OnePlus to roll out phones powered by last year's version of Android, particularly when it made such a big deal about software being a key differentiator. OnePlus even says that the Nord N10 5G and N100 deliver a "flagship-level software" in its press release, which is just not the case.
The fact that OnePlus has a stable version of OxygenOS 11 available on the 8T, 8, and 8 Pro but deliberately chose to release phones running the older Android 10-based OxygenOS 10.5 shows that its priorities do not lie with the core community anymore. Budget devices are already at a disadvantage as they get fewer updates, and the last thing this segment needs is for OnePlus to follow in Samsung's footsteps.
OnePlus could have led the way here by offering Android 11 out of the box and maintaining a coherent software strategy across its portfolio, but it chose to take the easy route. No wonder Carl Pei left.
OnePlus says its fans are more vocal than most, and that's true. A lot of enthusiast users switch over to OnePlus devices from Samsung or other brands because of the value on offer and the software experience. In 2020, OnePlus has managed to disprove both notions: the OnePlus 8T loses out on value against the Pixel 5 and Galaxy S20 FE, and with the Nord N10 5G and N100, it is showing that it doesn't offer the best software experience available. OnePlus' transformation is now complete.
Still a good deal
(opens in new tab)
This mid-range phone has it all
The Nord continues to be a solid option, offering a vibrant 90Hz AMOLED panel, reliable hardware with 5G connectivity, all-day battery life, and a 48MP camera that takes great shots. Combine that with regular updates, and you get a great overall package.
Harish Jonnalagadda is a Senior Editor overseeing Asia at Android Central. He leads the site's coverage of Chinese phone brands, contributing to reviews, features, and buying guides. He also writes about storage servers, audio products, and the semiconductor industry. Contact him on Twitter at @chunkynerd.
I'm okay with my 7 Pro. Not the best camera quality around but highly improved thanks to Gcam port from Urnyx05, Wichaya and others. I will see what will happen with the launch of the 9 Series. If it's still going worse, I will surely go back to Samsung even though I had a very bad experience with the Galaxy S8 or maybe make my plan on iPhone with it's closed software but fast updates...

The key here is that they are budget phones, I think most people that buy them will be buying in a store and won't care too much about other then price and a couple extra things. Just like anything else the top of the line product will have better features (including software) then a budget version.

Apple has proven with the iPhone SE 2020 that you can get a flagship level experience for less money but then the SE costs more than the OnePlus Nord N10 and N100.

Tiny phone, tiny screen, tiny battery, and one camera on the back does not = flagship level experience! But keep telling yourself that.

Why is everyone doing it?!?!

"Both the Nord N10 5G and N100 run OxygenOS 10.5 based on Android 11 out of the box and not the more recent OxygenOS 11, which is based on Android 11." :thinking:

Exact my thoughts when I read news about new Nords by OnePlus.
OnePlus was going behind iPhone, but now changed track to follow Samsung.
BTW Apple also launched 4 iPhones!

They run Android 10. How can you put it in the sub heading but right it wrong in the article? 🤦🏼‍♂️

Also the fact that they have pretty much abandoned the 5 and 5T after pushing out a buggy A10 update to which they have admitted to. Beware this company making over-bloated promises that they fail to keep. I speak from experience having a 5T that was rendered almost useless by their 10 update. I've now wiped my 5T, unlocked bootloader and installed RR rom. What a night and day difference!! My phone is usable again. Needless to say this will be my first and last oneplus device.

Calm down man. They'll get Android 11. They're so similar it's almost a non-issue. If you're spending less than 200 bucks you won't care I expect.

Has any consideration been given to the possibility that the hardware specs for these phones was in the works well before Android 11 was released? Not to mention that to say that Android 10 is not flagship software just shows how biased this writer is! Lack of knowledge and understanding is becoming the norm here at AC and it may be time to move on to better reviews and reporting. The end user experience from Android 10 to 11 is so small and insignificant that it should not even be a factor in the sale of a phone that costs LESS THAN $200.00.

I am very glad this post exists and someone finally "said it".
Android Central Newsletter
Thank you for signing up to Android Central. You will receive a verification email shortly.
There was a problem. Please refresh the page and try again.