OnePlus 5T vs. Samsung Galaxy S8: Beast mode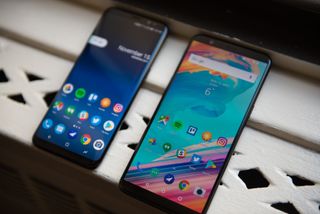 It's not really a fair fight, since the Galaxy S8 costs over $700 (the larger S8+ over $800) and the OnePlus 5T a mere $500, but for the sake of the argument, let's assume you're choosing between these two phones. The Galaxy S8 is smaller — usable in one hand, even — while the OnePlus 5T is roughly the same size as its immediate predecessor, but has a larger screen in an updated 18:9 aspect ratio.
Both of these phones feature the latest and greatest in terms of hardware, but whereas Samsung's phones are all-in on a single 12MP camera, OnePlus tries to eke superior low light performance from a secondary sensor that, strangely, has smaller pixels than the primary one. Anyway, the Galaxy S8 is one of the best phones of the year so far — does the OnePlus 5T give it a run for its money? Let's find out.
Specs and design
The Galaxy S8 was among the first phones to launch with the now-common 2:1+ aspect ratio (in this case, 18.5:9 because Samsung needs to be different). That was all the way back in March (and right after the LG G6 began the craze), and since then many companies have followed suit.
OnePlus says that the 5T is essentially the same phone as the 5, but is taking advance of newer technologies available to it. We can see that in the display, which is essentially the same panel just without the borders above and below — with a slight resolution bump to 2160x1080 — and a fingerprint sensor around the back.
Take a look at the specs below to see how similar they compare internally.
Swipe to scroll horizontally
Category
OnePlus 5T
Samsung Galaxy S8
Operating system
Android 7.1.1 Nougat
Android 7.0 Nougat
Display
6-inch Optic AMOLED, 2160x1080 (18:9)
5.8-inch AMOLED
2960x1440 (18.5:9)
Processor
Qualcomm Snapdragon 835 octa-core
Adreno 540 GPU
Qualcomm Snapdragon 835 octa-core
Adreno 540 GPU
Storage
64/128GB (UFS 2.1)
64GB (UFS 2.1)
RAM
6/8GB LPDDR4X
4GB
Rear camera 1
16MP, 1.12μm, f/1.7
Dual LED flash
12MP Dual Pixel, f/1.7
1.4μm
OIS
Rear camera 2
20MP, 1μm, f/1.7
N/A
Front camera
16MP, 1μm, f/2.0
8MP, f/1.7
auto focus
Battery
3300mAh
3000mAh
Charging
USB-C
Dash Charge
USB-C
Fast Charge
Qi/PMA wireless charging
Water resistance
No
Yes
Security
One-touch fingerprint sensor
Face Unlock
One-touch fingerprint sensor
Face Unlock | Iris scanner
Connectivity
802.11ac Wi-Fi, 2x2 MIMO, Bluetooth 5.0, aptX HD
USB-C (2.0), NFC
GPS, GLONASS, BeiDou, Galileo
Wi-Fi 802.11ac MIMO
Bluetooth 5.0
NFC, GPS, Glonass, Galileo, BeiDou
LTE Cat.16
Network
LTE Band 1/2/3/4/5/7/8/12/17/18/19/20/25/26/28/29/30/66
3xCA, 256QAM, DL Cat 12, UL Cat 13
LTE 1/2/3/4/5/7/8/12/13/17/20/25/26/29/30/40/41/66
4xCA, 256QAM, DL Cat 16, UL Cat 13
Dimensions
156.1 x 75 x 7.3 mm
162 g
148.9 x 68.1 x 8 mm
155 g
Colors
Midnight Black
Midnight Black
Coral Blue
Price
$499 / $559
$729
Obviously, the Galaxy S8 has less RAM than either of the OnePlus 5T variants, but in day-to-day usage that shouldn't pose too much of a problem. The OnePlus 5T has a larger battery but lacks the waterproofing and wireless charging of the more expensive phone. Similarly, the 5T also lacks Cat 16 LTE, which prevents it from reaching those gigabit speeds; instead, OnePlus is really pushing the Dash Charge feature of the 5T, which lets it charge through USB-C faster than any other system out there right now.
Given that the base model OnePlus 5T comes with 6GB of RAM, you'd expect the phone to keep apps in memory for longer than the Galaxy S8 — and doubly so for the 8GB model that ships for $60 more and adds an additional 64GB of storage — but, given Android's pedigree for divesting itself of app load in memory, that isn't the case. Nevertheless, the OnePlus 5T is an extremely good performer, and continues OnePlus's legacy as one of the best values for money you can buy.
The OnePlus 5T shares a lot of its design with its predecessor, the OnePlus 5, but shifts some things around to give it a more modern feel. Gone is the front-facing fingerprint sensor, moved now to the back of the phone down the center to accommodate the larger screen. When using the phone, the extra screen real estate is much appreciated, and the 6-inch OLED panel is, while not as sharp as the Galaxy S8's, of decent quality (it's manufactured by Samsung Display, natch), but the Infinity Display on the S8 still stands out, months later, as one of the industry's best. Indeed, the curved glass that meets the metal sides looks incredible.
The OnePlus 5T's camera stack is different internally, as we'll find out later, but its looks haven't changed since June's OnePlus 5. Still located on the top left of the device, the 16MP primary and 20MP secondary shooters protrude slightly. It looks fine, but when compared to the Galaxy S8, you can clearly see Samsung's superior industrial design chops at play. The Galaxy S8 doesn't have a camera bump, and its shiny glass back, while it invites more fingerprints than the 5T's matte metal, feels awesome, and facilitates wireless charging to boot.
It's also worth pointing out just how fantastic the Galaxy S8 feels in the hand. I know — "hand feel" quickly loses its lofty distinction after using the phone for a few days, but it's still important. The Galaxy S8 is on the smaller side of this year's flagship crop (with the 6.2-inch Galaxy S8+ and 6.3-inch Galaxy Note 8 hitting sizes closer to the OnePlus 5T), but to my mind, and hand, it hits the right size for most people.
That's not to say the OnePlus 5T doesn't look great; it builds on the successful maturation of the OnePlus 5 and removes much of the legacy design elements. The all-screen front is a big deal, especially for those looking to OnePlus as a trend-setting company; while the fingerprint at the back makes a big difference in usability, especially when paired with the Face Unlock feature.
It's also worth pointing out that both the OnePlus 5T and Galaxy S8 have headphone jacks. Because you can never have too many ways to listen to music.
Extra features
The OnePlus 5T adds a Face Unlock feature that uses 100 points of measurement on one's face. It's not nearly as advanced, or secure, as the iris scanning on the Galaxy S8, but it also works far faster — it's even faster and more reliable than Samsung's less-secure face unlock method — but it works so, so well.
Indeed, I've barely needed to use the fingerprint sensor on the back of the phone (which is much more sensibly placed than that of the Galaxy S8) to unlock it, since the Face Unlock just works.
Samsung has been a forerunner in alternative biometrics, starting with iris scanning in the Note 7, but this year's crop of phones, between the perpetual unreliability of the face unlock and the awkward placement of the fingerprint sensor, undermined that achievement somewhat. OnePlus doesn't try to complicate things and, as a result, wins in both respects.
Still, Samsung has the edge in a well-rounded set of features: it supports Qi and PMA wireless charging; it's IP68 water and dust resistant; and it's a true gigabit phone, supporting speeds up to 1 gigabit per second. The OnePlus 5T has none of those things: despite using the same Qualcomm Snapdragon 835 platform and baseband solution, its lack of 4x carrier aggregation support limits it to 600Mbps.
Finally, you can't forget Bixby, the local assistant that Samsung, for better or worse, has chosen to tack along to its 2017 lineup. While the button can be completely disabled these days, it's still an encumbrance given its proximity to the volume rocker, especially since Bixby itself isn't all that useful.
OnePlus, on the other hand, maintains the presence of its three-toggle mute button, which makes it iPhone-easy to change between loud, vibrate, and silent modes. I've come to appreciate this slider over the years, and appreciate that the company has maintained it since the OnePlus 2 debuted in 2015.
Software
Right now, the OnePlus 5T runs Android 7.1.2 Nougat, which, while disappointing in a world of phones launching with Oreo, is still a newer version than the Galaxy S8, which is stuck on 7.0.
OnePlus hews a little closer to what we would consider "stock" Android, but the company adds its own flair, and for the most part, the features add value. Since the 5T is the first OnePlus phone without capacitive buttons, there may be a slight learning curve for those coming from older OnePlus devices, but the company has maintained its bevy of shortcuts and gestures to make navigating the Android OS easy.
OnePlus also promises an update to Oreo by the end of 2017, which may actually be sooner than Samsung's equivalent for the Galaxy S8 series.
Cameras
The OnePlus 5T's camera is definitely an improvement over the 5's, and over most devices in its price range, but it still struggles in some conditions.
In daylight, the photos are nigh identical to the OnePlus 5 — as they should be, since the two phones share the same 16MP sensor. But at night, results vary. They're supposed to be better than the 5 thanks to a 20MP RGB sensor that's optimized for low light, but in our early testing, they're merely good, not great.
OnePlus 5T (left) | Galaxy S8 (right)
Compared to the Galaxy S8, the results provide more detail in daylight and aren't quite as good in low light. The Galaxy S8 still has a great camera — its single 12MP sensor performs well in both daylight and at night — but it doesn't quite measure up to the best out there anymore.
Still, the OnePlus 5T, with its second sensor (that forgoes the telephoto focal distance of its predecessor in favor of low light optimization) can do portrait photography, and the results are much better than when the 5 came out earlier this year.
This improvement is more due to software optimizations than any inherent hardware advantages, but it's still significant.
Image 1 of 4
I'll let this image speak for itself, but at this point, it's unclear whether OnePlus's gambit to improve low-light capture will pay off; the phone only switches to its secondary camera when the sensor detects light of 10 Lux or less, which is almost pitch black. And given that the second sensor has more pixels than the main one, with smaller individual pixels to capture light against an f/1.7 lens, I'm not sure it was the right decision.
How does the OnePlus 5T stack up?
While it's not a fair fight given the Galaxy S8 exacts a $200 premium over the OnePlus 5T, this comparison is more an exercise to see whether OnePlus can compete with the best phones out there today. The Galaxy S8 may be a few months old but alongside its larger counterpart, the Galaxy S8+, it's by far the most popular and successful Android phone in the world.
To its credit, OnePlus hits a lot of the same notes for significantly less money, and while the camera continues to be the biggest sticking point, it's good enough that a prospective buyer won't feel short-changed.
OnePlus considers the 5T to be a slightly upgraded version of the 5, but essentially the same phone. When viewed that way, a $20 bump is a small price to pay for a larger screen, a great new face unlock feature, and the same awesome performance and software experience as before.
Who still wants a Galaxy?
Get the Android Central Newsletter
Instant access to breaking news, the hottest reviews, great deals and helpful tips.
Daniel Bader was a former Android Central Editor-in-Chief and Executive Editor for iMore and Windows Central.