OnePlus 5 vs. OnePlus 3: Should you upgrade?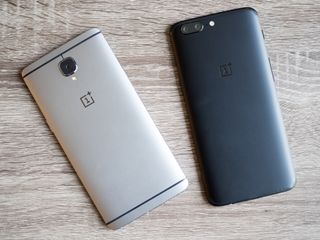 After a barnstorming 2016, OnePlus is back with its most anticipated smartphone yet, the OnePlus 5. It's slimmer, with improvements to build quality and battery life, and a new dual camera system. But if you're rocking the year-old predecessor, the OnePlus 3 — or its upgraded cousin the 3T — is the new model worthy of a $479 splurge?
That all depends on your priorities, so let's examine why you might want to take the plunge and upgrade to a OnePlus 5 — and why you might be smarter to hold onto your cash and stuck with a 3 or 3T.
The core physical design of the OnePlus 5 is clearly inspired by the 3 and 3T — particularly around the front, where it's virtually indistinguishable from the older models. Around the sides and back, the 5 has softer corners, a slimmer profile and less overt antenna lines. (And of course, the new dual camera module gives the back of the OnePlus 5 a very different look, too.) It's a little more compact and ergonomic than last year's handsets, building on what was already a svelte smartphone design.
More: OnePlus 5 vs OnePlus 3 vs OnePlus 3T spec comparison
On the inside, it's mostly a generational leap in hardware specs. The OnePlus 5 steps up to a Snapdragon 835 — up from the 820 or 821 in the 3 and 3T, respectively. The new chip is blazing fast, but the biggest difference we've noticed in Snapdragon 835 devices so far is power efficiency — an 835 phone like the HTC U11 or Galaxy S8 can go a lot further on a 3000mAh battery than last-gen chips like the 821. So naturally, the OnePlus 5 absolutely screams in both day-to-day apps and more demanding tasks like gaming — but then again, so do the 3 and 3T still. For most people, the more noticeable upgrade will be the battery life.
If you're coming from a OnePlus 3, the more efficient CPU and slightly larger battery — 3300mAh, up from 3,000 — should result in a noticeable bump in longevity. So if battery life is a major consideration, that's one big reason to upgrade.
There is also the option of a whopping 8GB of RAM, should you opt for the more expensive 128GB OnePlus 5. While there is an argument to be made about future-proofing here, in 2017 having such a huge quantity of RAM in a smartphone is more about bragging rights than any practical concerns. But hey, if you're thinking about a new high-end smartphone, you're making a substantial purchase anyway ... and if you want the extra internal storage, there's certainly no harm in pairing it with more memory than you'll ever need.
Other areas are pretty much a wash. Both OnePlus 3 and OnePlus 5 feature 5.5-inch AMOLED panels that while good, don't quite match the very best available. And there's also an excellent front-facing fingerprint scanner, with optional capacitive keys, in both handsets. No change there.
On the software side, you're right up to date on Android 7.1.1 Nougat, and the latest version of OnePlus's OxygenOS software. OnePlus 3 and 3T owners have been able to get a taste of the new OxygenOS features from the OnePlus 5 for a while, thanks to the many community builds available for those phones. A stable release based on this new firmware, with the updated launcher and a handful of other features, should be forthcoming soon. In the meantime, OnePlus 5 owners get exclusive access to new tricks like a Pixel-style home screen panel, and the new Gaming Do Not Disturb Mode. Nice to have, but not a reason to upgrade.
When it comes to updates, however, it is worth considering that the OnePlus 3 and 3T will probably no longer be first in line for new OS updates. Expect the OnePlus 5 to get Android 8.0 a good few months before its predecessors.
The most sizeable upgrade this year is, obviously, the new dual camera setup in the OnePlus 5. The main camera retains the same 16-megapixel resolution and loses OIS (optical image stabilization), but steps up to a faster f/1.7 lens. (Plus, the improvements thanks to the Snapdragon 835's new image signal processor shouldn't be underestimated.) And complementing all that, there's a 20-megapixel telephoto camera behind an f/2.6 lens, which can be used in conjunction with the main in the new iPhone-style portrait mode.
Image 1 of 2
These are all things you simply can't do on a OnePlus 3 or 3T, however respectably that phone's camera performs. And the dual-camera setup gives you some new creative possibilities, even if low-light performance from the telephoto camera isn't great. Fortunately, though, the main camera comes closer than ever to matching today's $700-800 flagships, as Andrew Martonik explains in our full review:
And sure, portrait mode isn't perfect in its current incarnation, but still, OnePlus has come a long way toward closing the feature gap with the big-name phone makers.
So the biggest reason to upgrade from a OnePlus 3 (or 3T, if you're feeling particularly crazy) is the camera, which provides tangible improvements to image quality and allows you to shoot the kind of zoomed photos that simply aren't possible in most smartphone cameras. Beyond the camera, the biggest performance difference between the two is in battery life, with the slightly larger cell — relative to the OnePlus 3, if not the 3T — working in tandem with a much more efficient CPU.
If you're already happy with the way your current OnePlus 3 and 3T perform in the areas of photography and battery life, you're probably safe to skip this year. But if those two things are a priority, and you like the OnePlus software and design language, you'll find an excellent upgrade waiting for you with the OnePlus 5.
Get the Android Central Newsletter
Instant access to breaking news, the hottest reviews, great deals and helpful tips.
Alex was with Android Central for over a decade, producing written and video content for the site, and served as global Executive Editor from 2016 to 2022.
I wonder what version of OxygenOS the 5 is running and when the 3/3T will get it.

It's OxygenOS 4.5 and 3/3T will likely receive very soon, since this version of OxygenOS has been in the Open Beta program for months. Obviously the "PRO" features of the camera should be unique to OnePlus 5, due to the hardware required. But it's up to OnePlus to surprise us.

From a performance perspective I bet you wouldn't be able to tell the difference. It probably comes down to the camera and whether it is worth $480.

I would expect/hope to see a bit of an improvement in battery life... Other than that I can't see there being too much of a performance improvement. Probably not really worth the upgrade logically.

Just received my OP5 (6gb/64gb) yesterday, I'm coming from a OP3. I NEVER thought my OP3 was slow by any means, but this phone does feel a tad faster. I thought the 3 was buttery smooth, but the 5 does beat it out. The biggest difference I've noticed thus far is the much stronger vibration motor (I actually prefer the OP3's), the front facing camera is much better (it's the same as the 3T), and the battery life is a lot better as well. But then again, I had been using the 3 since launce, so the battery has degraded with heavy use over the course of a year. Is it a ground breaking improvement over the 3? No. But it is definitely an upgrade, and I'm confident will age more gracefully than my 3 would over this next year. And if you NEED to have the latest version of Android, the 5 is the way to go. Oneplus doesn't have a great track record of updating older devices in a timely fashion. I'd imagine the 3 and 3T will still get updates, but who knows for how long or how much longer you'll have to wait for those updates vs. the 5.

My biggest thing im excited about is the network improvements. My Galaxy blows my 3T away in network performance on T-Mobile. The fact that the OnePlus 5 has 3CA, 256/64 QAM, and a higher CAT 12 LTE modem on board is what I'm excited about. Not to mention WIFI now gets 2X2 MIMO support for my brand new Asus router and Bluetooth 5.0. Those upgrades alone along with the nice camera addition are what I'm excited about.

For those things, it will probably be worth it for you.

If the extent of the excitement is that the phone is actually getting good signal, OP is in trouble

But what if I have a Samsung Galaxy S6?

Then it's time to jump on the OnePlus train. You won't be disappointed

Yeah. I'd rather use a OP1 than a Samsung Galaxy anything. Not fan of Lagsung or Lagwiz at all. Snag a Oneplus device, and welcome to smoothcity. You're welcome.

Um...no. Especially if you already have a 3T. The 3 and 3T are phones that should be kept for at least 2 years easy. I'm interested to see what the pixel 2 looks like though

Amazing that it even needs to be said. It's idiotic to be considering an upgrade for what is essentially a few minor spec bumps - and the promise of a better camera that's probably not that much better in practice. That doesn't mean the OP5 isn't a good - or even great - phone. It means you DON'T HAVE TO BUY A NEW PHONE EVERY YEAR!!! And the attitude that would even suggest that you do is the same attitude that lets the OEM's chase annual upgraders instead of, y'know, actually supporting their devices for a significant portion of their useful hardware lifetimes...

My biggest issue is battery degradation. Any phone, regardless of the phone, will have significantly less battery life after a full years worth of use. And unfortunately OEMs aren't putting in user replaceable batteries anymore and Mophie is too stupid to make a battery case for anyone except Apple and Samsung. And no, I don't care that ZEROlemon has made a 10000MAH battery case that makes your OP3 look like a ******* brick. Nobody wants that, give us a 2000 or 3000mah battery case that doesn't make our sleek phones look like trash. Please and thank you.

They will abandon this phone after a year

Of course, but then there will be a NEW phone!

Don't blame you. OP3 and 3T are phenomenal devices. The 820 and 821 in those phones are so well optimized.

OnePlus should at least give a trade in bonus to the screwed One plus 2 owners...

Anyone wondering why they bloated prior to release that they teamed up with DxOMark to make the best camera experience ever, cause I'm not seeing it.

The ones plus 3 looks a lot better.

OnePlus is going to abandon software support on the 3/3T pretty soon, so if you want to get security updates, you're going to have to get a new phone pretty anyway

Nope!! Going to skip it and continue with my OP3.
If company abandons SW support for OP3 anytime before March-2018 , that would be my bye bye to Oneplus and Android.

From a OP3 owners perspective, the OP5 is pretty disappointing. 6GB and 8GB RAM doesn't even need to be compared because it will not be in working enough under the hood for you to even notice the difference. With a price bump, what OP needs is a leap in specs, not just incremental or else they're just any other "me too" brand in that price range. As the article mentions, only the camera and battery should be the big factor but I'm not even sold on the slight battery bump since it is such a subjective matter. You shouldn't have to upgrade your phone annually anyways : ) I'm more concerned about OP6 or 7 even. With these slight price bumps entering Flagship levels they're just going to be another Huawei.