OnePlus 5 OxygenOS 4.5.5 update brings Wi-Fi, calling + video improvements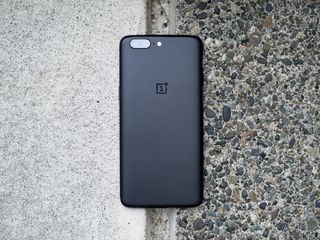 OnePlus has today started rolling out yet another software update for the OnePlus 5. The upgrade to OxygenOS 4.5.5 takes care of a handful of remaining bugs, while making improvements to areas like Wi-Fi performance, video recording, battery life and call quality — as the official changelog shows:
Optimizations:
Further improvements to Wi-Fi connectivity
Clearer voice calling
Video recording now consumes less battery
Vibration intensity when receiving calls is now tuned to a gentler level
Bug Fixes:
Fixed Wi-Fi signal consistently being displayed as weak
Fixed certain apps not able to work under IPv6 network settings
To restore connectivity to a Windows 10 PC, please turn off USB debugging prior to the upgrade
For what it's worth, there's no mention of the "jelly scrolling" effect that some OnePlus 5 owners are noticing, which is understood to be a hardware characteristic and won't be addressed in software.
The update won't be available on all OnePlus 5 phones right away — instead, OnePlus is doing its usual staged rollout thing, where a small percentage get the update on day one, before the floodgates are opened sometime later. For the impatient among us, the old VPN trick (using an app like Opera VPN (opens in new tab) or TunnelBear (opens in new tab)) to switch to a Canadian IP address will allow you to get in on the first wave of downloads for this version.
Updating your OnePlus 5 today? Let us know how you're getting on down in the comments!
Alex was with Android Central for over a decade, producing written and video content for the site, and served as global Executive Editor from 2016 to 2022.
Why not make the vibration more customizable for calls AND alerts? It's too soft as is!

They need to give more control over the alert slider in general. It's kind of garbage right now if you like to switch between silent, vibrate and ring quickly. You can pick two of them even though there is a 3 position slider... Otherwise you have to go deep into the menus to toggle the vibrate on one of the positions.

Agreed. Vanilla Android's notification settings offer slightly better options. And no, this is nowhere near vanilla Android, despite what many say! :-)

Upgraded to 4.5.5 now I have no cell phone signal.. T-Mobile in the United States and South Florida Miami area

T-mo is having network issues apparently. https://www.phonearena.com/news/T-Mobiles-network-takes-a-siesta-this-mo...

"Oh Canada, my home and native land!" At least for a few while my phone downloads! ;) THANKS Alex!

You should disable your VPN before you start the download, it'll go much faster.

Now the OP3 base is left in the lurch with bluetooth, Wi-Fi & and other intermittent issues that have plague some users over the last year. Another epic fail from OEM's and they devices. OP says they are a flagship killer device and OS company, but in truth, you're just like the rest of these tech companies. "Cash & Grab" and see ya! Quite unfortunate coming from this particular company, you'd think they'd be different as per their slogan "Never Settle". I can't post the rest of my comments due to inappropriate language, cause I feel that I really got ripped off on how my purchase of this device took place and too long to explain. But I can only say, they have disgusting business morals and ethics...especially since I was still within my refund terms until they dragged it out where I was pass the 15 days...nicely done OP! NOT! So I obviously I don't recommend this company to anyone...

I fully expect them to abandon support for the 3, but it's a bit early to count it out yet. And when did they say they were a "flagship killer device and OS company"? They haven't used the "flagship killer" tagline since 2015... I'm not actually defending them, but if you want to mock their marketing, the line you're looking to criticize is "dual cameras, clearer photos".

Blah. Blah. Blah. Blah. They are working on an update which also includes an update to the launcher with live calendar and other such things. I've read about the betas they are working in several posts this week. JUST maybe they are going to push a bigger update than the 59MB update that 4.5.5 is? Ever think of that? Instead it's just *****, moan and complain that the sky is falling. Maybe wait a bit. The S7E that I gave my mother was the unlocked U.S. version and it was dead last to get Android 7.0 .. yeah ... almost 4 months after the first S7 handsets started to get it and I paid almost $800 for that. I'll take the level of support OP has been giving since it's been a better experience than I ever got with Samsung. And yeah, like @fuzzylumpkin said .. they have used the "flagship killer" line in a while. They are not a flagship but not a mid-tier either. If you don't like them or don't like what you get yourself into when you buy from a smaller company .. sell it and go S8. You may be happier.
Android Central Newsletter
Get the best of Android Central in in your inbox, every day!
Thank you for signing up to Android Central. You will receive a verification email shortly.
There was a problem. Please refresh the page and try again.