One UI 2.5 may take a page from Xiaomi and brings ads to Samsung's phones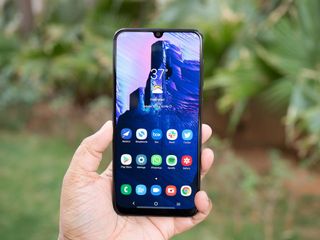 (Image credit: Harish Jonnalagadda / Android Central)
What you need to know
According to a new report, Samsung may be experimenting with ads in One UI.
Leaked images allegedly taken from One UI 2.5 show ads on the lock screen and within Samsung's stock apps.
While Samsung's flagships will, of course, be spared, the company may choose to subsidize its A- and M-series phones this way.
Launched early last year, One UI represented a big change for Samsung's design language for its Android UI, with an emphasis on a cleaner, less noisy layout. The company followed up on the new Android interface with One UI 2.0 and 2.1 earlier this year, and now the next version, One UI 2.5., may represent yet another shakeup in the company's philosophy for Android — and not in a good way.
If an alleged leaked image of the upcoming update to One UI received by TizenHelp is to be believed, the company is taking a page from Xiaomi's book and experimenting with embedding ads within stock apps as well as within the UI itself. Xiaomi is notorious for subsidizing its cheaper phones in this manner, especially in developing markets like India, and the 'feature' is universally detested by users. We can only hope that Samsung doesn't follow suit.
And while flagships like the Galaxy S and Galaxy Note series will obviously be exempt, Samsung may see some merit in recouping its investment in the lower end of the smartphone market by following in Xiaomi's footsteps.
A particularly egregious example mentioned in the article is ads on the lock screen. The report even mentions being forced to watch a 15-second ad before being able to unlock the phone. Banner ads inside the weather app are also mentioned — presumably, the same would be true of other stock apps.
Another bit of troubling news comes via a statement by a Samsung representative back in October, where he justified the use of revenues from banners ads as a way of adding new functionality to the software experience.
Since the update is currently under development, and we have heard next to nothing from Samsung on it, it's probably safe to assume that these changes, if true, are simply tests for the moment. Hopefully, they stay that way.
Get the Android Central Newsletter
Instant access to breaking news, the hottest reviews, great deals and helpful tips.
I can tell that the One UI 2.5 update is coming soon since I just updated the Samsung Weather app and the Samsung Keyboard and in its changlog it mentions compatibility with One UI 2.5, so there's that. But if it's going to implement ads in its phone UI, even if it's just for the lower or mid-range phone library, that's the slippery slope that does not need to be broached. Amazon did this same nonsense with their subsidized phones and their Amazon Fire phones, which, predictably, was a cluster of bad.

Just updated the Samsung music app on my Note9, and first thing I noticed was that it has ads. I'll check other Samsung apps that I use to see if they have ads also. If they do, then it's time to uninstall or move on.

I don't like this AT ALL but if it's going to be true, then leave ads out of $800+ phones and lower the price on the lower segment. Just like Xiaomi.

If this happens I will not be purchasing a Samsung Phone. I'm tired of being treated like a Mobile Piggybank. Bad enough I have to pay a Monthly Fee here just so I don't have to endure the garbage they call Ads Today.

Can't stand any skins. Give us the option at least. The worst of all is unwanted apps you can't delete completely.

Fake news folks. Screenshot were not real. But I guess it doesn't generate clicks for the site.

Yeah, no chance ads happen in the western world on any phone sold through a carrier. No, I don't care about what happens in India.

No ads on an iPhone, but it looks like Samsung is giving me yet another reason to stay away from their phones with them putting ads in their already bloatware infested software.

Beno, I took a peek at Apple... I really considered the 11 pro max... But nothing at Apple has changed since the only Apple phone I owned, the 4S... The best Android phones are superior to Apple... That said, I'm on a minimum 5yr upgrade cycle... We'll see what 2022 or 2023 brings. Apple constantly releases buggy iOS updates... I see the greenish screen is the latest software disaster from Apple, according to 9 to 5 mac Again, Samsung ads look to be a way to sell phones to the third world... It's a non issue in the west. Am I missing anything running Android 9 or Samsung 1.0 UI? Of course not. Fragmentation in Android is of zero consequence when accessing apps from the Google Pay Store. On Apple, you effectively have a bricked phone if you can't access the latest version of iOS.... You can't run updated or newer iOS apps.

Fake news confirmed on Sammobile.

Unfortunately, if Samsung attempts things like this it's time to move on completely. I say this with utmost confidece that people will jump from One Ui abandoning Samsung phone,jeopardizing phone sales for the year maybe.
I would rather jump to Pixel experience and or Oxygen OS.

Dodged the bullet on that one with my Note 10+.
Go pick one up folks if you can. Super affordable now.