One UI 2.1 update brings S20 software features to the S10 and Note 10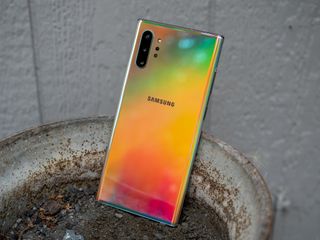 (Image credit: Android Central)
What you need to know
Samsung just announced that it's bringing previously S20-exclusive features to the Galaxy S10 and Note 10.
Single Mode, Night Hyperlapse, Custom Filter, Pro Video, an advanced Night Mode, and 4K/60fps video on the front camera are all making the cut.
Both phones will also get an improved gallery and upgraded sharing features.
Samsung says (opens in new tab) it wants to bring "more of what you love" about the Galaxy S20 to its previous generation flagships, the Galaxy S20 and Galaxy Note 10. It's doing so via a One UI update for both phones.
First up among the new features is Single Take, which is Samsung's version of an AI-powered, very long-running burst shot. It takes a whole bunch of photos for up to 10 seconds, and then automatically chooses the image that it believes is the best of the bunch.
Both phones will also get access to the improved Night Mode from the Galaxy S20, as well as the latter's Night Hyperlapse mode.
For the Snapchat and Instagram geeks out there, Samsung's Custom Filter will let you go beyond the usual slate of image filters and let you make your own, which you can later reuse as well.
For videographers, the update will unlock Pro Video mode, which gives the user more granular control over various settings like ISO, shutter speed, and exposure while recording videos. In addition, the front camera can now do 4K/60fps video.
When you're done taking the perfect image/video and beautifying it with your own filters, Samsung will also let you share your prized works of art with ease using Quick Share, the South Korean giant's take on AirDrop for its phones. Music Share, meanwhile, lets you "extend your paired Bluetooth connection and you don't need to disconnect for a friend to play their music on a speaker or car stereo."
And when you're done exchanging photos, you can return to the new and improved gallery, which features two main upgrades: Clean View and Quick Crop. The former groups together similar images taken on the same day, while the latter lets you zoom into an image and quickly make a cropped copy of the image with that view without needing through a bunch of menus.
One UI 2.1 is rolling out in Germany for the S10+ right now. It has the new AR Emoji, Pro video, 4K 60fps out of the front camera, Quick Share, Music Share, and more! pic.twitter.com/gLxOr1s2BuOne UI 2.1 is rolling out in Germany for the S10+ right now. It has the new AR Emoji, Pro video, 4K 60fps out of the front camera, Quick Share, Music Share, and more! pic.twitter.com/gLxOr1s2Bu— Max Weinbach (@MaxWinebach) March 25, 2020March 25, 2020
The company says the software update will start rolling out to both phones starting March, though the exact dates will vary by region and model. Users in Germany, at least, have already started receiving One UI 2.1.
This is basically now just as good as the S20's plus. Half the price.

S10 is still only 60hz. My Pixel 4 XL has spoiled me, any Android at 60hz just looks awful to me now. iPhone screens are still tolerable because of the 120hz touch refresh and better animations (not as good as 90hz, though).

Do we know if OneUI 2.1 will include the Windows 10 shared clipboard? Thats the main feature I'm excited for lol.

Funny. Although I like my Pixel 4XL I love my new S10+ more. Despite the 60Hz screen it is just such a wonderful experience. Customising the phone with themes and fonts, love messages, edge panel, super fast and super smooth when typing. Awesome screen colours. It is just a fuller experience. I barely use my Pixel any more. I am waiting for Android 11 beta to get my excitement back.

Live messages not love messages
Android Central Newsletter
Thank you for signing up to Android Central. You will receive a verification email shortly.
There was a problem. Please refresh the page and try again.