Nexus 10 Pogo charger sighted, release rumored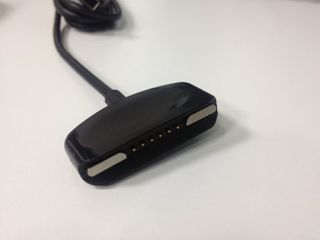 It seems Nexus 10 owners may be about to get a new, more convenient, more magnetic way to charge their tablets. Android Central forums poster jstevenkim has posted an image of what he says is a Pogo charger for the Samsung-made 10-inch tablet. Unlike a traditional microUSB getup, this pogo charger would be held in contact with the tablet's pogo pins magnetically, similar to an Apple MagSafe connector.
The poster claims he works for "the original and direct supplier of the pogo cable to S[amsung] in Korea," and that this charger will become available soon via Amazon and eBay, priced around $19.99-24.99. We'd take this with a pinch of salt -- the image provided certainly looks like it'd fit the Nexus 10, but there's no way of verifying how official it really is.
Of course, we're still waiting on the official pogo dock for the Nexus 10 -- not to mention its little brother, the Nexus 7. In the meantime this accessory may open up a novel way of charging the 10-inch Nexus, if microUSB is cramping your style.
Hit the Android Central Nexus 10 forum at the source link for more discussion and speculation.
Source: Android Central Forums
Alex was with Android Central for over a decade, producing written and video content for the site, and served as global Executive Editor from 2016 to 2022.
Just what I've been waiting for! Thanks for the update Alex!

I've been able to resist getting an N10 thus far, but cool accessories ALWAYS tip the scales for me.

One of the best things about the Nexus 10 is that it uses a standard USB port for charging. This makes it EXTREMELY convenient and compatible. You can even use those neat external USB battery devices with the N10. The charge rate is not super fast, though... but a slower charge doesn't bother me and theoretically is better for the batteries. Supposedly the POGO pins will allow even faster charging, so this POGO charging cable is a great idea and might come in handy for some people. Other people might want a POGO dock, so they will have to keep waiting. Have no idea whey companies (apparently Google also) drag their feet so much for putting out accessories.

If this does charge faster than the micro USB, and is $20, I will definitely buy one. The charge rate from micro USB is pretty poor on the Nexus 10. I cant keep the screen on and have the charger keep up.
Hopefully the dock will come along soon as well.

Micro usb sucks for charging, especially tablets with large batteries, as well as video, data and sound. This is why Apple had the 30 pin connectors and now Lightning cables. This is why some Android tablets (Samsung) have proprietary cables.
Google doesn't care about accessories. They sell Nexus devices for cost not for profit. Only third parties have really have an interest in making, stocking, and selling accessories.

You must be joking. I'm still waiting for POGO chargers for my VZW GNex. Infuriating.

You and me both...Looks like its not gonna happen. By the time accessories come out for devices their successors are already on store front shelves. Day late and dollar short!

Wtf where is the galaxy Nexus pogo charger

Why not a wireless charging dock with the same tech as the wireless charging pads?

My first guess is because the nexus 10 doesn't have the required hardware for wireless charging. It has to be built (or modded) for that particular feature.

I like it. Too bad it's not for the N7

This is great. I wish manufacturers would switch to this style of charging on all phone/tablets. Micro usb connections take a beating over time and in my experiences eventually have to be replaced, which is a pain.

I guess I fail to see the attraction of replacing a standard, compact, ubiqutous connector like an mSD cable with a large, proprietary connector like this. A nice little docking station that lets you slip the tab in and store/charge the device standing upright, yes. A cable with some magnets on it, no thanks. -Suntan

Because that standard connector sucks for this purpose.

Suntan: You fail to see the attraction in having another option for charging? An option that offers faster charging for those that want it? An option that lets you power your device while the usb port is otherwise occupied? I fail to see why this is not attractive...

Hi there, Thank for showing a great interest in a pogo charging cable that we will release soon, which means within next 7 or 10days. Because we have a supply issue of getting ac chip implemented in the cable, quantity available for the first release would not be enough to meet much demand. Anyway, this is not just a rumor. Thank you for your patient.

Hi there, It is now available for sale on ebay. Please search "nexus pogo cable" on ebay, you will find an authentic pogo cable of this article!!! It is $19.99 plus shipping.

I managed to order and pay for 2 cables. But I never got a shipped messaged. Also the cable is removed from Ebay. Is there any problem?

Hi Dag, If you ordered on ebay, you must received a shipping information including a tracking number. All orders had been shipped out by yesterday which was 2nd of Jan. Thank you.
Android Central Newsletter
Thank you for signing up to Android Central. You will receive a verification email shortly.
There was a problem. Please refresh the page and try again.