OfficeMax now selling the Acer Iconia Tab A500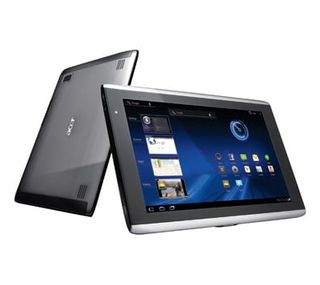 Although it's been a long time coming, the Acer Iconia Tab A500 is now hitting some store shelves -- and one of those stores, as announced today is OfficeMax. Wasting no more time, OfficeMax has made the Android 3.0 Honeycomb powered tablet available today for $449.99.
That power and speed he is referring to comes from the NVIDIA Tegra 2 mobile 1GHz dual-core processor. If you've not had a chance to see the Acer Iconia Tab A500 in action, check out our previous hands-on with it -- otherwise, jump on past the break for the full press release.
Source: OfficeMax
OfficeMax Expands Selection of Tablet Computers With New Acer Iconia Tab A500
OfficeMax to offer the new 10.1-inch Acer tablet computer at OfficeMax.com and in-stores nationwide
NAPERVILLE, Ill., May 23, 2011 /PRNewswire/ -- OfficeMax® Incorporated (NYSE: OMX), a leader in office supplies (opens in new tab) and services, today announced that the company is expanding its selection of tablet computers by adding the new Acer® Iconia Tab A500 in all of its more than 900 retail locations nationwide and through OfficeMax.com. The new Acer Iconia Tab A500 will be available at OfficeMax for $449.99 (1) starting today. The new Wi-Fi enabled tablet PC (opens in new tab) computer is Acer America's first 10.1-inch tablet running the Android™ 3.0 (Honeycomb) operating system. Applauded by PCWorld for its unique inclusion of both a USB port and microSD Card slot, its support for Dolby® Mobile audio and its custom home screen widgets that help organize applications, the new tablet computer from Acer offers new user-friendly features for users on-the-go.
"We are excited to offer Acer's new Iconia Tab A500 in all OfficeMax's retail locations and online," said Ryan Vero, EVP and Chief Merchandising Officer for OfficeMax. "Its light-weight, slim design and exceptional operating platform is designed for customers who prefer a smaller-sized tablet. The power, speed and versatility behind the Iconia Tab create an enjoyable user experience."
The new Acer Iconia Tab A500 tablet PC features a 10.1-inch multi-touch screen that provides accurate finger-tip control for personal access to applications, games and entertainment. The tablet computer also provides an enhanced level of performance with its NVIDIA® Tegra™ 2 mobile 1GHz dual-core processor and integrated GeForce™ GPU that enables customers to enjoy HD gaming, 1080p video and faster browsing, as well as running multiple applications, digital media playback and flash-based sites, games and applications.
Built for usability on-the-go, the Acer Iconia Tab A500 features a slim and modern aluminum design, with a system weight of 1.69 pounds and measuring 0.52-inches thin. It also includes forward and rear-facing cameras to capture videos and photos as well as conduct video conferencing. To learn more about the new Acer touch screen tablet PC, please visit www.acer-group.com.
About OfficeMax
OfficeMax Incorporated (NYSE: OMX) is a leader in both business-to-business office products solutions and retail office products. The OfficeMax mission is simple. We help our customers do their best work. The company provides office supplies and paper, in-store print and document services through OfficeMax ImPress®, technology products and solutions, and furniture to businesses and individual consumers. OfficeMax customers are served by approximately 30,000 associates through direct sales, catalogs, e-commerce and approximately 1,000 stores. To find the nearest OfficeMax, call 1-877-OFFICEMAX. For more information, visit www.officemax.com (opens in new tab).
All trademarks, service marks and trade names of OfficeMax Incorporated used herein are trademarks or registered trademarks of OfficeMax Incorporated. Any other product or company names mentioned herein are the trademarks of their respective owners. Acer and the Acer logo are registered trademarks of Acer, Inc.
(1) Price stated does not include applicable sales tax.
Android Central Newsletter
Get instant access to breaking news, the hottest reviews, great deals and helpful tips
so that makes Best Buy, Target, Wal-Mart (according to their site), Staples, and now Office Max

So officially at
Target
Best Buy
OfficeMax
Walmart and Staples too, says Ashram.!! Good catch. Still absolutely no price competition at any of these outlets, and apparently still no "loaner-units" for Android Central to review. The color and finish of this tab reminds me a lot of the Nexus One. Also Acer Iconia Tab W500 – a 10.1-inch tablet running Microsoft® Windows® 7 – is available for sale now in North America, same device, different OS. A501 (3g version) rumored to be showing up on at least to carriers soon.

Haha. Just left OfficeMax and played with it. Laggy and plasticy. I like my XOOM Better.

From what i hear isnt the xoom all plasticy and glitchy

Isn't it made of aluminum... Also, they are basically running the same software on the same specs so if the A500 is laggy then so is your Xoom. The Acer device was either defective or already running apps. (especially given that it is a testing unit)

I'm calling BS on you ever having touched an Acer, because you would know it has zero lag, and the case is aluminum and glass. Tiny bit of plastic on top and bottom end-caps. You never touched an A500. It it was Laggy, it was the Blackberry.

your so full of crap!!! Its got a brushed aluminum back, fast as hell!! , destroys the Xoom especially in the price department!! But I guess you have to make yourself feel better as you seriously overpaid for a tablet without a working SD card slot, no full size USB and more, I feel your pain, thanks for the laugh of your ridiculous assessment!!!!

Some people are fanboys just to be fanboys.

I bought one a few weeks ago. Very happy with it. Much better priced than the xoom

Got mine from Amazon. Much cheaper than the Xoom, and it has a working microSD slot and a host USB slot (plug in you memory stick or card reader). The build quality is excellent - mostly aluminum. The screen quality is also much better than I expected. I also have an iPad and I much prefer the A500. I'm glad I didn't pay $150 more for a Xoom that has less features.

Wait, this is new? The Iconia has been sitting on display at the staples in my town for over a week! I should have taken a picture...

No... It's actually the much more popular Asus Transformer that needs more supplies in retail stores. The Acer A500 isn't a terrible device but the Transformer is cheaper, lighter, has an IPS display and has basically the same processor/software. Although, both beat the Xoom.

I probably would have gotten the Transformer for $50 less. I think it has better battery life too. However, I love the host USB port on the Acer. For photographers its a must. I don't think you can go wrong with either device. I won't have any regrets until the quad core kal-el tablets come out this fall. Lol

im amazed this site even posted anything about the A500, its about time!!! Great device I would not even consider another one compared to this at this time , nothing comes close to its features for the price! Even the Asus ( never heard of them) transformer

i work at omx and i cant the put the acer down i'm definitely going to pick one of these up as soon as i get the cash the full size usb sealed the deal!

Looks nice, but the sammy 10.1 is the tab to get if your in the market in my opinion... FYI my xoom has a micro sd32gb installed and working and cpu is OC to 1.6ghz per core w/OC GPU xoomin past any and all devices. BRD has done wonders for the xoom in the development department. The dev community for a specific android device sells me; stock specs mean nothing to me if there isnt good dev support.

It's interesting to me that so many people seem to not have heard of ASUS. They are well known in the netbook world and I've known a lot of people that bought and loved their ASUS netbooks/notebooks. I just don't think they were truly aware of how many people would want their eeePad Transformer and thus didn't have nearly the supply needed for the demand. That's a good thing but they need to ramp things up and get this into people's hands. I wouldn't have any issues buying an ASUS labeled machine but want to play around with their tablet in a store prior to ordering. I saw the A500 at my Target but it was on lockdown behind a plastic shield. Boo!
Android Central Newsletter
Get instant access to breaking news, the hottest reviews, great deals and helpful tips
Thank you for signing up to Android Central. You will receive a verification email shortly.
There was a problem. Please refresh the page and try again.