Odin Mobile to sell Nexus 4 with extra customer support for the visually impaired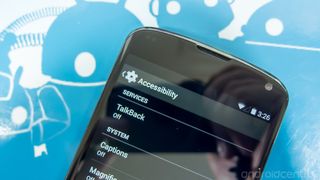 Device to include unique widget to showcase apps for low-vision users
Odin Mobile, a T-Mobile MVNO based in Rockville, Md., has announced that they will be selling the 16GB Nexus 4 for $329. While this is a good way for people who want a brand-new Nexus 4 to acquire one, the one from Odin Mobile is a bit special. Odin specializes in providing phones and service to folks who are blind or partially blind.
The phone itself is your standard Nexus 4, with one small addition. Odin will include a widget on the home screen that assists users looking for applications to better use the phone with any impairment they may have. The widget highlights eight special apps, and using the Android TalkBack service users can explore it by touch. As you touch a specific application, you're told the description, and a double-tap will direct you to Google Play for installation.
In addition, Odin Mobile has a free support package to get everyone up and running. Robert Felgar, general manager of Odin Mobile explains.
This instructional package also includes a one-on-one tutorial, and a month's worth of call-in direct customer care.
Our hat's off to Odin Mobile for what they're doing here. And we also have to give a nod to the Google Android team as well as application developers who make a project like this feasible. Access for all is a very important thing. The full press release is after the break.
More: Odin Mobile
Odin Mobile Breaks New Ground - Sells Nexus 4 with Enhanced Customer Support to People Who Are Blind
WASHINGTON, Nov. 25, 2013 -- Odin Mobile will improve access to Android™ for people who are blind with Nexus 4 from Google™. Nexus 4 is an ideal device for people who are blind because it quickly receives updates to the Android operating system, bringing its users the latest in Android accessibility.
To improve the customer experience, purchase of the device will include a unique instructional package that will include a one-on-one tutorial on how to use the accessibility features of Android. Tutorials will be provided over the phone by experts who are themselves blind. The package will also include the ability to call our experts and receive support for a period of one month after purchase of the device. During this period, our experts will assist with a host of issues, such as recommending accessible applications, as well as helping customers perform particular tasks.
Robert Felgar, the general manager of Odin Mobile, explained that "Odin Mobile's unique instructional package will significantly shorten the amount of time it takes people who are blind, and might otherwise have difficulty adjusting to the use of a touch screen device, to learn how to use a smart phone effectively."
Nexus 4 will also include a widget on the home screen that will highlight eight applications that may be particularly useful to people who are blind or visually impaired. With Talkback, the Android tool for eyes-free use, the user can explore the widget by touch. As the user moves his or her finger over an application, Nexus 4 will announce the application's name and describe its purpose. After selecting an application in the widget, and double tapping the device, Nexus 4 takes the user to the Google Play™ Store app to guide him or her through the installation process.
The widget, and a number of its applications, is being provided by Apps4Android, the world's largest developer of Android accessibility applications. According to Steve Jacobs, President of IDEAL Group and CEO of Apps4Android, "we are pleased to contribute applications to Odin's Nexus 4 device offerings in support of individuals who are blind and those with other vision impairments."
Kim Charlson, President of the American Council of the Blind says, "Odin Mobile is providing people who are blind or visually impaired with more choices of smart phone technologies at a variety of price ranges. This is definitely a sign of progress, and welcome recognition for the purchasing power of the blind community."
Odin Mobile will sell the 16 GB Nexus 4 for $329. The price includes Odin Mobile's unique instructional package.
For additional information about Odin Mobile, please visit www.odinmobile.com
About Odin Mobile
Based in Rockville, Maryland, Odin Mobile is a T-Mobile MVNO focused on providing unparalleled mobile service to the visually impaired. Every aspect of its innovative service is designed to make it easier for the visually impaired to take full advantage of mobile technology. Its mission is to narrow the gap between the extent to which the visually impaired and general populations use mobile services. For more information, please visit www.odinmobile.com.
Senior Editor — Google Ecosystem
Jerry is an amateur woodworker and struggling shade tree mechanic. There's nothing he can't take apart, but many things he can't reassemble. You'll find him writing and speaking his loud opinion on Android Central and occasionally on Twitter.
As someone who deals directly with this segment of the population (deaf/blind telephony) I have to say they are awesome folks and it is the one part of my mobile phone bill that I have no problem paying every month.

This is a very cool thing that's happening. Kudos to Odin Mobile and keep up the outstanding work!!! Posted via Android Central App

It's also worth mentioning that they sell a SIM-only activation kit, so, if you have another handset that you prefer, you can use it.

This is very awesome, kudos to them. I don't get where Google stands on this issue themselves, they include things like talk back and gesture magnification (my favourite feature ever!) On one hand and then seem to go out of their way to make their ecosystem as low contrast as possible with no dark theme switch on the other. I wonder if there will be a way to get this without being on Odin's network... Posted via Android Central App

Very cool. Would like to see more of this. The need is there. BTW I originally read this because I thought Chainfire was selling phones Posted via Android Central App

Thank-you very much for sharing this story Jerry. It's one (of the many) reason(s) I come to AC for my mobile news. Cheers Mate!

Good to see innovation and tinkering where it really matters. Posted via Android Central App on my Motorola XT890 RAZR i

This is a joke right? Why would the visually impaired want anything other than braille keys? Maybe Blackberry has a future after all.
Android Central Newsletter
Thank you for signing up to Android Central. You will receive a verification email shortly.
There was a problem. Please refresh the page and try again.