NVIDIA Shield Tablet's first firmware update brings big improvements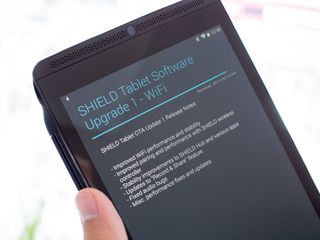 A new firmware update is being pushed out NVIDIA's Shield Tablet that should greatly improve connectivity and performance. The firmware update could be downloaded over the air and brings the version up to 1.1.
To download the update, you can manually check for the update in the settings menu of your device.
According to the update log provided by NVIDIA, the following enhancements are delivered via the software update:
Improved WiFi stability in certain scenarios
Improved camera performance
NVIDIA PRISM feature toggle
Stability improvements to SHIELD Hub and Gamestream
ShadowPlay performance optimizations
Localization improvements
Audio optimizations
Misc. stability improvements
And if you want to learn more about the Shield Tablet, be sure to read our review.
Are you able to download the update for your Shield Tablet? Let us know if you notice any improvements.
When's the LTE version slated for release? Anyone know?

Soon I hope! Any word on the price?

I'm hearing in Canada this will come out @ $420 CDN or thereabouts. So let's say $399 US then?

Hallelujah...connectivity issues are rampant at work. Downloading now!

Still getting unexplained authentication problems. Restart fixes it, but wth?

Bummer, I was hoping this got fixed. It is quite annoying.

Wait, what? I got this update like 2 days after launch. Otherwise this isn't the first update...

I believe this is the second update, I received one too shortly after launch...

That's what I thought. I knew I wasn't going crazier!

IT was probably that your device was built with pre-production software and what you got was akin to a day q update to get it to the intended 1.0.

Possibly. It runs like ass, lots of lag. I'm returning it for an exchange.

That's not good to hear. I've been wanting the 32GB one, which is the LTE version... not good to hear it lags.

Get it. Trolls be trolling. Posted via Bacon on CM11S

Don't listen to him. Mine is the snappiest tablet I've owned. My previous tablets were the Xoom, N7 2012, and N10.

WTF? Lag? Seriously? I can get mine to even stutter under load. The thing is a beast. Posted via Bacon on CM11S

I'll admit I sometimes have a delay responding to home button, launching an app...never graphic display problems per se, tho. Blame Google Now launcher?

I woke up to it waiting for me and it installed fine. So far everything seems fine, and fwiw no lag, it is just a battery eater. Knew that going in.

After a long wait got the Shield Lte. Lovely machine. I really like the feel, size and weight. Load my usual apps and happy. Sim worked when APN settings for carrier entered. Downloading v quick so far. Slight problem. OTA firmware upgrade appears to have worked. BUT there a notification ' Rom Update ( Ver 4.4.2 ) MD5 integrity check failure'. Anyone have same or comment on fix ?.
Android Central Newsletter
Get the best of Android Central in in your inbox, every day!
Thank you for signing up to Android Central. You will receive a verification email shortly.
There was a problem. Please refresh the page and try again.