NVIDIA Shield now shipping July 31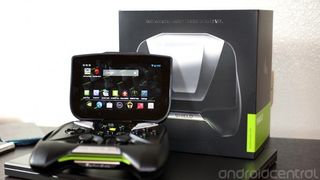 NVIDIA this morning announced that Shield -- its handheld, Android-based gaming system -- will ship on July 31, a little more than a month late. Shield originally was to ship June 27, but an unspecified "mechanical issue" with a "third-party component" pushed the launch into July.
Shield, which is one of the first devices to use NVIDIA's new Tegra 4 system on a chip, is a mashup of console-style controller with a 5-inch touchscreen, running a relatively stock version of Android. It's mostly targeted toward hardcore gamers, but the move from $349 to $299 may open up that market somewhat.
Wrote NVIDIA in an e-mail to purchasers on Sunday:
For more, check out our NVIDIA Shield forums.
Android Central Newsletter
Get instant access to breaking news, the hottest reviews, great deals and helpful tips
Now this thing looks nice. I'm wondering about if all games will be able to be played with the controller or will you need special modified games. I'm thinking that maybe a MHL adaptor, the USB Joystick app, and a MOGA PRO controller might be cheaper though. Posted via my themed "WHITE DRAGON" LiquidSmooth Sprint GSIII.

@DWR_31 You forgot the Tegra 4 processor...just saying.

I have mogA Pro. And I'm quite disappointed with games support. Every time people ask a game to be supported, the mogA PR on facebook always answer with same answer. We need to contact the game developers by ourself. As if mogA just depends on users to help them ask support to game developers. And lately they supported old games or not a top notch game. Posted via Android Central App

All that bulk and only a 5" screen? Seems like it should be bigger...

Really wish this was cheaper... Posted via my Galaxy S4 using the Android Central App

Think I'll spend $100 more and get a PS4. Seriously... How do they think a hunk of junk like the Shield (compared to alternatives) will sell at that price?

you don't compare it to ps4..it is not the same category of devices

Yeah, it is. They're both gaming systems. That's like saying that the Galaxy Note 2 is in a different category than the HTC One Mini/GS4 Mini. Just because there are differences in power and portability didn't put them in separate categories. Posted from my HTC EVO 4G LTE via Android Central App

No actually it's exactly like comparing a Nintendo Ds to a X-Box 360, they were both meant for gaming but no where near the same

Fine - then a Vita. Bottom line is, the Shield looks horribly positioned. I can't see this lasting. Looks to be a small niche experiment.

Is your Editor's Desk article coming soon? I always look forward to that. Posted from my HTC EVO 4G LTE via Android Central App

Way too late. You are better off with a ps 3 or 4 xbox 360 or 1. you can play games on phones so this is just another device to charge and keep track off. If this launched with 3 or 4 months than maybe but not now. Bad timing guys.

When I see this I think of my DNA and while 5 inches is a good size for a phone games are not all that great its just to small 7in screen would have been nice Posted via Android Central App

I'm hoping complete review and benchmark. How good Tegra 4 with 72 core gpu compared to Adreno 335 on snapdragon 800? Posted via Android Central App
Android Central Newsletter
Get instant access to breaking news, the hottest reviews, great deals and helpful tips
Thank you for signing up to Android Central. You will receive a verification email shortly.
There was a problem. Please refresh the page and try again.