New NVIDIA Shield Android TV: Everything you need to know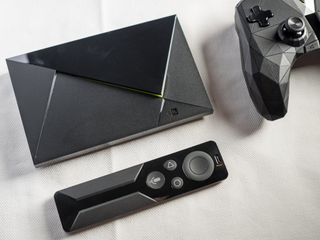 (Image credit: Android Central)
NVIDIA made a splash at CES 2017 when it unveiled a new version of its extremely popular Shield Android TV box. The new Shield Android TV has a similar design, identical internals, same price and similar value proposition as the original, and isn't even getting a distinctive name to separate it from the first model.
So what has changed, and what can you expect to get in the new Shield Android TV? Well there's still plenty to unpack here.
New external hardware
NVIDIA didn't see a need to overhaul the internal hardware of the Shield Android TV, and it's hard to blame it for doing so. The original box was more than powerful enough to handle high-end gaming and entertainment, and offered just about everything anyone was looking for. What has changed, though, is the external hardware and a couple fringe hardware features.
Though the new Shield Android TV has the same basic shape and look it's roughly 40 percent smaller overall than the original, which is extremely impressive when you think about what's inside. It still has a wedge-like shape and geodescent pattern all around, accented by a green light that glows when it's powered on, and has an optional stand accessory that will place it upright if you'd like to put it more on display.
Read: NVIDIA Shield Android TV review
Around the back of the box you'll still find an ethernet jack, HDMI out and two USB ports, but one of the room-saving removals is the SD card slot. That may hit a small group of people that liked the idea of using the slot for adoptable storage expansion, but know that you can still do the same with any USB drive if you wish. You'll also notice the Micro-USB port is gone, but don't worry — NVIDIA has an option to let you use one of the USB-A ports as an input port for a PC connection if you need it. The new box also lacks an IR receiver so it can't be controlled by traditional IR-based universal remotes, though the Shield's own controller and remote do support IR for controlling your home entertainment components.
Improved controller and remote
The included Shield controller has gone through a complete overhaul. You can immediately see a slimmer overall profile and once again a geodescent pattern all around that offers a unique grip — the joysticks also have more texture around the edges.
When it comes to non-gaming uses, the controller has ditched the somewhat-finicky capacitive navigation buttons for proper hard buttons for back/home/select. You'll still adjust volume using a capacitive touch pad between the sticks, and a single press of the green NVIDIA button at the top activates the microphone for voice commands. The controller charges over Micro-USB still, and NVIDIA claims 60 hours of battery life when playing games.
Though not everyone will want to play games regularly with the Shield controller, you'll want to keep it around as it's a bit of a trojan horse for the console. Thanks to its large battery and microphone, the controller is the conduit for the Shield Android TV to always listen for "OK Google" commands when Google Assistant hits the console in a couple of months. So long as the controller has a charge (a couple weeks with typical use), it'll stay connected to the Shield Android TV and be always listening for your input — it simply hands the data over to the box, which crunches the information and gives you responses.
The Shield Android TV now includes its remote alongside the controller in the box, which is much better than shelling out $50 for the TV-focused accessory. The new remote is similar in design, but is no longer rechargeable and has lost its headphone jack for private listening — on the upside, though, is a quoted year of battery life. Going a step further, both the controller and remote now have integrated IR blasters, meaning they can control other parts of your home entertainment setup like adjusting volume on an AV receiver or a TV that doesn't fully support HDMI-CEC.
What's new in Android Nougat for TVs
Much of the new software being shown off on the Shield Android TV isn't NVIDIA's doing but rather just what you get when you upgrade to Android 7.0 Nougat. As we knew already, Nougat introduces features like picture-in-picture mode and an app switching interface, as well as little bits of polish around the interface. A new YouTube 360 app highlights many app improvements as well.
NVIDIA made a couple of changes as well, including removing the "NVIDIA" section of the home screen and tweaking the way the "Games" section is displayed. You'll now see local, Gamestream and GeForce Now games all in one place to launch all the same. Further, the new "NVIDIA Games" portal will let you shop for and manage games from all three sources. There's also a new Steam app that will launch you directly into its lean-back "Big Picture" experience so long as you're a Gamestream user with Steam set up.
Google Assistant isn't ready yet
One of the biggest features of the new Shield Android TV's announcement is Google Assistant, but unfortunately it isn't ready yet. The best that NVIDIA can offer us in terms of a time frame is "in the coming months," which is understandable considering this is the first expansion of Google Assistant outside of Google's own hardware. Everyone wants to get it just right.
From what we've been able to see thus far, the Google Assistant experience seems exactly as you'd expect and more fully featured thanks to the large display. Simple queries like asking about the weather or upcoming appointments, or making Google searches, pop up a half-height display over whatever's on screen giving you the information. Specific questions like asking about your photos or a music video will jump straight to the required app like Google Photos or YouTube.
Importantly, any integration designed for the Google Home today will work on the Shield Android TV via Google Assistant. Anything from calling an Uber to showing you recipes for dinner will yield the same responses, but simply include a visual component whenever possible. In many ways, this is a more complete Google Assistant experience than you can get on a Google Home or even Pixel.
Smart home potential
NVIDIA is putting tons of focus on entertainment, but the Shield Android TV is also poised to be a capable smart home controller. Through a partnership with Smart Things, the Shield Android TV can be transformed into a Smart Things Hub with the addition of a tiny dongle plugged into one of its USB ports. Once configured, you can then talk directly to your Shield Android TV to control any device that integrates with Smart Things.
As soon as Google Assistant is available you'll be able to command everything through Smart Things using the Assistant as well. The possibilities go even further when you invest in some NVIDIA Spot accessories, which will extend the smarts of the Shield Android TV to any room within Wi-Fi range. With a bit of configuration and these additional accessories this little Shield Android TV could really become not only the center of your entertainment setup but also your smart home.
Now available
For those who don't yet have an Android TV box and are considering the new Shield Android TV, you don't have to wait — the new box is already on sale at Amazon for $199.
Get the Android Central Newsletter
Instant access to breaking news, the hottest reviews, great deals and helpful tips.
Andrew was an Executive Editor, U.S. at Android Central between 2012 and 2020.