This is the safe Galaxy Note 7's new green battery icon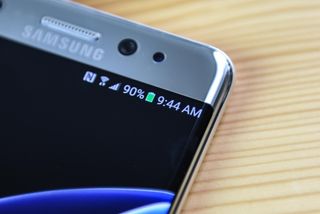 Here it is, folks. As promised, after receiving a new Galaxy Note 7 yesterday — with a battery from a different supplier — Samsung is rolling out an update to all Note 7s, pre- and post-recall, separating the haves from the have-nots.
Specifically, my Note 7, the one with the new, safer battery, has a green battery indicator in place of the traditional white, which Google has forced on all manufacturers since Android 4.4 KitKat. Ironically, before then, all Samsung phones shipped with green battery icons.
Samsung received special dispensation for the change from Google itself due to extraordinary circumstances.
Not only is the battery indicator now green, but the Note 7 has a handy green battery gauge in the Restart menu, which is accessed by holding down the power button at any time. This is another, more explicit way of Samsung notifying its users, and the public, that this new batch of Note 7s is different from the recalled one, with a battery certified from a different supplier.
If you are running any Note 7, new or old, your phone should be getting the update starting today in both the U.S. and Canada (we verified this on Verizon and Rogers units). The update blurb succinctly sums things up for us:
The update is about 50MB, and shouldn't take too long to install. It doesn't affect the security patch level, nor does it add anything else to the operating system; this is strictly to make recalled phones less operable, and new phones more apparent.
More: Everything you need to know about the Galaxy Note 7 recall
When compared to the Galaxy S7 edge, you can see the difference in the battery icon is very subtle, though purists accustomed to the uniform aesthetic of all Android notification shades will balk at the change.
And while it's unlikely future Galaxy devices will have a green battery icon, it may be a good idea to keep the larger gauge in the Restart menu, since it's a pretty useful addition on its own.
So what happens if you are holding on to a recalled Note 7 and receive this forced upgrade? You'll be warned whenever you start up or power down the device to turn it off, put it in a box, and bring it in for exchange.
There is no reason, especially now that there is ample stock of replacement Note 7s in the U.S. and Canada, to hold onto that device.
Daniel Bader was a former Android Central Editor-in-Chief and Executive Editor for iMore and Windows Central.
Another step forward. Well done Sammy. NOW just get some units to Best Buy so I can buy the damn thing for the first time. Would definitely spruce up my weekend.

Stop it! Go be "people" for a change! Lol, j/k

I exchanged mine at Best Buy. Not sure if they have one for sale. I am pretty sure you can buy them at a Verizon store.

I'm on AT&T but here is a question for you. If you buy a phone at Best Buy for one of the carriers is it still full of carrier bloat? The big question: Can you buy an unlocked phone and still take advantage of the installment plans? Oh and can you also get a unicorn ride while you are at it? :)

all carrier branded phones will be bloated. Even if you have paid it off in full. You'll only get the unlock code but the bloat will remain. Unless you purchase an official unlocked version from Samsung. But no word on unlocked models availability yet, that I am aware of. As for the unicorn ride, it's possible but not in 49 states.

I can confirm that buying a carrier phone at Best Buy still leaves you with the carrier bloatware. Can also confirm that it you buy unlocked, you are not eligible for the installment plan from a carrier. Don't know about the unicorn, but let me know when you find out.

Thanks for the info. Bummer about the unicorns.

Well I bought at BB but the 4 stores in my area none of them had N7 for VZ they only seem to have ATT and TMO.
I went in to BB to turn in my device and they could not give me a day as to when they expect VZ N7, so I asked for a refund and 4hrs later!!! Went to a VZ store....

Some stores are selling you just have to call around and see

What? And be disappointed before I even leave the house? :P I'll just walk into Best Buy on Saturday and hope for the best. If they don't have them, I'll just buy a TV instead. Kidding. Your avatar needs to be larger :)

I thought they weren't going to be for sale for first time buyers until late October.

Well done Sammie? They released an exploding phone, they should be ashamed of themselves.

Well done on how they have handled it. Yes, because no company in the history of companies has ever done something similar to this. Takata ringing any bells? How about the Toyota acceleration issue that KILLED people. Tesla and autopilot? Modern world, modern risks. It sucks that this happened with Samsung on many levels but the company is making good on its mistake. A company should not be measured by its mistakes but how it handles those mistakes. "Your holding it wrong" is something to be ashamed of, not all the things Samsung is doing to make this right. I stand by my well done. And for the record I am a steadfast LG phone user. The only Samsung products I own are two very old TVs.

This is good. I was wondering how they were going to differentiate between the old and the new. I feel sorry for S7 Edge users that get confronted by un-educated staff who don't know the difference between the Note and the Edge, and only look for the green icon.

Unnecessary but whatever. I guess if it makes people feel better.

Trust me it'll make people feel much better . Us phone geeks know better but the casual buying public will want this . Hey I kinda like the green icon looks cool.

It will also appease security checkpoints who are banning the unsafe phones. Battery is green? Welcome aboard your flight! Not green? Problem...

Exactly, hmmmm didn't think this one thru

I am flying with my replaced Note 7. Hope they let me use it in flight.

Not really unnecessary at all, for example, the FAA ban will probably not last forever and this will be an easy and quick way for non-tech people to tell if the phone is one of the new units or an older, unsafe unit. Think less a few months from now and more a year from now, this is a good thing.

And how will they know which phones are Note 7's or are they now going to look for a green icon on any "Galaxy" phone? They will have to go into a menu to see what the actual phone model is if they really do that thorough of a check and they are never going to do that. The airline doesn't care what color your battery icon is and would not use something like that to determine whether you can bring your phone onto a plane.

"And how will they know which phones are Note 7's" Hmmm, looks at the back of my phone... yup, says Note 7. They make you take things out of your bags, why do you think they won't ask you to remove a case?

OMG! So hilarious, I love your reply....Some people shouldn't be on tech forums....lol
Just saying....*continues sipping green tea*

Hell. Made ME feel better after all this. Kinda disconcerting when you get a letter and text from the manufacturer telling you to power down your phone and take it in for a loaner. Up till then I had planned to keep it for until the replacements ran out, but ended up with an S7e for a bit....the green icon is my small reassurance that this is over when I got it back and I booted it to a white battery icon the first thing I asked was how sure was it that this was one of the new replacements...

How does the battery icon look with the colored status bar?
http://arstechnica.com/gadgets/2016/09/samsungs-latest-note-7-battery-fi...

There is a white outline, so it doesn't fit super well but I get the impression you can still see the icon.

http://i.imgur.com/wgiNb6U.jpg

Good from Samsung again. They handled it very well so far.

My guess is Samsung went the extra mile with the update to lock the Note 7 down. Part of the plan to ID good devices is the green gauge. Samsung will not want any ability to change it with root.

In truth I think that the new update should lock any device prior to the replacement so that they can't use it at all and have to trade it in. When they take it in there's a security code that only the stores have so that they can access the phone to make sure that not only you are safe but everyone else as well.

That would cause a lawsuit left and right. These cellphones are most people's only way of communication. In an emergency you find out that your phone has been locked wouldn't be good for any party. In My line of work, the only way of communication is through our cellphones. Samsung cut battery capacity to 60% battery. Fully charged it still shows 100% but runs down much faster. Every time you charge it, it gives you a warning to power down the device and replace. IMO they did a great job approaching and executing this safely. I dont think any other manufacturers would have done this good of a job.

Can you show a screen grab of the green battery when the Play Store is open and the status bar is also green? Inquiring minds want to know...

Here you go.. https://plus.google.com/u/0/photos/photo/103081791944902624217/633317444...

Thx, but you have to scroll down the page for the status bar to turn green. Unless Samsung overrode the status bar color change somehow!

That looks so much better than I thought it would. Thanks for posting it!

Your mind needs to have more faith in the color green

Here http://i.imgur.com/wgiNb6U.jpg

A neat touch :
if you long press the bottom right of the lock screen for 5 seconds while displaying the green icon to someone (airport security for example).... simulated smoke will emanate from the now white icon and the entire screen will suddenly go
B O O M
in red font, with suitable max audio accompaniment. You can explain this to Homeland, or the judge next day. -------
(injuries from the N7 were small so far)

I feel nostalgic about this

Yep reminds me of the gs3 hah haha like it

Reminds me of Gingerbread and Samsung's refusal to aesthetically let It go for so long, probably never would have if not for Google force changing the design. They were stuck in their green little world and ugly icons.

Yeah, I'm sure that this will clearly scream WON'T EXPLODE to people. Just like people keep seeming to think that my LG URBANE 2 is a Gear (WTF?), people will still be wary of exploding Note 7s until the Note 8 comes out.

Can someone with a green battery Note 7 please Samsung's Good Lock UI either from the Galaxy appstore or if it's not their from an apk online and post a screenshot showing the status bar? I would really like to know if the green battery icon gets overriden since Good Lock normally replaces the status bar with stock Android icons. Even if its still green I'm curious it looks like, thanks!

https://www.reddit.com/r/GalaxyNote7/comments/53rv5z/green_battery_icon_... Looks like v24.0.12 will change it to white, but the newest version, v24.0.13 will keep it green.

*please install Samsung's Good Lock, sorry edit button on mobile wasn't working

"especially now that there is ample stock of replacement Note 7s in the U.S. and Canada" - Not for Sprint in Tulsa Ok. Every store says they have none in stock (one said they "SOLD" all of theirs). A call to Sprint resulted in being told to either go to a store (which don't have any) or they could order one and it would take 3 weeks to arrive. One Sprint rep even told me to swap my Note 7 for an iPhone! I'm a 15 year Sprint customer and a 12 year Samsung customer, but this is really making me rethink my loyalty!

Your main issue is sprint not samsung . All my friends on att have had no issues getting our replacement might be a good time to change carriers . For some reason sprint seems say out of sink . With the 0ther big three. I've been in there store just to look around and they seem so uninformed . My att and plenty of replacements

AT&T has horrible service near my home. Family members on AT&T have little to no service when they visit. Not bashing AT&T, just saying that their service is sub-par for my personal needs.

I hope you're safe in Tulsa from the riots. Does not look good for the officer.

There was not an ample supply. 500,000 units were delivered for 1 million replacements.

So much for living in the Sooner State.

I feel you johall15. I'm in the same boat. 12+ year Sprint customer & I cannot get a replacement. I am calling the store every day (as Sprint is making you return it to the store you received it from) and to date that store has received 5 Note 7s. They have exchanged or SOLD them before my call. Very frustrated with how Sprint handled this and I am almost ready to jump ship.

I know I've commented elsewhere but I HATE the look of this next to all the other white icons. I wish Samsung would have gone a different direction to differentiate safe Note7s from exploding ones.

In a week your won't even notice it.

I personally hardly ever even see it since I use Nova Launcher and I hide that whole bar. I do see it when I'm in other apps that show it but I don't even really notice it. Posted from my unlocked S7 Active/ stealth black Note 7/ peerless Note 4/ or iPad Pro 12.9

Hates a strong word fyi, especially pertaining to something so trivial such as this.
Imo

me too! im a huge stickler for design/consistency and i know it's stupid but it might be the final straw for why I might return my Note 7 on top of the few other annoyances I have had with the phone even though to date it's my favorite phone ever. at its pricepoint however, i shouldn't have to make compromises and I know having the green icon will ALWAYS bug me. try using Samsung's Good Lock version 24.0.12 which overrides the status bar with stock android icons (24.0.13 has been updated to keep green icon)

Now they need to send out an update to the bad phones so that icon is flame colored

There's a warning sent out every hour to the holdouts replacement are ready. Buuut you know how folks move on that kind of stuff. You can lead a horse to the water but you can't make him drink

Sprint is making me replace mine at the store I bought it from. They don't have any yet. This horse is at the watering hole where the ef is my water!!

I like it. Didn't this used to be the standard icon back in the day

Yes it did back with the old gs3

Gtfoh! U da man! I strive to be half the man u are

Who cares about this note nonsense!!!!......I wanna soda!!!

Signed up for an exchange through Samsung Canada a few weeks ago. My response email was that a new unit would be shipped to me as early as Sept 15th. Unfortunately I have no clue as to when an actual replacement will be sent to me. I'm seeing all the news regarding US and the UK but no actual time lines for Canada. Personally, I wasn't interested in taking a Sony loaner from Rogers for 4-6 weeks while I waited for a replacement.

Patients my friends samsung is working there ass off to get you your new replacement this whole thing isnt and wasn't going to be easy were talking a lot of phones here 1 million

Too small to be visible in a group situation.
Optional large side bars when asleep, on the lock screen and home screen would be better for those who want to display them.

50 MB for a Samsung update, that's the smallest I've ever seen. I didn't know it was possible to go under 200MB for them. /S Wouldn't it suck if these new batteries ended up having a problem too?