Note 10+ 5G teardown confirms it's a tricky phone to repair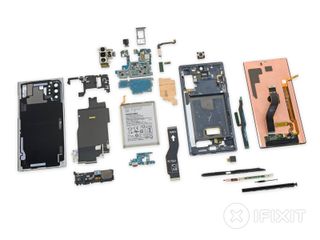 What you need to know
The Note 10+ 5G has a repairability score of 3 out of 10.
There are three 5G mmWave antennas.
Long ribbon cables and glue make battery replacement difficult.
Display replacement runs a high risk of damaging the rest of the phone.
The team over at iFixit has gotten its hands, and tools, onto the new Note 10+ 5G. The thorough teardown has revealed some intriguing finds into the inner-workings of Samsung's latest flagship.
The Note 10+ 5G is an impressive phone, but you'll want to be very careful with it as it was handed a 3 out of 10 repairability score. This score is attributed to a few things, one of which is that the device has an all-glass front and back, tightly glued to the metal frame. There is an added level of difficulty where the back glass contours around the Bixby button.
A first for Samsung is a motherboard fully positioned towards the top of the phone. This feat was accomplished by layering the motherboard in two pieces on top of itself, which was done to accompany a larger 4,300 mAh battery. A downside to this, however, is the daughterboard housing the USB-C port is connected with long ribbon cables crossing over the heavily-glued battery. This arrangement makes it extra tricky when attempting a battery replacement.
One of the most exciting finds was that of the 5G mmWave antennas. There are three total, one forward-facing on the main motherboard and the other two on each side along the frame of the phone. Hopefully, with the arrangement of these antennas, they will give the Note 10+ 5G a better chance to grab ahold and keep those signals.
Another discovery is that the earpiece speaker actually fires into a metal channel directing the sound towards the itty-bitty grille at the top of the phone. Samsung has brought shape to the interior of their phone by way of a redesigned vibration motor taking the form of a squircle. As for the S Pen, it was found to enclose a Bluetooth 5 module, a 6-axis sensor, as well as a 2.4v SLB lithium-ion battery.
Take Note
Samsung Note 10+ 5G
Anything and everything.
The Note 10+ 5G is a powerful phone that packs in nearly every spec imaginable. Pairing that with a gorgeous display and the S Pen makes it a formidable contender to any task. Add in 5G, where you can find it, and you'll blaze through your checklist in no time.
Chris Wedel is a fan of all things tech and gadgets. Living in rural Kansas with his wife and two young boys makes finding ways to get and stay online tricky. By utilizing his years of experience with the tech and mobile communications industries — success is assured. When not conquering connectivity challenges and testing new gadgets, he enjoys cruising a gravel road in his UTV with some good tunes.
Sooo where exactly is the Bixby button?

The Bixby Button and the Power Button have been combine into one "side key." A short press - lock/wake the screen. A long press - activate Bixby. Long press Volume Down and Side Key - Power Menu Or do like me and disable Bixby and the Side Key is just a Power Button.

So basically non repairable.

The haptic motor seems a bit small for a phone of this size. Anyone tried it out?

I've had no issues with haptics or vibration. No different Nathan any other phone I've had.

Is anyone surprised that a flagship phone with high IP rating isn't easy to repair? Let's stop pretending like replacing the battery is something people are going to do.

Obviously they're not going to if it's basically impossible. Can we stop pretending an IP rating is something that actually matters, too?

Hmmm... They DO matter though.

Really? How so? Besides marketing, I mean.
Android Central Newsletter
Get the best of Android Central in in your inbox, every day!
Thank you for signing up to Android Central. You will receive a verification email shortly.
There was a problem. Please refresh the page and try again.