Battery packs don't get much better than Nomad's Powerpack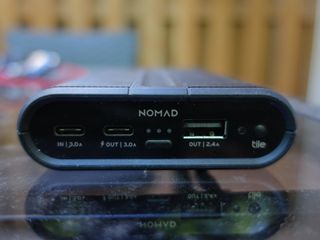 I'm not one to spend a lot of time thinking about a battery pack, especially one that costs $100. But Nomad's well-designed, beautifully-made, rugged Powerpack may just be worth spending that extra cash on. Here's why.
The basics
The Powerpack comes in one flavor, a 9000mAh rounded rectangle brick covered in a thick polycarbonate housing and, along the edges, a TPU rubber casing. It's basically the same material you'd find on an Otterbox Defender case, but protecting a battery instead of, well, a more expensive battery.
It's a chunky thing, but portable, with a solidity that I find eludes all but the most expensive power banks from companies like Anker and Zagg. On one side of the unit is a series of buttons, ports and LED indicators, and that's where the fun begins. This is not some legacy battery pack that trickle-charges using Micro-USB. No, this is USB-C, and the future is awesome.
Specifically, there are three ports:
USB-C "In" at 3.0A
USB-C "Out" at 3.0A
USB-A "Out" at 2.4A
Why have two separate USB-C ports for input and output? Because Nomad believes that you may want to do so-called passthrough charging overnight — recharging the Powerpack itself from a wall adapter while charging your phone with the battery. It's all very useful in theory, but the real benefit here comes from having two high-ampere ports in both modern varieties of charger — USB-C and USB-A.
The former supports Adaptive Fast Charging, a Qualcomm technology offered by most smartphones today. When topping up using a USB-C to USB-C cable, the brick will vary between 5V / 3A, 9V / 2A, and 12V / 2A depending on the level of the phone's battery. The USB-A port doesn't offer fast charge, but can be used simultaneously if you have a second phone, tablet, or even a Chromebook.
At 9000mAh, the battery should be enough to get you through multiple full phone charges, or a combination of phone and tablet. Nomad claims that it uses high-quality Panasonic batteries, and while I didn't manage to measure the exact capacity of the cell, I was able to get roughly two and a half full charges of my 3000mAh Galaxy S8 before the battery died, so the number appears to be within the specified range, taking overhead and heat loss into account.
What to look for when buying USB-C chargers and cables
As a compact charger, I really couldn't ask for too much more. I am so happy I can finally leave my Micro-USB cables behind when traveling with a battery pack, and I feel confident knowing that, if dropped, the unit's rugged exterior will not damage the components within.
A Tile upon your houses
One of the more interesting inclusions in Nomad's Powerpack, and one that goes along with the company's shrewd history of partnerships (it exclusively uses Chicago's Horween leather tannery for its wallets and phone cases), is support for Tile.
A few years ago, Tile raised $2.6 million on Selfstarter to fund what was then a novel concept: a small, passive, Bluetooth-powered tracker that, when in range of a connected phone, would play a tune to help locate whatever its keyring hole was attached to. I backed a set of four Tiles and put them in everything from wallets to bags to overseas luggage, and while I truly enjoyed using them, when they ran out of juice a year later I decided not to spend the $40 or so to replace them.
Nomad's Powerpack is the first third-party accessory with Tile support, and in rekindling my love for the brand and the idea, I discovered that the company's incredibly ambitious plan of creating a network of Bluetooth trackers that, should a product be lost or stolen, talk to phones in the area to help locate them, is actually working.
See, Tile uses the increasingly common Bluetooth LE standard to constantly send out a low-level "ping" while the battery is intact. The idea of creating this network is to create a network of Tile users that, in theory, inform the original owner of the location of something that is out of Bluetooth range. Say my bike gets stolen with a Tile attached to its chassis. Another Tile owner walks by the warehouse in which it's being stored and, thanks to the 40-foot range of Bluetooth LE, informs the person of its new location.
When I added the Powerbank to my existing Tile account, it told me that nearly 5,000 other Tile owners are "nearby," though it's unclear how the app determines proximity. Either way, it's encouraging to know that there's a chance, however small, that I could recover something lost because of this growing network.
Back to this device, Tile support on a large battery pack may not seem inherently intuitive, but there's method to this madness. When traveling with the Powerpack, it's often with very important and expensive tech, including my laptop, phone(s), headphones, camera equipment and more. If the presence of the Powerpack inside the bag makes it even remotely easier to find should it get stolen or go missing, the inclusion is worth it.
The Tile app for Android is simple to a fault. After setting up an account, you use the Tile button on the Powerpack to initiate pairing and, once complete, the app is able to locate the battery and usher in a little tune to increase the odds.
The benefit to Tile living inside something like the Powerpack is that in trading size for convenience, you end up with a tracker that will likely never run out of batteries (since the damn thing is a battery). I may not use it all that often, but I am comforted by its presence, and impressed with its reliability.
Should you buy it?
At $99.95, the Powerpack is double the price of most 9000mAh battery packs, and I can't say for certain whether those contain cells of any lower quality. But I continue to be thoroughly impressed by Nomad's attention to detail, and the quality of its products. I love the size, heft and overall design of the Powerpack, and appreciate the little things, like the ambient light-sensing charging LEDs that lower in brightness with the dimness of the environment.
I like that I can stick the thing in a bag with a single USB-C to USB-C cable and feel reassured about being able to use my phone for a few days at a time. And I enjoy that every time I've needed to contact Nomad about a replacement product in the past I've received a response, and a brand new unit, within a few days.
Sometimes you end up paying not just for the product but the accompanying brand, and the promise of that brand, and the "Nomad tax" is a premium I'm happy to continue paying for.
Get the Android Central Newsletter
Instant access to breaking news, the hottest reviews, great deals and helpful tips.
Daniel Bader was a former Android Central Editor-in-Chief and Executive Editor for iMore and Windows Central.