The Nokia 9.2 might be the affordable Android One flagship we've been waiting for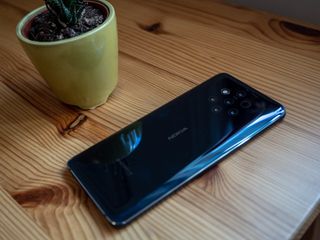 (Image credit: Android Central)
What you need to know
The next Nokia flagship is reportedly the Nokia 9.2 Pureview.
It will launch after June 2020.
The smartphone will ditch the Nokia 9 PureView's approach, and position itself as a Nokia 8-esque affordable flagship.
HMD Global's adoption of the Nokia brand started off great with the Nokia 8, 8 Sirocco, and then the 7 Plus. Since then, the firm has been treading water, putting out phones that have been pretty good on paper, but not all that great or competitive in real life. The firm reportedly deferred from launching its next flagship and pushed it later down the line to avoid repeating those mistakes.
As per NokiaMob, HMD Global is making a few changes. First, the headphone jack isn't coming along with Nokia's next phone - not shocking considering the Nokia 8 Sirocco dropped it. The firm will be adding a Snapdragon 865, a potentially bezel-less display like its newer mid-range phones, and a 32/48 MP front-facing camera. To flesh this report out, NokiaPowerUser says that HMD Global is considering pricing this in line with the Nokia 8, a phone which was cheap for what it offered.
Finally, it'll be dropping the fancy camera sensors from the Nokia 9 Pureview for a more conventional Toshiba lens. It'll still be a camera focused phone like most Nokia flagships, it'll just be taking a different approach than the previous one.
As these are rumors, it's important to take them with a grain or two of salt. A flagship phone by HMD Global that plays to its strengths would be fantastic. The firm has had all the right ingredients to make a good stock Android phone that could trade blows with Google's Pixel line. It's only due to the firm's habitual snatching defeat from the jaws of victory that it seems too good to be true.
HMD Global hasn't made a good phone in 2019. That doesn't bode well for the Nokia brand
Android Central Newsletter
Get instant access to breaking news, the hottest reviews, great deals and helpful tips
It'd be nice to see it at carrier locations, but I'm not holding my breath.

Have had nothing but good experiences with the Nokia 6.1, 7.1 and now 7.2. Looking forward to this one.

Make it compatible with Verizon in the US then I'd be sure to consider it. Until then I can't even look in the way of Nokia.

As long as HMD insists on using Android One, the phones will continue to be a flop.
Consumers don't like stock Android (much to the dismay of a bunch of tech nerds) and Nokia fans even less since stock Android is barebones, lacks innovation and is around 3 years behind every single OEM ROM out there. Competing with the iPixel isn't hard. A flop competing with another flop in a championship of mediocrity is easy to achieve. Much harder is for HMD to compete with Samsung and Huawei. And using and abusing the Nokia brand no longer works. Nokia fans already caught up on their farse and no longer see HMD phones as real Nokia phones and the average consumer has been pulling away from Nokia branded devices with each flop HMD releases.

What on earth are you smoking?

I like my Android clean, you don't speak for some of us. Thank you very much.

Every version of Android is a skin. Google bought Android, it didn't invent it. That said "clean" is such a misnomer from the sliver of consumers who think whatever Google does is best for Android. It's just not. It's an open source canvas for any OEM to make the OS interesting and useful. Being bare bones or "clean" is the antithesis of the possibilities of what Android can be.

I don't need to. The numbers do.
ALL stock Android phones ever released were a flop.
You might like your Android featureless. You're in a minority.

No ads displaying on my screen

Tell us what you really think ! I for one like the android one program . If you want to customize. You are free to do so. But there's a clean fluid experience with timely updates. What more do you want? The days of bloatware to return?

You seem to think that custom Android skins and bloatware are the same thing. You're absolutely wrong.
Bloatware is any pre-installed app that you don't want. That's OEM apps AND Google apps. THAT is bloatware. To me pre-installed Google apps are bloatware. To you, OEM apps might be bloatware. A custom OEM ROM is what gave users of Samsung phones over 3 years ago, for example, features that stock Android STILL doesn't have (like a one handed mode).
It's also absolutely false you can customise stock Android. You can't. It doesn't even have a simple theme engine available, something all major OEMs (and even smaller ones) offer.

I'm with ya, DJCBS. The thing about stock Android diehards is this: it's really about a love for Google, not stock Android, and they don't see it. Here's why: because iOS and iPhone are both from Apple, their logic goes like this -- "Android is best when the software and hardware are both from Google, too." But Android isn't iOS AT ALL. It's a different paradigm where being at parity with Apple just doesn't matter because any OEM can be the innovator (in fact, in most cases, they ARE better innovators than Google). I'm willing to bet money that in ANOTHER TIMELINE where Google's "stock Android" is what we know One UI as, and the stock Android we know is actually Samsung's, the diehards NO DOUBT would be like, "Samsung? Their Android skin is basic! Lack of features! No imagination!" The "lighter" and "cleaner" superlatives for Google's version of Android don't hold water, especially when Pixel hardware isn't leading class, nor the battery life.

Give me vanilla Android any day over a skinned version.

HMD remind me of Icarus .

Using the Nokia 7 plus and experiencing the Android 10 is the best thing I can even think of putting my money on again,Nokia ride or die 4life

I have been looking for a new Nokia to replace my 7 plus last year's phones just didn't do it for me . To dj be don't think you speak for all Android one users you don't . Take your Samsung UI loving ass and go sit in the corner and be quiet . don't forget your charger. I love Android one my phone has updated twice to a new Android currently running 10 and still I have a 2day battery life
Android Central Newsletter
Get instant access to breaking news, the hottest reviews, great deals and helpful tips
Thank you for signing up to Android Central. You will receive a verification email shortly.
There was a problem. Please refresh the page and try again.