The Nokia 8 is now official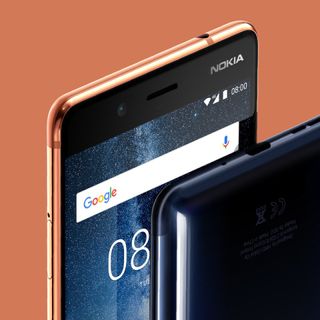 This year seems to be going well for HMD Global. The company has licensed the Nokia name to begin selling Android phones with a familiar label, and it's managed to keep its update promises to users. After sending out press invitations last month, the company has announced the long-anticipated Nokia 8 flagship.
The Nokia 8 features a 5.3-inch QHD IPS display covered in 2.5D Gorilla Glass 5, a Qualcomm Snapdragon 835 processor paired with 4GB of RAM, 128GB (Gloss Blue only) or 64GB (all other colors) of UFS 2.1 internal storage, plus a microSD slot for expansion, USB 3.1 Type-C for charging and data transfer, a 3090mAh battery, and a dual Nano-SIM slot - the second SIM slot doubles as the microSD slot. The phone has three 13-megapixel cameras, with the rear unit combining a full-color sensor with a monochromatic sensor, featuring a f/2.0 aperture, 76.9-degree field of view, optical image stabilization in the primary lens, 4K recording and a dual-tone flash. The front-facing camera is another 13MP, f/2.0 lens with a 78.4-degree field of view. Like Nokia's older Windows Phones, the new device uses Carl Zeiss optics. The phone is rated at IP54, and advertised as "Splashproof."
One interesting feature is the "Bothie" mode: the ability to record or take photos with both the front and rear cameras at the same time. Samsung and LG have done this as well, but Nokia stands out by allowing users to do this while live streaming to platforms such as Facebook Live and YouTube Live. To enhance the recording experience, the phone includes Nokia's OZO Audio, which promises immersive, 360-degree surround recording.
The device will ship with Android 7.1.1 Nougat with minimal customizations, just like other Nokia devices. We have not heard of a timetable on when to expect Android 8.0, but based on Nokia keeping up with security updates each month, there should be a quick turnaround. The phone will be available in Gloss Blue, Tempered Blue, Steel, and Polished Copper for €599. There has not been any word on U.S. availability at this time.
Are you looking forward to the Nokia 8? Let us know down below!
Android Central Newsletter
Get instant access to breaking news, the hottest reviews, great deals and helpful tips
For the price, I don't know how well it will do. The Bothie mode and the sound thing is cool though.

How will it do? Well I'll tell you: for 600€ I can buy an S8, for 450€ an S7 and for 430€ an LG G6. All three better phones.

The G6 and S7 are not better phones. The S8 though at that price is a no-brainer.

Sorry? The S7 beats the sh*t out of this even with an older processor. And the G6 has a better camera, better design (and in the US, wireless charging). Try again.

Condescending af tone aside, I will. I care about the processor, not necessarily because of the power, but because of software updates - companies like OnePlus, which used the older 801 processor in a newer phone stranded users on Marshmallow because Qualcomm didn't release the drivers for Nougat for the 801/800 processors, which already counts the G6 out imho. Add to the mix the audio experience on the 8 (the G6 in the UK doesn't have DAC), the extra RAM for future proofing & the vastly superior skin of Android and the Nokia blows the G6 out of the water - I'm more than willing to trade off the small bezels. I also think water resistance is over-hyped; I've never been in a situation where my 6P lacked it. And the Nokia 8 is still IP 54 rated. After the G4/V10 fiasco, there's no way I'm trusting LG in the next 5 years. The crappy customer service didn't help. Your objectification of the camera comparison is unfounded so far, but I admit the G6 has an amazing camera. The S7 has bigger bezels, crap audio, a last-gen processor (not future proofing), a marginally smaller battery, micro-usb, and I'd take the 8's stock-ish UI over Grace UX any day. But that's just my opinion. Try again.

"the extra RAM for future proofing"...this has 4GB. Exactly like the S7. The processors...well, the European Galaxies have Exynos, not Qualcomm. And Samsung and LG devices need software updates far less desperately than phones running stock Android (because they already have the things stock Android only adds later). "After the G4/V10 fiasco, there's no way I'm trusting LG in the next 5 years. The crappy customer service didn't help." Here I won't argue. I was also a victim of the G4. That said, the G6 costs 400€. 200€ less than this. I'd rather give LG a second chance. Oh and by the way...HMD's customer service? Non-existent. I had a problem with a Nokia 3 and the orders retailers have is to replace the entire phone immediately. Because there's no customer service in place. "Your objectification of the camera comparison is unfounded so far"
Then head over to Sarvikas twitter to check out photos taken with the Nokia 8 yourself ;)
(By the way...LG is licensing technology from Nokia Technologies...just as a curiosity) "The S7 has bigger bezels, crap audio, a last-gen processor (not future proofing), a marginally smaller battery, micro-usb, and I'd take the 8's stock-ish UI over Grace UX any day." Bigger bezels it has not, I can assure you of that.
Crap audio...maybe. I don't care enough for audio to have honestly tested it and I don't use my phone to record sound.
Last-gen processor yes (no future-proofing...you don't know. After the 801, I would sooner trust Samsung to support the Exynos longer than I'd trust Qualcomm to support a processor).
The battery is 90mAh smaller...but the S7 has an AMOLED display which consumes much less battery than a 2K IPS LCD display. So in the end, I'm pretty sure the battery life will be better on the S7.
MicroUSB...well...if I had it my way ALL phones would come with it. I have no use for USB-C and I don't plan in having any use for USB-C in the next 5 years...but this is just me. Stock UI versus TouchWiz...well that's really a matter of preference. I don't like TouchWiz but I would rather put up with it and get the theme engine unlocked (I use Nova anyway) than put up with stock Android and Google's vomit-inducing system UI colours and designs without being able to change them (unless of course I say "f*ck you" to the warranty and root the phone).

*Mic Drop* just turned into a *30 round Magazine Dump * bammm

Hold on, you loose warranty if you root your phone? Which phone/company. I'm using nexus 5x with Google fi and have it rooted, is my warranty gone?

Nexus phones won't have their warranty void if it is rooted with the bootloader unlocked AFAIK

Sounds like we've got bunch of unfounded charges and counter charges, losing arguments. I am a pure Android man, having had three Galaxies, NEXUS 5 and NEXUS 6P, all of which died untimely after 13-15 months of moderate use. All were kept in a solid case with screen protectors. Yes, all are in the garbage but the NEXUS 5, the good and tried friend, though getting old. So, I got tired of wasting money and after a heavy thinking, I mustered my courage, drove to the Apple store and bought a brand new iPhone SE, a classic. Quality and excellent service. The highly competent boys and girls at the Apple treated me like a family. Every one I know had their Apples for two up to five years. My only problem with the new iPhone was that I did not know how to work it. ( Sent from my NEXUS 5).

Wow! What do you do to your phones? I have many phones but one of my favorites is still the Note 4 I got on release day and the Note Edge (original one sided edge) that I passed on to my daughter (both are still working well but may relegate them to dash camera use soon). My cousin just upgraded to an S8 from his, get this, S3! He loved it and didn't want to part with it. My father in law has a no name budget Galaxy he's had for a couple of years too. Yup, my iPhones are great too but seeing all your misfortune makes me wonder why?

I'm hesitant to take your comment at face value. Under good care and moderate use, the majority of phones will suffer battery failure, long before death. The only phone to ever die on me was the original Motorola Droid- after drunk texting ithe into a bar toilet. As to the 2-to-5-year iPhone ownership cycle, it doesn't exist. With the decline of the 24mo contract/upgrade model, a 2yr+ old iPhone is an increasingly rare sighting (and probably a dress code violation for Apple Store employees).

Wow. I'm kinda in lust with this. Waiting to see the new Pixels, but now also interested to see if this becomes available in the US. I love having choices. ETA and this has a headphone jack, which does matter to me up to a point.

I know what you mean. I moved from wp to android last year and got the g5 as at the time it was the best phone I could get for the price I wanted to pay. My contract was up last month and I've spent the last few months looking at what everyone has to offer looked at the g8 LG g6 HTC u11 and the xperia xz premium and went for the Sony as for me I wanted a camera button as missed that on the LG. Love the Sony design to reminds me of the lumias it's also got a headphone jack fits my big hands nice and 64gb storage. I think this year there is no stand out phone they all have big + and - points and for me the Sony had more +s than the others and so far I'm loving the phone

The Nokia website says the Gloss Blue version of the Nokia 8 has 128 GB of memory and 6 GB of ram, but no media sites seem to be reporting this fact just yet?

Hmm, I didn't notice the RAM thing. I did notice the GB though. "a Qualcomm Snapdragon 835 processor paired with 4GB of RAM, 128GB (Gloss Blue only) " Looking on the Nokia site, 6GB of ram is nowhere to be found.

They've edited. I definitely read on the Nokia website that the Gloss Blue version would have the higher storage capacity and 6gb ram only a few hours ago

Phonearena.com is reporting the 6GB of RAM still, so who knows.

Only one varient will offer 6gb of ram in one color, and 6gb vs 4gb, in Android world with poor ram management which I expect means jack, prepare to pay over 150 us dollars for that extra ram and internal storage, at least the note can justify the extra ram due to its S pen functionality and ui, and I hate notes. Personally I don't care let Europe have its crap ship.

I like the look but would prefer a rear fps and soft keys

Whats not to like, looks sweet

Based on Nokia's previous flagships:
- No Qi charging
- No AMOLED
- No camera button
- Mediocre camera (no real manual settings, camera2api locked, terrible stock camera app, "meh" results) Based on 2017 flagship standards:
- No REAL IP rating (being splash resistant isn't new. Most phones have been for years).
- Huge bezels (It doesn't matter if you're ok with bezels. In 2017 all main flagships did away with them and this will be trying to - in vain - compete with them). Other things not to like:
- The buttons are still way too high on the frame (a problem that already exists on the Nokia 3, 5 and 6)
- The body of the phone is just the body of the cheap Nokia 5 reused.
- The ridiculous price.

Exactly. My Lumia 920 had more features than this. Bothie? No. Give me wireless charging and a camera button. And a removable battery while you're at it

Thanks. Goes to show how little separation there is from high level flagship phones to competitors who may not reach that highest level. Based on your list I'd say a mid-range phone is the way to go then since the items listed are not groundbreaking or must-haves. The great smartphone plateau has likely arrived.

I like it. Brace yourselves for the "bezel whiners" though.. Smh.

Personally I want a bezel, I need to be able to hold my phone without grabbing the screen.

I don't mind the bezels at all! I actually like them. I have the Sony Xperia Xzs and my thumbs go right where they need to. They actually don't go to the very bottom of the phone when holding it comfortably. I also feel it has better protection! But it's all personal preference. To each their own!

I agree. Had Samsung released an upgraded S7 this year, nobody would be talking about bezels. Just like nobody will blame them if they add bezels back next year. Samsung can do no wrong apparently

Love to see this Google Fi certified, great competition for Motorola and the Pixels, let us AOSP fans have some phones too.

Headphone jack at the top? No! Then again I'd probably just pair up some Apple Airpods.

You mean Apple's ear tampons? Dumbest looking things on the market, IMO. And why do you think having a headphone jack at the top is a bad thing?

I like it, too bad about no US availability, at least for now. Oh well, why am I not shocked? I think that this is a side effect of the Apple/Samsung duopoly in the US.

Finally!!! a QHD display phone under 5.5" but too bad the f2.0 and 1.12um on the camera is not the greatest. Hopefully OIS makes up for that. Otherwise looks really good of the display has pretty good colors.

The 2nd monochrome sensor should make up for it.

I can only sum this up like this. It's alright, I guess. It's not BAD. I'm pretty sure this will be a good phone. But aside from the brand name and fast updates, what's special? Like others have pointed out, previous Nokia flagships were known for packing everything but the kitchen sink. Qi wireless charging, AMOLED displays (even packing an ambient display tech, of which they were the first to do so on a phone), a dedicated camera button and more. It's early days still and it could surprise us in a way, but I was never hyped for this phone for a reason. That said, I really hope HMD gets whatever feedback they have and make future phones much better. (Yes, I know they can't put Qi charging on a metal chassis. Why is there no super-premium polycarbonate material for that?)

I like the fact that this phone has unlimited photo storage as the Pixel does, headphone jack, removable card, and I am sure although it is not going to be the flagship many were or are hoping for, it will still be a good phone. Personally I am going to wait for the Nokia 9 which will be the true flagship. If it comes out at or around the same time Pixel 2 is released I will take a look at it for sure. Really don't want another pixel having had so many issues with mine 4 phones later

I know it's "just" another Android phone but there's something about having a Nokia again that I find endearing!

Any slow motion recording? The 960fps on the Sony is fun to play with!!

Still using my Note 2 but guess it is time to change, I don't want the huge screens that most phones seem to have these days and the 5.3 screen on the Nokia is very similar to my note 2 so think I may give it a try. Other choice is to change to i-phone which is the most attractive option at the moment.

Does it have NFC?
The ability to use Android Pay?

I have made a list of the features that are there on the Nokia 8, but the iPhone 7 or 7 Plus doesn't have them. Thought you would like it. http://techbeasts.com/6-things-that-the-nokia-8-can-do-but-iphone-cant/

I was about to buy the nokia 6, but the lack or 3g 4g and LTE frequency for USA AT&T service, i stop shopping. If the nokia 8 gets to bring new frequency, then i might get it...if not, i will get zenfone 3.
Android Central Newsletter
Get instant access to breaking news, the hottest reviews, great deals and helpful tips
Thank you for signing up to Android Central. You will receive a verification email shortly.
There was a problem. Please refresh the page and try again.