Nokia 7.1 Plus details leaked, includes Snapdragon 710 and dual cameras [Update]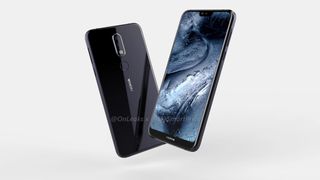 Although its phones may not be that well-known in the States, Nokia's been kicking out a heap of low-to-mid-range smartphones this year that have been absolutely killing it. Following up on devices such as the Nokia 6.1 and Nokia 6.1 Plus, we now have a lot of details regarding the company's next product — the Nokia 7.1 Plus.
The Nokia 7.1 Plus is expected to be the next most powerful handset for the above two phones, and in China, it'll be referred to as the Nokia X7. As you can see from the picture above, the phone has a notched display with a 19:9 aspect ratio and a resolution that'll likely come in at 1080 x 2280 Full HD+.
Glass and metal are the materials of choice for the Nokia 7.1 Plus's construction, and around back, you'll find a Zeiss-branded dual camera system and rear-mounted fingerprint sensor.
Qualcomm's Snapdragon 710 is expected to power the phone, there will be up to 6GB RAM, as much as 128GB of storage, and Android 9 Pie out of the box with Android One.
There's currently no word on when the Nokia 7.1 Plus will be released, but in regards to pricing, it should come in under Rs. 25,000 in India.
Nokia 6.1 2018 review: Delivering value in simplicity
Updated September 21, 2018: Added new renders of the Nokia 7.1 Plus from @OnLeaks.
Joe Maring was a Senior Editor for Android Central between 2017 and 2021. You can reach him on Twitter at @JoeMaring1.
Seriously, what's the point of having a notch when you have a chin? Come on Nokia, you don't have to follow trends just because. This is uglier that the PX3 camel toe notch.

Exactly! Well the Pixel 3 XL's notch is by far the ugliest notch design of them all! Most of these companies are just following the trend bec of other companies are doing it and or bec they think ppl want it.

If you make the notch disappear, the time, notifications and battery are all in the new top portion. Personally, I like the way that looks.

Keith, It does a pretty good job of hiding the notch, but the notifications go away when watching movies. The notch cannot go away.

More notch BS, no way. Good luck with that! This is not what consumer's want or need!

If it isn't what consumers want, why do consumers keep buying them?

Maybe because it is the only option outside of Samsung these days?

Not a lot of options in the US for those that don't was a bite out of their screen. There's the Huawei Mate 10 Pro, but that's from last year. There's the Xiaomi Mi Mix 2S, but that's not available in the US. There is the HTC U12 Plus, and it has a better camera, audio, and performance than the S9, but Android Central is anti-HTC, so it's a no go for most regulars here.

I agree. I don't want a notched phone.

I wish Nokia (and Xiaomi) would bring some of their great mid-range Android One phones to the States. Sure, we've got the 6.1, but the 7.1 and and 6.1 Plus are far superior and nowhere to be seen.

I was just thinking the same thing.

With the money & power of Apple & Samsung many good phone brands are limited to US releases. Money is power!

I already miss the 7 Plus' design. The notch doesn't really concern me but unless that glass back brings wireless charging it's not an improvement and that chin is silly with "Nokia" needlessly plastered on it.

Why do Android phones still have a chin? I mean, they're getting rid of the headphone jack to make room. I'd rather have no chin, and a small bezel with no notch at the top, compared to what there is now. That is, unless there are dual stereo speakers, which I'd rather have than all screen.

That's easy - price. getting rid of every single bezel, including the bottom bezel, adds a huge cost component. if you leave one bezel on the bottom, you can reduce costs dramatically and still brag about how much closer you were to the future than last generation. Whereas the notch actually doesn't increase manufacturing costs in a consumer-noticeable way.

For getting rid of the notch, you have to use an OLED display and fold it under so the connector is not at the bottom (Apple's method), or flip the screen so the connector is at the top. I don't mind moderate top and bottom bezels at all, and it actually makes for better gaming.

I thought NewNokia started off well but they seem to have lost their way somewhat with uninspiring designs and not a lot of bang for buck when it comes to hardware and the asking price.

Notch with a huge chin? The whole point of the notch is because of the front facing camera and wanting to be edge-less. Might as well do the opposite and have a bezel on top and no edge at the bottom.

It seems like 95% of the phones mentioned aren't available in the US. Not sure why I check in anymore.

The sad news is not everyone lives in the US. The good news is I don't live in the US.

A big chin and a unibrow 😬

Impressed. With 128gb onboard i won't have an issue with the hybrid dual SIM/card slot

TCL makes the Blackberry phones not HMD Global.

What do TCL have to do with a piece on the Nokia 7.1 Plus?
Android Central Newsletter
Get the best of Android Central in in your inbox, every day!
Thank you for signing up to Android Central. You will receive a verification email shortly.
There was a problem. Please refresh the page and try again.