Nokia 7 Plus hands-on: A Pixel 2 XL for the frugal set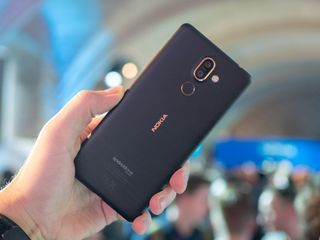 Nokia's new 8 Sirocco may be stealing the show, but it's the lineup of less expensive phones that will be selling in big numbers. Anchoring the core mid-range spot in its lineup is the new Nokia 7 Plus, a €399 phone that doesn't have the flair of higher-end phones but represents what Nokia is really good at right now.
And after spending some time with it here at MWC 2018, it really feels like it's aimed at being a Google Pixel 2 XL for the frugal among us.
Image 1 of 5
Image 2 of 5
Image 3 of 5
Image 4 of 5
Image 5 of 5
This is efficient, clean design with just a touch of style — Nokia, in a nutshell. The solid metal frame makes the phone sturdy, and the ceramic-like multi-coat paint job has just a subtle bit of texture to give you ample grip. Nokia says the thick paint let it have larger antennas because it could completely cover them with the textured finish in the end. The metal is polished up nicely with a great contrasting gold color, popping off of the white or black back.
The texture is not unlike the Pixel 2 XL's, and that's a good thing. Similarly, the Nokia 7 Plus isn't attempting to be super-thin or sleek, it's just realistically sized and designed. It has a 6-inch 18:9 display with nicely curved glass over top and rounded corners on the display panel. The overall dimensions and weight are nearly the same as the Pixel 2 XL. The rear fingerprint sensor is easy to reach, right below the dual camera setup — which I unfortunately didn't have enough time to test thoroughly, but you hope with a 12MP f/1.75 combo and Zeiss optics it'd at least hit the mark for the price point.
The phone looks great in both colors, though you'll need to have a bit of a sense of style to really acclimate to that shiny metal. But aside from that, it feels really good as well. Large, weighty, solid. Function over form in many places.
Image 1 of 5
Image 2 of 5
Image 3 of 5
Image 4 of 5
Image 5 of 5
The Nokia 7 Plus has a super-clean Android One take on Oreo, which should be plenty fast on this Snapdragon 660 processor and 4GB of RAM. The display is just 1080p as well, and with a big 3800mAh battery I wouldn't be surprised if the battery life was fantastic.
Looking at everything the Nokia 7 Plus offers, it all makes you wonder how much it really targeted the Pixel 2 XL's experience, if at all. Between the design similarities, overall shape and size, and software experience, this feels like a budget version of Google's flagship — and based on who I've seen get excited about Nokia's recent phones, that's a great strategy.
Andrew was an Executive Editor, U.S. at Android Central between 2012 and 2020.
Coming from a Nexus 6P (which battery is starting to get "old"), can I look at the N7+ to be somewhat similar (performances wise) as my current phone ?

any modern phone with sd 625 and up is fast enough. I don't game so can't tell if there's a difference in gaming though, but for the rest of the things you do on a phone you shouldn't notice a difference.

I agree. The 625 runs great in my Lenovo P2.

The 660 snapdragon should be reallly good, has a lot of features of the 820/821 for camera and data speeds, but you get the big/little octa core configuration that the 820/821 didn't have. Unless you are doing a ton of high end gaming I think this will be a great phone and a solid replacement for your 6P without the Pixel price.

This phone should be MUCH better in terms of performance and battery life. The 810 in the Nexus 6P is an absolute dog.

Welp; so many comments I can't choose where to answer. So I answer here : Thanks for all your replies and explanations ! I guess I'll give this little boy a shot when it's available

Cricket wireless definitely needs to upgrade their portfolio of phones. Samsung and LG are great but Motorola and Nokia represent value and affordability like no others but are totaly absent from the lineup. I always buy my phones from the carrier because it's just easier. Come on Cricket keep up.

100% agreed! They should focus on getting devices like this and even a partnership with OnePlus. They really need better phone selection

What is easier about buying a cricket phone? Just insert cricket sim in any ATT or unlocked phone. Most phones will configure to cricket -- then get cricket's voicemail app from google play store. The only thing you get with cricket phones are iPhones or permanently locked low end androids that never get updated. Anyway cricket was a big supporter of Nokia back in WP days, so perhaps you'll get your wish here.

It may seem slightly easier to buy from the carrier, but Cricket fully supports bringing your own phone. Buy unlocked online, pop in SIM, done.

Well the two times I've tried ordering phones it has been a headache. UPS wouldn't just leave them on the porch or inside the screen door. They wanted a signature and someone to receive it. I'm gone all day and live alone so after 3 tries they were returned to sender. So I just drive over to cricket, select a phone and case, they activate it and install screen protector and case and hand me a turnkey solution. Easy.

Better to be sent back than stolen! When there's a next time, you can request to pick-up your package from UPS. I order phones frequently and refuse to risk any chance of theft. Unfortunately, (some) deliverers in my area don't share that sentiment. I'm drooling over this phone! But for $500, there are a few other great contenders; a couple of which can be checked out in person (where I live anyhow). I'd love to see a better selection of phones at Cricket and other MVNOs, but then that'd defeat the purpose of having an unlocked phone.

This is why I have everything delivered to my place of employment.

This phone looks great and has good specs for the price, I hope US retailers like Amazon, Best buy etc will sell it.

Considering the price drop, why wouldn't you get the Nokia 8 right now instead of the Nokia 7?
Also, how does the SD660 compare to the older SD821? (I have an LG G6 hence the question).

This is my favorite of the recent Nokia phones. I love the trim color!

I'm very excited for this phone. I've found I don't do enough gaming to need the high end chipsets, and the 660 has a lot of features from the 800 series. The 1080p screen is perfect in my opinion, I don't need quad HD on my phone. Huge battery, efficient processor, solid camera and updates from google, I'm in.

So this has actual Android One, or a Android One-ish take on Oreo?

It has android one... Not ish

I would only use the Android One name if it was indeed part of the Android One program.

It is part of the program. It's already listed on the Android One website alongside the 8S and 6 2018

Really loved the new line of Nokia PHONES looking at Nokia 8 sirocco to replace my G6...would def miss the wide angle camera

Love this phone, but even if it does have US availability, I don't think we'll be seeing any Verizon compatibility, unfortunately.

No plans for a US release of any of the phones.
HMD isn't prioritizing the US market (because they're not as dumb as Sony). It's, however, not impossible that Amazon might pick one or two to sell unlocked.
Android Central Newsletter
Get the best of Android Central in in your inbox, every day!
Thank you for signing up to Android Central. You will receive a verification email shortly.
There was a problem. Please refresh the page and try again.