Nokia 6 (2018) is official and ships with a Snapdragon 630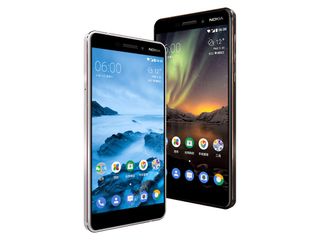 On January 4, a Chinese retailer leaked the 2018 Nokia 6 in all of its glory – including specs, press shots, and more. Just a day later, Nokia has officially listed the handset (opens in new tab) on its website to confirm most of what we've already seen.
As we previously saw, the design of the Nokia 6 hasn't changed all that much from year to year. The phone's still made out of an aluminum unibody with rounded corners, but the fingerprint sensor has been moved to the back in favor of slightly slimmer bezels. Also as a result of this, last year's capacitive navigation buttons are gone and replaced with on-screen ones.
The Nokia 6 (2018) might not look like a huge improvement over the 2017 version at first glance, but that's because the most important upgrade lies under the hood. Our biggest complaint with the last year's Nokia 6 was that it shipped with the underpowered Snapdragon 430, but this time around, there's a much more capable Snapdragon 630 that's paired with 4GB of RAM.
There's still a 5.5-inch 1920 x 1080 display, 16MP rear camera, and 3,000 mAh battery, and while the Nokia 6 (2018) will ship with Android 7.1.1 Nougat, Nokia says that an update to Oreo is in the works. Also new is a USB Type-C port compared to the older microUSB we saw last year.
The 32GB Nokia 6 will cost CNY 1,499 and the 64GB model will be slightly more expensive at CNY 1,699 (€191 and €216, respectively). Pre-orders are set to begin on January 10 in China, and an expanded release to other markets (including the United States) will likely happen later in the year.
Nokia 6 review: A great phone with one major drawback
Joe Maring was a Senior Editor for Android Central between 2017 and 2021. You can reach him on Twitter at @JoeMaring1.
Sounds like a good price phone.

Good looking phone, good enough specs paired up with excellent pricing.

Has anybody bought a new Nokia last year?? I so, how was it?? I wonder how it compared to say like the Moto G5 Plus??

The Moto G5 Plus (not the S variant) has a better camera (updates are ehh...). The Nokia 6 gets faster updates (camera is alright). If this 2018 model gets the camera and image processing right then it'll a no brainer to get this instead of Motorola.

In November/December I was waiting to see what Nokia would do this year, but then I have found a great deal/offer and bought the Nokia 8! This new version of the Nokia 6 is looking very good!

I have the nokia 6 since July, it's a solid phone for the price. Camera is acceptable, gets updates, and is built like a tank. I will probably get the 2018 model because of the updated specs and smaller bezels.

Same. I've enjoyed my Nokia 6, better than the Motorola G5. The only thing I found lacking at times was processing power. The Nokia 6 (2018) refresh answers that, and saves me a couple $200 from buying the Nokia 8.

What or how is the best way to know if a phone will work with a certain carrier? I am with T-mobile and I always see phones on this site which I want to purchase outright. But all I know is that I can only use the phones sold by T-mobile? Please help! Can I use a HUAWEI phone?

You should research online. Many unlocked phones can be used on t-mobile, that's the gsm advantage.

If it supports T mobile bands then it'll work just fine.

I have said MANY TIMES, I wished the phone reviewer would mention if it was a CMDA or GSM phone, but they won't!!

This thing should have Oreo out-of-the-box when this reaches international markets...

The phone updates to Oreo when you boot it up for the first time

Shipping with Nougat in 2018? Nokia has rocks in their head.

It's actually not alone in that.

Its still gonna get more updates than any phone on this price range.

Its actually getting Oreo after first boot.

So approximately in USD what would the 64GB run? sorry don't get out of the US or Canada much...

$231..:) google has this conversion thang..

The good thing with Nokia is their UI is close to stock unlike super custom sluggish UIs (read EMUI and MIUI) !! SD630 looks promising, Hope this has a decent enough camera to compete with other lower mid-range phones.

I believe it has the same cameras as the current Nokia 6, meaning it's solid for the price but hopefully will get improved photo processing when the camera app updates

This is very good compared to the previous model of Nokia. Those who want to buy a smartphone this is the best option.
<a href="www.technoverts.com/nokia-6-2018-full-details/"> Nokia 6 2018 Full details | Specifications | Price| Features</a>

Welcome back, Nokia! I like this phone!

but here in india the Nokia 6 has snapdragon 430
Android Central Newsletter
Thank you for signing up to Android Central. You will receive a verification email shortly.
There was a problem. Please refresh the page and try again.