NoiseHush NX80 Stereo headset review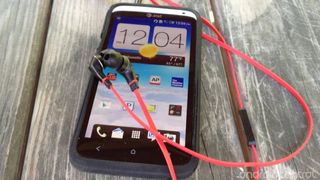 Your New HTC One X or Evo 4G or Galaxy S III all have amazing audio features built in, yet the phones are bundled with terrible headphones or none at all.
Just like with a nice home stereo, usually the single biggest "upgrade" for the sound of your music is your speakers. For Android phones, that means the headphones. Because this is for your phone, you need an included microphone with a control to take calls and control your music. There are lots of options, but the NoiseHush NX80's are worth a look.
NoiseHush makes all kinds of headsets, car kits, Bluetooth accessories and more. The NX80 is touted as a bass-driven headset with a noise-cancelling microphone for taking calls. While competitively priced, this is a crowded market – so let's see if this is the headset to buy.
NoiseHush NX80
What's in the box
The NoiseHush NX80 comes in a very attractive package with the headset, three extra ear gels in sizes S,M and L and a nice felt carrying pouch with a draw tie.
Design
The NoiseHush NX80 makes a strong statement as soon as you open the box. The cords on my unit are bright red and totally flat (more on that later.) The microphone, cable router and ear pieces are jet black with silver accents around the ear gels. The ear pieces use a single flanged black ear gel and the ear pieces themselves are angled to help the ergonomics of this headset.
If you want to get noticed or have people say "wow, what are those?" This is a headset that will do that.
The flat cables are worth a special mention here. One of my big frustrations is tangled cables – especially during exercise – on my headphones. The flat design of the NoiseHush cables is truly "tangle-free" and was a very welcome addition to this headset.
Functionality
The NoiseHush NX80 functions both as a headset for taking and receiving calls and as a stereo headphone for listening to music.
The microphone in located on the left hand cable – just a bit under the mouth of most users. In the center of the housing that contains the microphone is one button:
Push the button once to pause the music
Push once more to play the music
Push twice to redial the last call
Push and hold to activate voice dialing on the phone
Push to take a call and again to end the call.
Comfort
The ear buds on the NoiseHush NX80 are on the smaller side – which my ears appreciated! They are an in-the-ear design with single flanged tips. That means they are meant to be put into your ear canal and they then need to form a tight seal. The tight seal closes out the world (thus the name NoiseHush) and ensures that you get maximum bass response.
I often have trouble getting these things to stay put in my ears, and sometimes in-ear headphones give me some discomfort after a while. I wore the NX80's on bike rides, I used them when I worked outside and when I sat at my desk. I really did not feel any discomfort after extended periods of time.
The NX80's come with a total of four sets of ear gels, but it looks like the ones on the headphones are the same as the medium sized ones in the packet – which makes sense since that is probably the most common size. What is important is that you should be able to experiment and get a comfortable fit with one of the included sizes of ear buds.
Call quality
The microphone for the NoiseHush NX80 is, as mentioned earlier, on the left hand cable. For the most part, call quality was good. Most callers said I sounded a little muffled and if I was outside in the wind, there was some distortion. However, when compared to the Qmadix headphones, callers seemed to be able to hear me better when using the NoiseHush NX80's.
Music quality
OK – this is the heart of the matter here. This is one of those headphone sets that you will either love or hate – not a lot of middle ground here. These are bass heavy headphones. I read one user's review who said that there was no bass in these and after listening to them for a while – I can't understand that unless they were just not able to get a proper seal.
Bass thumps on these babies. My "reference" headphones are a set of Klipsch Image 10's which cost close to $300. I always thought that they emphasized the bass until I tried the NX80's – Wow. If you like bass in your music you will not be disappointed.
The good news is that the bass, while slightly exaggerated and certainly emphasized even more by the Beats audio in my HTC phones, is clear and pronounced – not muddy.
As is the case with most headphones that emphasize the bass, something has to give in the music. In the case of the NS80, what gives is not the highest end – which is usually the case – but some of the mid frequencies. I play piano and guitar and I am always listening for the instruments – especially the acoustic guitar notes and the sliding up the fret board. Instruments like piano and guitar are a bit in the background on these headphones, but harmonicas, cymbals and high frequencies are very clear.
I tried lots of different music when listening to the NX80's. This would not be my first choice for acoustic music like George Winston or David Wilcox, but for all around rock and roll – everything from Springsteen to Zeppelin to Green Day – these things rock and rock hard. Since I mainly use headphones when I am on my bike I found these very fun to listen to with the big bass – especially while peddling up a steep grade hill.
The wrap up
The NoiseHush NX80 is a great replacement to the stock ear buds that came with your Android phone. Some of your phones probably didn't even come with a headset or headphones - assuming you would go out and buy a pair. This is certainly a pair worth considering. Music quality was bass heavy but very pleasant and fun to listen to. Call quality was good, not great and the tangle free cables are worth their weight in gold.
The good
Tangle free cables
Strong bass response
Nice selection of included ear tips and case
Comfortable
The bad
Bass heavy music is not for everyone
Call quality is not as good as with a high quality Bluetooth headset
The verdict
The NoiseHush NX80 is a very fun headset to use and listen to. I liked the music reproduction, albeit bass heavy. The headphones are very efficient, so you can turn down the volume. Call quality was certainly passable – if you listen to music more than use the headset for phone calls, these are worth taking a look at.
Buy it now
Others like this one
Specifications: Sensitivity: 96dB/1mW, Impedance: 16 ohms
Cable Length: 3.9 feet, Frequency Range: 20Hz-20kHz, Rated Power: 2mw-10mw What I was looking for in the review, but was unable to find. Why was this information not included in the review?

"YOUR NEW HTC ONE X OR EVO 4G OR GALAXY S III ALL HAVE AMAZING AUDIO FEATURES BUILT IN, YET THE PHONES ARE BUNDLED WITH TERRIBLE HEADPHONES OR NONE AT ALL." WHY ARE YOU SHOUTING AT US?

I got these for 13 bucks shipped on amazon before anyone really knew about them. You wont find better headphones for the price anywhere. I mostly use these at the gym and they are perfect. They stay in place mostly and they take sweat well. I recommend them

Noise hush headphones suck! The company is very unprofessional i bought a pair and they were damaged i called one of the main representatives spoke to him.on the phone he told me he personally sent my new pair in my return envelope i payed postage for i never received them! I do not recommend buying these head phones ....i bought a pair of skullies much better! Wat a waste of 50 dollars!

Hello ! Are these Headsets compatible for MOTO G ?? Please let me know
Android Central Newsletter
Thank you for signing up to Android Central. You will receive a verification email shortly.
There was a problem. Please refresh the page and try again.